The Great Meadow
WARNING
You are viewing an older version of the Yalebooks website. Please visit out new website with more updated information and a better user experience: https://www.yalebooks.com
Farmers and the Land in Colonial Concord
Brian Donahue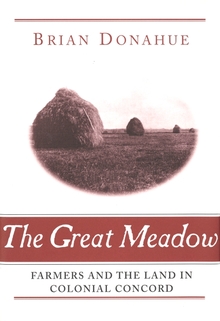 View Inside
Format:

Paper


Price:

$25.00
Also Available in:
Cloth
An unprecedented look at how colonial farmers adapted to the challenges of New England's climate and soil and achieved a sustainable agricultural system
The farmers of colonial New England have been widely accused of farming extensively, neglecting manure, wearing out their land, and moving on. But did they? And if so, when and why? Brian Donahue offers an innovative, accessible, and authoritative history of the early farming practices of Concord, Massachusetts, and challenges the long-standing notion that colonial husbandry degraded the land. In fact, he argues, the Concord community of farmers achieved a remarkably successful and sustainable system of local production. Donahue describes in precise detail—using among other tools an innovative historical geographical information system (GIS) method—how land was settled and how mixed husbandry was developed in Concord. By reconstructing several farm neighborhoods and following them through many generations, he reveals the care with which farmers managed the land, soil, and water. He concludes that ecological degradation came to Concord only later, when nineteenth-century economic and social forces undercut the environmental balance that earlier colonial farmers had nurtured.
Brian Donahue is associate professor of American environmental studies on the Jack Meyerhoff Foundation, Brandeis University.
 
"In a field that centers on environmental degradation, Donahue has found a complex pattern of sustainable land use through eight generations. By unrivalled mastery of historical materials, and by reading the land through long experience of farming, he has set a new standard for environmental history."—David Hackett Fischer, author of Washington's Crossing, associate professor of American environmental studies on the Jack Meyerhoff Foundation, Brandeis University
"Donahue knows this small New England place through the very soles of his feet. A lovely, sharp-eyed, and affectionate history of humans and nature in an America we have lost."—Donald Worster, author of Nature's Economy
"The Great Meadow worked well paired with William Cronon's Changes in the Land. Students compared how two environmental historians used different sources and methods to read very different conclusions about the same topic."—Geoff Cunfer, Rural and Regional Studies, Southwest Minnesota State University
"I used The Great Meadow in my graduate seminar in American Environmental History last winter, and it was a great success. I think the book appealed to the students because it is so grounded in the real world of living on the land in colonial New England, and also because it reveals the previously ignored land wisdom of colonial farmers. This is a good teaching book for both graduate students and upper-level history majors."—Mart Stewart, Western Washington University


"In this extraordinary work, Brian Donahue reconstructs in minute and fascinating detail the interactions of people and ecosystems in colonial New England. There is no environmental history quite like it."—William Cronon, author of Changes in the Land: Indians, Colonists, and the Ecology of New England
"A finely nuanced study. . . . This groundbreaking study is an elegantly written portrait of a community of farmers who heretofore have been much maligned. It is environmental history of a high order. Highly recommended."—Choice
"A compelling argument for the ecological viability of early New England farming. . . . Perhaps because he knows only too well how hard it is to wrest a living from the land, Donahue refuses to condescend to colonists who did the best they could with the resources at their disposal. Those farmers could hardly have found a more eloquent defender."—Virginia DeJohn Anderson, Journal of American History
"[Donahue] proves himself a talented reclamationist of forgotten landscapes and landscapers."—Jon T. Coleman, New England Quarterly


"Every reader of The Great Meadow will come away from this splendid book inspired by yeoman Concordians of the seventeenth and eighteenth centuries to find equally humane responses to what sometimes seem to be crushing constraints."—Chet Raymo, Orion
"This volume will be of obvious value to anyone interested in understanding how our earliest New England ancestors subsisted on the land, and what it was like to be a colonial yeoman."—Robert Charles Anderson, The American Genealogist
"A paean to a vanished State of Nature. There is lyric poetry in the prose . . . but it is not sentimental. The evidentiary base is rock-solid. . . . It is a work of high scholarship."—Winifred Barr Rothenberg, EH.Net
"This is a major work of environmental history. Donahue has fashioned a brilliant ecological narrative with powerful implications for our understanding not only of early American agriculture but also of such significant subjects as the transmission of English practices in the New World, the character of family and community in the world the Puritans made, and the attitudes and practices that enabled these New Englanders to forge a complex, attentive, and sustainable relationship with nature. . . . This book is a deeply satisfying read, written with evocative images and Yankee wit. For its successful integrations of social, agricultural, and environmental history, it amply deserves its award as the best book in environmental history in 2004. For the lyricism of his prose, Donahue should be recognized as the Wendell Berry of Agricultural history."—Robert A. Gross, American Historical Review
"Donahue writes compellingly and persuasively about his subject and with an enviable turn of phrase."—Bruce Campbell, Historical Methods
"An impressively balanced agricultural history, admiring what the farmers achieved, sensitive to the possibilities of different methods for utilizing land. It also demonstrates what a thorough application of the insights of environmental history (and farming) can contribute to agricultural history."—Jeff Filipiak, H-Net Reviews
"The Great Meadow is one of the first really new works in the rural history of the northern colonies to appear in many years."—Daniel Vickers, UCSD
Selected by Choice Magazine as an Outstanding Academic Title for 2005
Winner of the 2005 New England Historical Association book award.
Winner of the 2004 George Perkins Marsh Prize sponsored by the American Society for Environmental History 
Winner of the 2005 Theodore Saloutos Book Award sponsored by the Agricultural History Society
Winner of the New England Historical Association's best 2004 book (in any field) by a New England scholar

ISBN:
9780300123692
Publication Date:
June 12, 2007
334 pages, 7 x 10
40 b/w + 12 color maps