Ideology and U.S. Foreign Policy
WARNING
You are viewing an older version of the Yalebooks website. Please visit out new website with more updated information and a better user experience: https://www.yalebooks.com
Michael H. Hunt; With a New Afterword by the Author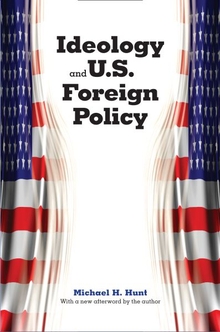 View Inside
Format:

Paper


Price:

$30.95
Also Available in:
e-book
This new edition of Michael H. Hunt's classic reinterpretation of American diplomatic history includes a preface that reflects on the personal experience and intellectual agenda behind the writing of the book, surveys the broad impact of the book's argument, and addresses the challenges to the thesis since the book's original publication. In the wake of 9/11 this interpretation is more pertinent than ever.
Praise for the previous edition:
"Clearly written and historically sound. . . . A subtle critique and analysis."—Gaddis Smith, Foreign Affairs
"A lean, plain-spoken treatment of a grand subject. . . . A bold piece of criticism and advocacy. . . . The right focus of the argument may insure its survival as one of the basic postwar critiques of U.S. policy."—John W. Dower, Bulletin of the Atomic Scientists
"A work of intellectual vigor and daring, impressive in its scholarship and imaginative in its use of material."—Ronald Steel, Reviews in American History
"A masterpiece of historical compression."—Wilson Quarterly
"A penetrating and provocative study. . . . A pleasure both to read and to contemplate."—John Martz, Journal of Politics
Michael H. Hunt is Everett H. Emerson Professor of History Emeritus, University of North Carolina, Chapel Hill.
Praise for the previous edition:
"Hunt's idea of the American attitude, from the late eighteenth century to the present, is of a three-part system of self-congratulatory promotion of liberty abroad, a tendency to view others on the basis of a racial hierarchy, and a profound antipathy to social revolution. The book is clearly written and historically sound. The analysis 'works' when applied, for example, to the Vietnam War or current policy toward Central America."—Gaddis Smith, Foreign Affairs
"[This book] is subtle, sophisticated and skillfully done, providing a useful definition of the origins and structure of an American ideology."—Jamie W. Moore, The Historian
"In this elegant essay, Michael H. Hunt argues that twentieth-century American foreign policy has been shaped by an ideology that had already been developed by 1900."—John A. Thompson, Journal of American Studies
"A valuable book. Hunt takes a clear position at the outset and maintains it throughout a work of wide scope."—Dorothy V. Jones, Journal of American History
"A brilliant essay. . . . [T]he best analysis to date of the relationship of ideology to United States foreign policy."—Richard E. Welch, Jr., Pacific Historical Review
"[One of] the most influential overviews of U.S. foreign policy."—Foreign Policy
"A provocative essay on the mental prism through which American perception of national interest have been traditionally refracted. It is a tightly organized book, and propitiously illuminates the highly ideological nature of the Carter and Reagan administrations. . . . A major reinterpretation of American diplomatic history."—Journal of Peace Research
"Should be read by everyone interested in the basic wellsprings of American foreign policy. The reader will find it an insightful and challenging experience."—Clark W. Maser, Booknotes
ISBN:
9780300139259
Publication Date:
April 28, 2009
288 pages, 6 1/8 x 9 1/4
32 b/w illus.