The Soviet World of American Communism
WARNING
You are viewing an older version of the Yalebooks website. Please visit out new website with more updated information and a better user experience: https://www.yalebooks.com
Harvey Klehr, John Earl Haynes, and Kyrill M. Anderson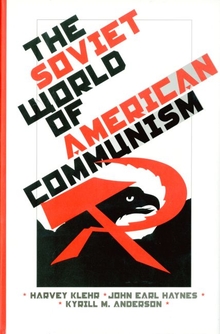 View Inside
Format:

Cloth


Price:

$71.00
Also Available in:
e-book
The Secret World of American Communism (1995), filled with revelations about Communist party covert operations in the United States, created an international sensation. Now the American authors of that book, along with Soviet archivist Kyrill M. Anderson, offer a second volume of profound social, political, and historical importance.

Based on documents newly available from Russian archives, The Soviet World of American Communism conclusively demonstrates the continuous and intimate ties between the Communist Party of the United States of America (CPUSA) and Moscow. In a meticulous investigation of the personal, organizational, and financial links between the CPUSA and Soviet Communists, the authors find that Moscow maintained extensive control of the CPUSA, even of the American rank and file. The widely accepted view that the CPUSA was essentially an idealistic organization devoted to the pursuit of social justice must be radically revised, say the authors. Although individuals within the organization may not have been aware of Moscow's influence, the leaders of the organization most definitely were.

The authors explain and annotate ninety-five documents, reproduced here in their entirety or in large part, and they quote from hundreds of others to reveal the actual workings of the American Communist party. They show that:

• the USSR covertly provided a large part of the CPUSA budget from the early 1920s to the end of the 1980s;

• Moscow issued orders, which the CPUSA obeyed, on issues ranging from what political decisions the American party should make to who should serve in the party leadership;

• the CPUSA endorsed Stalin's purges and the persecution of Americans living in Russia.



Harvey Klehr is Andrew W. Mellon Professor of Politics and History at Emory University. John Earl Haynes is 20th Century Political Historian at the Library of Congress. Kyrill M. Anderson is director of the Russian Center for the Preservation and Study of Documents of Recent History (RTsKhIDNI).


"A work of extraordinary scholarship. The authors leave no doubt that to speak of the party as autonomous is ludicrous and foolhardy."—Daniel J. Leab, editor, Labor History



"With the publication of this book, the debate about whether the Communist Party of the United States (CPUSA) was a genuinely home-grown movement or a tool of the Soviet Union has been finally answered. . . . This is one of those seminal books that do not merely contribute to a debate, but effectively end it."—Kirkus Reviews (starred review)


"In this equally impressive effort, the authors collect and contextualize declassified documents from the 1920s to the '50s that deal with the close ties binding the USSR and the CPUSA. It will be hard for any reader to conclude that the CPUSA was ever independent of Soviet control. . . . Saddest of all are papers that document the CPUSA's almost desperate attempts to toe an Orthodox line during Moscow's wild mood swings. . . . [An] important volume for understanding the U.S., the U.S.S.R. and the 20th century."—Publishers Weekly (starred review)

"[A] valuable synthesis."—Library Journal


"The documents Klehr's team unearthed illustrate the total dependence of U.S. Communist Party members on the Soviet Union. Soviet influence inevitably extended from financial support to policies and personnel. . . . Rich source material for history students."—Booklist


"The Soviet World of American Communism will prove that there isn't a single good word to be said for the Communist Party USA. Not one."—Arnold Beichman, Weekly Standard


"[This book] takes its place as yet another fine entry in Yale University Press's extraordinary series of recent books on the history of the Communist plague in the twentieth century."—Arnold Beichman, Weekly Standard




"The book illustrates very well the apparatus of control through which the Soviet comrades ran the American Party."—Adam Ulam, Washington Post Book World


"The Soviet World of American Communism is the first important study of the relations between American Communists and the USSR since Theodore Draper's American Communism and Soviet Russia, published in 1960."—Sam Tanenhaus, New York Review of Books



"This book, though one entirely of documents, is memorable and powerful. It will be of great value to all scholars of the diplomacy of the early and mid-20th century."—Esmond Wright, Contemporary Review


"The evidence the authors provide proves what the average American has long suspected. The Communist Party USA was effectively an arm of the Soviet government. . . . The documents also prove that the Communist Party USA, like any other agency of the Soviet regime, took orders from Moscow regarding its leadership, its policies and its very membership."— Dennis R. Papazian, Detroit, MI News

"It's a significant service for Yale University Press to finally publish Moscow's actual marching orders. . . . It's hard to overestimate the value of the [Annals of Communism] series."—Michael Ybarra, Washington Monthly


"The Soviet World of American Communism constitutes an important update of the political history of American communism."—Edward P. Johanningsmeier, The Historian


"A major breakthrough in the study of the history...of the communist movement. The editors have fulfiled their task with an admirable level of professionalism. The editors' comments are detailed, knowledgable and at the same time easy to understand. Accessible and useful both to students and mature researchers."—Irina Filatova, Journal of the Department of History, University of South Asia
Named an Outstanding Contemporary Book Finalist by the Templeton Honor Rolls for Education in a Free Society
ISBN:
9780300071504
Publication Date:
February 17, 1998
416 pages, 6 1/8 x 9 1/4