Venona
WARNING
You are viewing an older version of the Yalebooks website. Please visit out new website with more updated information and a better user experience: https://www.yalebooks.com
Decoding Soviet Espionage in America
John Earl Haynes and Harvey Klehr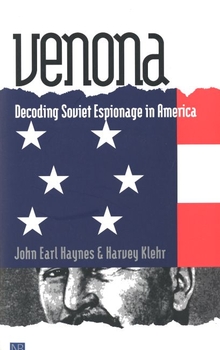 View Inside
Format:

Paper


Price:

$25.00
Also Available in:
Cloth
e-book
Only in 1995 did the United States government officially reveal the existence of the super-secret Venona Project. For nearly fifty years American intelligence agents had been decoding thousands of Soviet messages, uncovering an enormous range of espionage activities carried out against the United States during World War II by its own allies. So sensitive was the project in its early years that even President Truman was not informed of its existence. This extraordinary book is the first to examine the Venona messages—documents of unparalleled importance for our understanding of the history and politics of the Stalin era and the early Cold War years.

Hidden away in a former girls' school in the late 1940s, Venona Project cryptanalysts, linguists, and mathematicians attempted to decode more than twenty-five thousand intercepted Soviet intelligence telegrams. When they cracked the unbreakable Soviet code, a breakthrough leading eventually to the decryption of nearly three thousand of the messages, analysts uncovered information of powerful significance: the first indication of Julius Rosenberg's espionage efforts; references to the espionage activities of Alger Hiss; startling proof of Soviet infiltration of the Manhattan Project to build the atomic bomb; evidence that spies had reached the highest levels of the U.S. State and Treasury Departments; indications that more than three hundred Americans had assisted in the Soviet theft of American industrial, scientific, military, and diplomatic secrets; and confirmation that the Communist party of the United States was consciously and willingly involved in Soviet espionage against America. Drawing not only on the Venona papers but also on newly opened Russian and U. S. archives, John Earl Haynes and Harvey Klehr provide in this book the clearest, most rigorously documented analysis ever written on Soviet espionage and the Americans who abetted it in the early Cold War years.
John Earl Haynes is 20th Century Political Historian, Manuscript Division, the Library of Congress. Harvey Klehr is Andrew W. Mellon Professor of Politics and History at Emory University.
A selection of the Conservative Book Club

"In this groundbreaking book, authors Haynes and Klehr explain how codes were written, sent and received by Soviet agents in this country. They describe how the United States, through its own most secret intelligence agency, the National Security Agency (NSA), which to this day the American government denies exists, broke the Soviet codes and proved that our Russian ally was not behaving as a friend should. . . . The significance of Haynes and Klehr's work cannot be understated: it completely revises our understanding of the massive Soviet espionage campaign directed against the United States by Joseph Stalin during the war and delineates how that espionage led directly to the Cold War and the anti-communist hysteria the resulted in McCarthyism. This is historical scholarship of the first order."—Peter Kross, author of Spies, Traitors and Moles (appearing in The Times of Trenton)



"With unmatched knowledge of American communism and Soviet espionage in America, Haynes and Klehr settle some of the most persistent historical controversies of the domestic cold war."—Richard Gid Powers, City University of New York



"This book offers a solid starting point for those who want to understand the magnitude of the Soviet effort to penetrate U.S. secrets—and of the Americans who willingly did their bidding."—John A. Soares, American Studies International



"The authors systematically recount Venona's references to approximately 350 Soviet Spies in the U.S. government and industry—some of them highly placed. . . . Venona may open a fundamental revision of U.S. history."—Gilbert Taylor, Booklist




"A story that will be examined and argued for years to come. Highly recommended for anyone with an interest in Cold War history."—Choice


"A fascinating book that brings you behind the headlines of notable espionage events in post World War II years and you will be shocked at the number and types of American citizens who betrayed their country."—Cryptologia



"John Earl Haynes and Harvey Klehr, in their diligently researched Venona skillfully build up a picture of the extent to which the Roosevelt administration was riddled with Soviet spies. Haynes and Klehr have managed the difficult trick of making their study of Venona both scholarly and readable. . . . Excellent."—Michael Smith, Daily Telegraph




"Venona demands to be read . . . just to see that there were serious questions to be dealt with in the 1950s. It wasn't all witch hunts and fishing expeditions."—Henry S. Cohn, Federal Lawyer



"In Venona, Decoding Soviet Espionage in America, John Earl Haynes and Harvey Klehr, preeminent authorities on American communism, provide the first comprehensive examination of these files, one of U.S. counter-intelligence's greatest achievements."—Rorin M. Platt, Foreign Service Journal



"[This book] reads like a fast-paced spy novel. If you want to know what the cold war was, and how Americans shaped their opinions of the rest of the world in the last half of our waning century, Venona is essential reading."—John Hanchette, Gannett News Service


"John Earl Haynes and Harvey Kleehr, who have added so much to our understanding of Soviet communism's efforts in America, have given us the most complete history of the [Venona] project thus far. . . . Books like Venona are invaluable for what they add to our knowledge of the period and may yet spur a bout of soul-searching among the remnants of the progressive community in America."—Robert Leiter, Jewish Exponent



"This first comprehensive analysis of the 3,000 telegrams between Soviet spies in the US and their superiors in Moscow, decoded shortly after WWII, may well, as the authors believe, 'change the way we think about twentieth-century American history.' . . . The reverberations from this cool, balanced, and devastating appraisal will be heard for many years to come."—Kirkus Reviews


"Haynes and Klehr have provided the most extensive evidence to date that the KGB had operatives at all levels of American society and government. . . . Haynes and Klehr . . . reveal a level of espionage in this country that only the most paranoid had dreamed of. . . . This is better than anything John le Carré could produce, because in this case, truth is really stranger than fiction. Highly recommended."—Edward Goedeken, Library Journal



"A fascinating and well-documented historical study."—Edmund J. Campion, Magill's Literary Annual





"Venona . . . provides a lucid summary of the project, many of its key disclosures, and a synoptic treatment of the subject that fits the pieces all together. It also contains a glossary-roster of the cast of characters that is extremely helpful."—M. Stanton Evans, Modern Age


"John Earl Haynes and Harvey Klehr have squeezed the pulp from five thousand pages of deciphered cables that verify the grim picture of the Communist underground given many decades ago by defectors such as Elizabeth Bentley and Whittaker Chambers."—Sam Tanenhaus, New Republic


"The most complete study of the VENONA decryptions."—Sam Tanenhaus, New York Review of Books


"Haynes and Klehr deserve the gratitude of other historians, first of all because they were instrumental in obtaining the release of the Venona documents four years ago. Since then, in their published works, they have helped resolve many decades-old mysteries and controversies. . . . This book clearly establishes the main contours of the previously hidden landscape of Soviet espionage in the United States in the 30s and 40s."—Maurice Isserman, New York Times Book Review



"While Venona focuses on the revelations of the code-breaking program, the authors supplement this data with information gained from other sources, making this book probably the most authoritative reference book extant on Soviet espionage in the United States in the World War II period."—T. A. Brooks, Proceedings (U.S. Naval Institute)


"Dramatic and thorough, a historical gem, in fact."—Robert Conquest, Times Literary Supplement



"A virtual king's ransom of top-secret bombshells and bangles."—Michael Barone, U.S. News & World Report


"Anyone interested in Soviet espionage is indebted to historians John Earl Haynes and Harvey Klehr, [who] assemble a coherent, often chilling, story of Soviet agents infiltrating Washington's most important agencies, from State to Treasury, and treating closely guarded secrets like items at an all-you-can-eat buffet."—Michael J. Ybarra, Wall Street Journal




"A careful explanation of the greatest codebreak of the Cold War."—David Ignatius, Washington Monthly


"This new book on Venona gives us new insights on Soviet espionage in the United States during the 1940s and 1950s. . . . What emerges is a fascinating and not very reassuring picture of hundreds of Americans working for Joseph Stalin before, during and after the Soviet Union was an ally of the United States."—Roger Fontaine, Washington Times



"[This book] is probably the definitive public study of Soviet espionage in the United States."—Arnold Beichman, Weekly Standard


"The full implications of Soviet espionage in the United States during and immediately after World War II are only now being realized. In yet another superbly fascinating volume, Haynes and Klehr make wondrous use of the evidence in the Venona cables to reveal the scope of this limited, but very real 'attack' which remained secret for too long."—Daniel Patrick Moynihan, author of Secrecy: The American Experience


Honorable Mention for the 2000 Henry Adams Award, given by the Society For History in the Federal Government
Appeared in the recommended holiday reading list in Washington Monthly
One of three runners-up for the Annual Political Book Award awarded by Washington Monthly
Won Honorable Mention for the 2000 George Pendleton Award given by the Society For History in the Federal Government
ISBN:
9780300084627
Publication Date:
August 11, 2000
504 pages, 5 x 7 3/4
18 b/w illus.