The Literary Spy
WARNING
You are viewing an older version of the Yalebooks website. Please visit out new website with more updated information and a better user experience: https://www.yalebooks.com
The Ultimate Source for Quotations on Espionage & Intelligence
Compiled and annotated by Charles E. Lathrop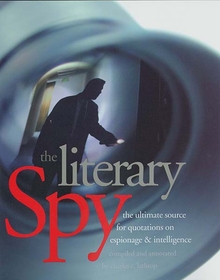 View Inside
Format:

Paper


Price:

$47.00
Also Available in:
Cloth
e-book
The Literary Spy provides a unique view of the intelligence world through the words of its own major figures (and those fascinated with them) from ancient times to the present. CIA speechwriter and analyst Charles E. Lathrop has compiled and annotated more than 3,000 quotations from such disparate sources as the Bible, spy novels and movies, Shakespeare's plays, declassified CIA documents, memoirs, TV talk shows, and speeches from U.S. and foreign leaders and officials.
Arranged in thematic categories with opening commentary for each section, the quotations speak for themselves. Together they serve both to illuminate a world famous for its secrets and deceptions and to show the extent to which intelligence has manifested itself in literature and in life. Engaging, informative, and often irreverent, The Literary Spy is an exceedingly satisfying book—one that meets the needs of the serious researcher just as ably as those of the armchair spy in pursuit of an evening's entertainment.
Charles E. Lathrop, a former U.S. military officer, has served in the CIA as an analyst, a speechwriter for the Director of Central Intelligence, a CIA spokesman and lecturer, an editor for the President's Daily Brief, and a manager of intelligence analysis. He writes under a pseudonym.
"The Literary Spy entertained, educated, and enthralled me. A magnificent tour de force."—David E. Murphy, former CIA Berlin Chief
"Spies—professional spies, amateur spies, would-be spies, and even non-spies—will love this book."—David Kahn, author of The Codebreakers and The Reader of Gentlemen's Mail
"Forget James Bond—serious practitioners of the clandestine arts will learn much more from The Literary Spy! Open any page and you will find the wisdom of real spies from ancient times to the present day."—H. Keith Melton, author of Ultimate Spy and The Spy's Guide: Office Espionage
"For anyone interested or wishing to make sense of the intelligence business, this is the book to read."—Oleg Kalugin, former KGB Major General
"An invaluable companion for fans of spy fiction, the history of intelligence, or just delightful browsing in the fascinating world of espionage, from Joshua's spies in Jericho to today's headlines."—R. James Woolsey, Director of Central Intelligence 1993-1995
"Are you a speechwriter? A journalist? A teacher? A politician? . . . All of these varied persons and more will enjoy reading and citing quotations from this well-researched reference book. Charles Lathrop is a CIA speechwriter, editor and analyst. He considers this book to be the Bartlett's for Spooks. . . . The Literary Spy is an enjoyable, colorful and informative reference book, and is highly recommended for the intelligence professionals of AFIO."—Mark A. Delaney, AFIO Las Vegas Chapter Newsletter (Association of Former Intelligence Officers)
"Even without a war going on, even if you don't know John le Carre from John Irving, this collection of more than 3,000 quotations from sources—assembled by a CIA speechwriter and analyst—as divergent as the Bible and TV talk shows and commentaries reveals how secrecy and deception are ingrained in society."—Elizabeth Taylor, Chicago Tribune
"This collection fills a serious need. . . . Ideal for any user at any educational level trying to locate the source of a quote or find a quote to make a point, or for casual browsing. . . . Highly recommended."—Choice
"Not many of these quotations appear in other collections of quotations, and no other book devoted to espionage quotations exists. The compiler clearly knows his subject and sources, believes in his subject, and at times is willing to offer a cheeky, irreverent view of it in some quotations. The result is a book that many users beyond spies an spy aficionados will enjoy consulting or reading."—Library Journal
"This entertaining farrago adds up to a thoroughly disquieting look at what a wide variety of sources have said about the business of intelligence, eventually challenging one's preconceptions. Readers will naturally be drawn to the Nuts and Conspiracies chapter, or perhaps to the Presidents chapter, but every reader will find something to ponder. Anyone with the slightest interest in espionage will find this a fun and educational book to leaf through, and speechwriters will use it regularly. Highly recommended."—Library Journal
"This perfect picker-upper offers hours of entertainment in sampling more than 3,000 quotes about the cloak-and-dagger set by the likes of Shakespeare, Ben Franklin and Maxwell Smart. It's also perfect for 'Jeopardy' and 'Trivial Pursuit' mavens."—J. Peder Zane, Raleigh News Observer
"The book is more fun than a straight cut'n'paste job: the author editorialises with sly humour, often bewailing the fact that a spy's average day does not include many women and Martinis."—Steven Poole, The Guardian
"Sources for the book are diverse, to say the least; former spooks, the Bible, James Bond, Shakespeare, spy novels and movies, speeches by foreign leaders, declassified CIA documents, memoirs, etc. Fascinating."—Trenton Times, (N.J.) (Holiday Roundup)
"An absolutely delightful browse-read. . . . What Mr. Lathrop has done is put together more than 3,000 quotations from sources ranging from the Bible to spy novels, the media and declassified government documents—a book that is at once a serious source text and plain old fun."—Joseph C. Goulden, Washington Times
"A fascinating book that meets the needs of both the serious researcher and the armchair spy seeking entertainment." —Cryptologia
Received rating of "Outstanding" from members of the 2005 University Press Books Committee

ISBN:
9780300203882
Publication Date:
July 23, 2013
496 pages, 7 3/8 x 9 1/4