Patriotic Betrayal
WARNING
You are viewing an older version of the Yalebooks website. Please visit out new website with more updated information and a better user experience: https://www.yalebooks.com
The Inside Story of the CIA's Secret Campaign to Enroll American Students in the Crusade Against Communism
Karen M. Paget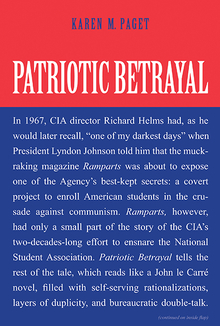 View Inside
Format:

Cloth


Price:

$84.00
The previously untold true story of the CIA's clandestine use of American students as undercover operatives during the Cold War

In 1967, CIA director Richard Helms had, as he would later recall, "one of my darkest days" when President Lyndon Johnson told him that the muckraking magazine Ramparts was about to expose one of the Agency's best-kept secrets: a covert project to enroll American students in the crusade against communism. Ramparts, however, had only a small part of the story of the CIA's two-decades-long effort to suborn the National Student Association. Patriotic Betrayal tells the rest of the tale, which reads like a John le Carré novel, filled with self-serving rationalizations, layers of duplicity, and bureaucratic double-talk. 
 
In this eye-opening book, Karen M. Paget, herself a former member of the NSA, mined hundreds of archival sources and declassified documents, and interviewed more than 150 people, to uncover precisely how the CIA turned the NSA into an intelligence asset during the Cold War, with students used—sometimes wittingly but usually unwittingly—as undercover agents inside America and abroad. A rich and suspenseful account of an under-examined episode in the Cold War, Patriotic Betrayal describes the relationship from its inception in 1947, when both the NSA and CIA were established, to 1967, when public exposure forced the CIA to discontinue the arrangement while successfully engineering a cover-up of the extent of its penetration into the NSA.
 
For the first time, Paget tells the full story revealing that what began as a straightforward project to thwart perceived Soviet influence in America and abroad grew and diversified, and that intelligence-gathering and espionage—despite subsequent CIA denials—were integral to its nature.
 
How did a domestic liberal student organization become, effectively, a covert arm of a secret government organization charged with advancing U.S. foreign policy aims? The answer throws a sharp light on the persistent argument, heard even today, about whether America's national-security interests can be secured by skullduggery and deception. Patriotic Betrayal is an indispensable history of the dark side of Cold War good intentions and fills a significant gap in an important era of postwar twentieth-century history.
Karen M. Paget, a former member of the National Student Association, is a contributing editor to The American Prospect and co-author of Running as a Woman: Gender and Power in American Politics.. 
"Written with a lightness of touch that belies the huge research on which it is based, Patriotic Betrayal is a compulsive read. You will be astounded, educated and entertained."—Rhodri Jeffreys-Jones, author of The CIA and American Democracy

"A dramatic insider's account of how the CIA turned the National Student Association—unknown to most of its young, idealistic members—into a covert operational arm of the CIA, financed secretly through a web of foundation fronts.  Patriotic Betrayal is an important and impressively documented contribution to the history of the Cold War."—DAVID WISE, author of Tiger Trap: America's SecretSpy War with China, and coauthor of The Invisible Government

"Extraordinarily well-researched, constantly original, and extremely valuable, Patriotic Betrayal offers a fascinating portrayal of post-World War II American political culture in microcosm."—HUGH WILFORD, author of The Mighty Wurlitzer: How the CIA Played America

"The creation of the CIA in 1947 specifically barred it from domestic activities. We might as well believe in the tooth fairy. The extent and breadth of the CIA's activities is filled with illegal domestic activities, fraught with duplicity, stupidity, and self-serving explanations. Never mind that it corroded innocent activities and did significant harm to the U.S.'s reputation and international standing. PatrioticBetrayal is an insightful, incredible tale; it should leave you shaking your head at the true and appalling story this essential book tells."—STANLEY KUTLER, author of Abuse of Power: The New Nixon Tapes and The Wars of Watergate: The Last Crisis of Richard Nixon

"Karen Paget's Patriotic Betrayal cinematically evokes the passionate and often ruthless struggle for young hearts and minds at the height of the Cold War. Comprehensive, fair-minded, and a compulsive read, Patriotic Betrayal is destined to be a classic study of the CIA's unprecedented intervention into US student affairs and its far-reaching consequences at home and abroad."—TIMOTHY NAFTALI
"The CIA's infiltration of the National Student Association is the most egregious example in American history of governmental intervention in American civil society. Karen M. Paget's exhaustively researched, deftly paced, and beautifully written study is not only the definitive study of this episode in American history, but will force a reinterpretation of the hidden dynamics of the domestic cold war."—Richard Gid Powers, author of Not Without Honor: The History of American Anticommunism, and Secrecy and Power: The Life of J. Edgar Hoover
"Prodigiously documented and compelling."—Josh Getlin, Huffington Post
"Patriotic Betrayal is an amazing piece of research."—Louis Menand, New Yorker
"A multilayered, mystifying exposé of how the CIA infiltrated and ultimately directed the U.S. National Student Association in thwarting international communist goals from 1950 to 1967."—Kirkus Reviews
"An important and carefully researched book about events that eerily foreshadow the Snowden era."—Adam Hochschild, Harper's Magazine
"Fascinating."—Jeff Greenfield, Daily Beast
"[T]horoughly researched, well-written, and often gripping."—Beverly C. Tomek, American Studies

"Paget is to be highly commended for producing both a highly readable and an academically invaluable study of the playing out of Cold War politics on the university campuses of the National Student Association."—Elizabeth M. Ward, Journal of American Culture
ISBN:
9780300205084
Publication Date:
March 3, 2015
552 pages, 6 1/8 x 9 1/4
17 b/w illus.