Piggy Foxy and the Sword of Revolution
WARNING
You are viewing an older version of the Yalebooks website. Please visit out new website with more updated information and a better user experience: https://www.yalebooks.com
Edited by Alexander Vatlin and Larisa Malashenko; Translated by Vadim A. Staklo; Foreword by Simon Sebag Montefiore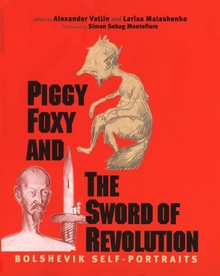 View Inside
Format:

Cloth


Price:

$35.00
Also Available in:
e-book
From the former Central Communist Party archive, a unexpected collection of humorous sketches and caricatures by Bolshevik leaders of themselves

What did the rulers of the Soviet Union truly think about each other?  Piggy Foxy and the Sword of Revolution provides a window onto the soul of Bolshevism no other set of materials has ever offered.  Sketching on notebook pages, official letterheads, and the margins of draft documents, prominent Soviet leaders in the 1920s and 1930s amused themselves and their colleagues with drawings of one another. Nearly 200 of these informal sketches, only recently uncovered in secret Soviet files are reproduced here. Funny, original, spontaneous, sometimes vicious or grotesque, the drawings and their accompanying notes reveal the relationships and mindsets of the Bolshevik bosses at the time of Stalin's rise to power with blazing immediacy.

The album's editors select characteristic drawings by such prominent leaders as Nikolai Bukharin, who depicts himself as "piggy foxy," Valery Mezhlauk, and Stalin himself, whose trademark blue pencil appears on several of the drawings. A number of sketches of unknown authorship are also included. The editors identify the political issues, events, and discussions that inspired the drawings, and they provide biographical information about the people who drew and were drawn. The book opens a rare window on Stalin's inner circle, allowing us access to the powerful men who, despite living in a humorless epoch, developed a special humor of their own.
Alexander Vatlin is senior research fellow in the History Department of Moscow State University. He is also co-founder and vice president of the Russian Association for Research in Modern Russian History. Larisa Malashenko is researcher at the Russian State Archive of Social and Political History (RGASPI), Moscow. Both authors live in Moscow.


"These casual caricatures with marginal notes and private comments by Politburo members offer an unprecedented opportunity to look into the real thinking and feelings of the Bolshevik leaders."—Albert Nenarokov, Russian State Archive of Social and Political History


"Aside from the intrinsic interest of these sketches as humor, and even as art, they also have value as a historical resource, providing unique insight into how Bolsheviks saw themselves and each other."—Arch Getty, University of California, Los Angeles


"An absolute winner!"—Mark L. von Hagen, Columbia University
 


"Who knew? That Stalin and his cronies whiled away their time in the Kremlin drawing the telling caricatures of each other that fill this unexpected, remarkable book. That some sketches are superb, while others are simply obscene. That some drawings, along with their captions, commentaries and dedications, give no hint of the bloodbath to come. That others, including one showing the people's commissar of finance hanging by his testicles, with Stalin's note relishing the procedure, are all too indicative."—William Taubman, Bertrand Snell Professor of Political Science, Amherst College, and author of Khrushchev: The Man and His Era
"Piggy Foxy and the Sword of Revolution may interest even people who don't share my fascination with all things Soviet. . . . [The editors] have prepared excellent short surveys of the history behind these cartoons."—Scott McLemee, Inside Higher Ed
"[A] mind-boggling collection of drawings."—John Allemang, Toronto Globe and Mail
"Alexander Vatlin and Larisa Malashenko have collected a spectacular array of doodles, cartoons and caricatures...Most of the sketches here are wonderfully fearless, and some are filthy...often revealing about the disagreements and frustrations and dogged discussions...The best of the satires are of a kind a modern newspaper would be proud to carry - though many might not dare."---London Review of Books
"Fascinating doodle-portraits by various Soviet apparatchiks."—Toronto Globe and Mail (Gift Books)
"Remarkable. . . . The volume's material is highly original and provides a unique perspective on Soviet history of the 1930s."—Olga Mesropova, The Russian Review
"A unique and extraordinary window onto the private relations among Soviet communist leaders."—Matthew Lenoe, Slavic Review

ISBN:
9780300108491
Publication Date:
November 1, 2006
224 pages, 7 x 9 1/4
47 b/w + 182 color illus.