Katyn
WARNING
You are viewing an older version of the Yalebooks website. Please visit out new website with more updated information and a better user experience: https://www.yalebooks.com
A Crime Without Punishment
Edited by Anna M. Cienciala, Natalia S. Lebedeva, and Wojciech Materski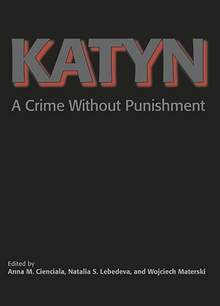 View Inside
Format:

Paper


Price:

$50.00
Also Available in:
Cloth
e-book
The first collection of Russian documents in English on the Soviet massacre of Polish prisoners of war in 1940 and the fifty-year cover-up that followed

The 14,500 Polish army officers, police, gendarmes, and civilians taken prisoner by the Red Army when it invaded eastern Poland in September 1939 were held in three special NKVD camps and executed at three different sites in spring 1940, of which the one in Katyn Forest is the most famous. Another 7,300 prisoners held in NKVD jails in Ukraine and Belarus were also shot at this time, although many others disappeared without trace. The murder of these Poles is among the most monstrous mass murders undertaken by any modern government. Three leading historians of the NKVD massacres of Polish prisoners of war at Katyn, Kharkov, and Tver—now subsumed under "Katyn"—present 122 documents selected from the published Russian and Polish volumes coedited by Natalia S. Lebedeva and Wojciech Materski. The documents, with introductions and notes by Anna M. Cienciala, detail the Soviet killings, the elaborate cover-up, the admission of the truth, and the Katyn question in Soviet/Russian–Polish relations up to the present.
Anna M. Cienciala, a specialist in twentieth-century Polish diplomatic history and Katyn, is a retired professor of history at the University of Kansas, Lawrence. Natalia S. Lebedeva, the leading Russian historian of Katyn, is a researcher at the Russian Academy of Sciences, Moscow, who has edited other documents and published articles on Soviet-Polish relations, the Comintern, and other subjects. Wojciech Materski, the leading Polish historian of Soviet/Russian–Polish relations and Katyn, is director of the Institute of Political Studies, Polish Academy of Sciences, Warsaw.
"An extremely important book on one of the signature crimes of Stalinism and one of the great efforts of obfuscation of Soviet propaganda."—Timothy Snyder, Yale University


"This is not only a story about a cruel crime that remains unpunished. It is also a story about historical truth versus denial, about moral impulses versus political cynicism. A piece of Polish history but also a message of universal importance."—Janusz Reiter, Ambassador of Poland 



"[An] excellent and timely book. . . . Katyn takes its palce as the definitive English language history of Katyn, one that is both readily readable as well as exhaustively documented. Every Polish-American should read it. Polish-Americans and their organizations should ensure that every local public, college, and even high school library in their area owns a copy. . . . [A] masterful and authoritative work."—John Grondelski, Polish American Journal
"This imposing work provides English readers with the most extensive documention to date of the planning and execution of the crimes perpetrated in the remote forests of eastern Europe in 1939-40. the editors' selection of 122 documents, gathered and translated from previously published Russian and Polish collections, is supplemented by their own original introductions to the three main chronological parts, designed for English readers who may be less than familiar with the events detailed. . . . Recommended."—Choice
"The most complete and up-to-date collection of archival documents concerning the Katyn massacre ever published in English. . . . These documents are accompanied by exhaustive and detailed commentary which explains historical contexts of the Katyn massacre, its genesis, perpetration, cover-up, and aftermath. . . . Extraordinary. . . . An absolutely indispensable book for all scholars seriously studying World War II, Russia, Poland, communism, mass murder, and the dark side of mankind."—Dariusz Tolczyk, The Russian Review
"A gripping—at times horrifying—historical reconstruction, fortified by original and previously not accessible Soviet documents, of one of the worst crimes of World War II. Even those previously familiar with the basic facts and with the identity of the perpetrators will learn much from this powerful account. The historical analysis sets the scene for the crime and then reviews the systematic preparation of the gruesome executions; the Soviet efforts to escape culpability; and the difficult struggle of Soviet reformers—spurred by Polish demands—to overcome Gorbachev's reticence to confront the truth unambiguously. To this day, Russia's unwillingness to make a total break with Stalin's legacy stands in sharp contrast with Germany's total condemnation of Hitlerism and thus poses a serious obstacle not only to Polish-Russian reconciliation but also to Russian identification with Europe."—Zbigniew Brzezinski
"The book under review, published in the series Annals of Communism, is an extremely important work and obligatory reading for anybody interested in the history of Poland, the Soviet Union, or communism."—Piotr Wróbel, Slavic Review
ISBN:
9780300195477
Publication Date:
January 7, 2008
624 pages, 6 x 9
43 b/w