The Lost Politburo Transcripts
WARNING
You are viewing an older version of the Yalebooks website. Please visit out new website with more updated information and a better user experience: https://www.yalebooks.com
From Collective Rule to Stalin's Dictatorship
Edited by Paul R. Gregory and Norman Naimark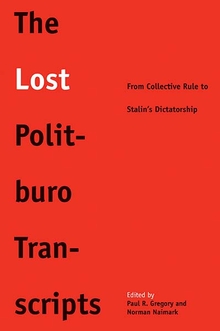 View Inside
Format:

Paper


Price:

$29.00
Also Available in:
Cloth
e-book
In this groundbreaking book, prominent Western and Russian scholars examine the "lost" transcripts of the Soviet Politburo, a set of verbatim accounts of meetings that took place from the 1920s to 1938 but remained hidden in secret archives until the late 1990s. Never intended for publication or wide distribution, these records (known as stenograms in Russia) reveal the actual process of decision making at the highest levels of the Soviet communist party. The transcripts also provide new, first-hand records of the rise of Stalin's dictatorship.
The contributors to the volume explore the power struggles among the Politburo members, their methods of discourse and propaganda, and their economic policies. Taken as a whole, the essays shed light on early Soviet history and on the individuals who supported or opposed Stalin's consolidation of power.
Paul Gregory is Cullen Distinguished Professor of Economics, University of Houston. As a research fellow at the Hoover Institution, he directs the Soviet Archives Working Group. He lives in Bellaire, TX. Norman Naimark is Robert and Florence McDonnell Professor of East European Studies, Stanford University. He lives in Stanford, CA.
"The collection represents a significant contribution to the scholarship, offering new insights into the important topics discussed in each essay, topics that are of pivotal importance to our understanding of early Soviet history and the rise of the Stalin dictatorship."—Lynne Viola, University of Toronto
'Individually the essays are excellent studies that will appeal to the particular interest of readers. Taken as a whole, the volume contributes significantly to our understanding of Stalin's rise to dictatorial power and the Politburo's practical functioning  in the post-Lenin, pre-war period…This volume exemplifies the best features of modern scholarship on Soviet Russia…The crucial new light that the book throws on many of the major issues of the history of the Soviet government surely makes it required reading for students and specialists alike.'
"Based on rich data sources in the Hoover Archive, Gregory presents a well-documented study of the terror in the Soviet Union under both Lenin and Stalin. . . . The book offers another window into the literature on legacies of the socialist period." —J. W. Peterson, Choice
"This volume of twelve essays is a welcome contribution to the historiography if interwars Soviet history….The editors deserve our congratulations for selecting such fine authors and for letting them reach their own conclusions."—William J. Chase, Slavonic and East European Review Vol. 89, No. 1
"This valuable collection of essays examines a particular set of . . . recently accessible sources—minutes (or so-called stenograms) from meetings of the Politburo, the effective center of political power within the Soviet system. . . . A stimulating volume."—Elidor Mehilli, Ab Imperio
ISBN:
9780300209082
Publication Date:
October 21, 2014
288 pages, 6 1/8 x 9 1/4
6 b/w illus.