The American Far West in the Twentieth Century
WARNING
You are viewing an older version of the Yalebooks website. Please visit out new website with more updated information and a better user experience: https://www.yalebooks.com
Earl Pomeroy; Edited by Richard W. Etulain; Foreword by Howard R. Lamar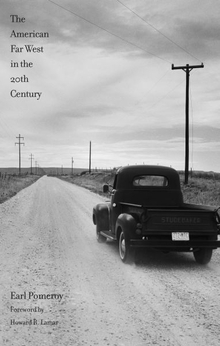 View Inside
Format:

Paper


Price:

$27.50
Also Available in:
Cloth
An eminent scholar's monumental and highly original history of the twentieth-century American West

In this richly insightful survey that represents the culmination of decades of research, a leading western specialist argues that the unique history of the American West did not end in the year 1900, as is commonly assumed, but was shaped as much—if not more—by events and innovations in the twentieth century. Earl Pomeroy gathers copious information on economic, political, social, intellectual, and business issues, thoughtfully evaluates it, and draws a new and more nuanced portrait of the West than has ever been depicted before.
Pomeroy mines extensive published and unpublished sources to show how the post–1900 West charted a path that was influenced by, but separate from, the rest of the country and the world. He deals not only with the West's transition from an agricultural to an urban region but also with the important contributions of minority racial and ethnic groups and women in that transformation. Pomeroy describes a modern West—increasingly urban, transnational, and multicultural—that has overcome much of the isolation that challenged it at an earlier time. His final book is nothing short of the definitive source on that West.
Earl Pomeroy (1915–2005) was Emeritus Professor of History at the University of California, San Diego, and Emeritus Professor of History at the University of Oregon, Eugene. He wrote numerous groundbreaking books on the American West in the twentieth century, including The Pacific Slope and In Search of the Golden West. Richard W. Etulain is Emeritus Professor of History at the University of New Mexico. He is author of Beyond the Missouri: The Story of the American West and Re-Imagining the Modern American West and coauthor of The American West: A Modern History, 1900 to the Present. He lives in Portland, OR.
"Earl Pomeroy fathered the 'New Western History' by pushing historians of the American West into the twentieth century, and this expansive survey, covering the economic, political, and social development of the region, attests to the research that he accomplished and the scholarship that he inspired."—Stephen Aron, UCLA and Autry Institute for the Study of the American West
"No historian in the past half century has written about the American West with greater insight or originality than Earl Pomeroy. We are lucky indeed that he has left us this posthumous volume as a final monument to the depth and range of his extraordinary scholarship."—William Cronon, author of Nature's Metropolis: Chicago and the Great West
"This book represents the last fruit of Earl Pomeroy's long and accomplished scholarly career. A political economy of impressive breadth, it reflects Earl Pomeroy's deep curiosity and critical intelligence. It is essential reading for anyone interested in the transformation of the American West in the twentieth century."—Richard White, Stanford University
"Pomeroy gathers information on economic, political, social, intellectual and business issues, evaluates it and draws a new and more nuanced portrait of the West than has been depicted before. He uses extensive sources to show how the post-1900 West charted a path that was influenced by, but separate from, the rest of the country and the world. He descibes a modern West—increasingly urban, transnational and multicultural—that has overcome much of the isolation that challenged it at an earlier time."—Deseret News
"The book is a fascinating mix of carefully presented details and wide-ranging topical coverage. . . . it will be a first point of reference for many topics."—Carl Abbott, Great Plains Quarterly
"[Pomeroy's] final book will be indispensable to all serious scholars of the western experience."—Ferenc Morton Szasz, American Historical Review
"Its value lies with its breadth and its insistence that we not lose sight of the important developments and experiences of the twentieth-century American West."—John Putman, The Historian
ISBN:
9780300158526
Publication Date:
October 27, 2009
600 pages, 5 3/4 x 9
62 scattered b/w photos & maps