Cowboys of the Americas
WARNING
You are viewing an older version of the Yalebooks website. Please visit out new website with more updated information and a better user experience: https://www.yalebooks.com
Richard W. Slatta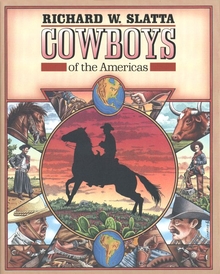 View Inside
Format:

Cloth


Price:

$65.00
Also Available in:
Paper
People throughout the world thrill to stories of galloping hooves, stampeding cattle, blazing gunfights, and other elements of cowboy lore, but few know what life was actually like for the working cowboy. This engrossing book by Richard W. Slatta explores the reality of cowboy life in the United States, Canada, and Spanish America, from the cowboy's beginnings as a wild-cattle hunter to his decline in the early twentieth century.
Lavishly illustrated with photographs, artworks, and posters, Cowboys of the Americas evokes the colorful world of North and South American cowboys in pictures and words. Quoting extensively from first-hand descriptions of cowboy and ranch life, Slatta provides fascinating vignettes of the cowboy in the American and Canadian West, as well as of Hawaii's paniolo, Mexico's vaquero, Venezuela's llanero, Chile's huaso, and Argentina's gaucho. Slatta compares the appearance, dress, character, and activities of these cowboys, demonstrating that Spanish influence was pervasive in all open-range cattle frontiers of North and South America. He takes the reader along with the cowboy to roundups and trail drives, horse races, campfires, saloons, and brothels. He reveals the harsh reality of frontier racial conflict and Indian wars. And he discusses the changes that overtook the cowboy as farmers, immigrants, and technology pushed across the plains, transforming the old way of life in the saddle and leaving the cowboy image alive only in myth and popular culture.
Slatta points out that this legacy of the cowboys has not been unimportant, however. In Argentina and Uruguay, for example, the once maligned gaucho was rehabilitated by the elite as a symbolic weapon against the perceived threat from urban immigrant masses. And in the United States, rodeos, Wild West shows, novels, toys, advertising, films, and television have transformed public perception of the cowboy from an uncouth rowdy to a national hero, so that identification with the cowboy helped Ronald Reagan become one of America's most popular chief executives.
"Richard Slatta is as at home describing the life and experiences of Argentine gauchos, and Venezuelan llaneros, as he is the American cowboy. In this lively and fresh narrative he gives us a comparative history of ranching in the New World, including Canada and Hawaii, that is a source of fascinating new information told vividly but without succumbing to myths and romanticizing. This unique panoramic history is an absolute delight to read."—Howard R. Lamar, Sterling Professor of History, Yale University
"Slatta's colorful, extensive account of the cowboy mystique has value as a U. S. history reference text and will appeal to readers in the subject."—Booklist
"The cowboy has long been considered one of America's unique contributions to popular culture, but rarely has the reality of cowboy life been examined either as extensively or as widely as in this book. Included is information on the cowboys of the Canadian West, as well as on Hawaii's 'paniolo,' Mexico's 'vaquero,' Venezuela's 'llanero,' Chile's 'huaso,' and Argentina's 'gaucho'. . . . In addition to the details of roundups and trail drives, the harsh reality of frontier life is vividly described. Academic in approach but appealing to a wide audience."—Booklist
"Comprehensive and incisive, this is the definitive work on the world of the cowboy."—Joe B. Frantz, Corpus Christi State University
"This study of the American cowboy by historian Richard Slatta brings to life again the cowboy of our youth. . . . Here we meet the cowboy as the central figure he was in frontier life for so long. . . . In this book we see him realistically in the essential role he played in cattle round-ups and trail drives."—John Barkham Reviews
"Richard Slatta has done our research for us in this study of the cowboys of North and South America and Hawaii—their origins, character, equipment, work habits, lifestyle and, perhaps most tellingly, the centuries-long impact on history of their myth-bound culture. . . . He tells the story of these cowboys more comprehensively than the novels of Zane Grey or the old Hopalong Cassidy movies could ever hope to. . . . This is an outstanding work. Abundantly illustrated, superbly organized and with footnotes enough to satisfy even the most insatiate armchair researcher. . . . It is factual without being pedantic, yet has just enough wistfulness to make us dream, as in the words of another beloved old song, 'Those are the times that old memories play,/Make me a cowboy again for a day.'"—William Dieter, Smithsonian
"This new book proves not only that there is room for another intelligent evaluation, it also demonstrates how a serious study from a university press can be accessible and scholarly at the same time. It is apparent that Richard W. Slatta, an associate professor of history at North Carolina State University, is not writing simply for other academics. While everything he asserts is fully documented, it is obvious he has taken pains to be interesting. . . . One of the many good things we can say about this book is that it has been written to be read. . . . Dozens of period posters, photographs, paintings, drawings and movie stills, many of them in color, give an especially evocative texture to this excellent production. The notes and bibliography are outstanding as well."—Nicholas A. Basbar, Worcester (MA) Sunday Telegram
"Slatta delves deeply into cowboy lore, covering the cattle herders in South America and Canada as well as those in the American West."—Frederick W. Slater, St. Joseph (MO) News Press-Gazette
"Excellent. . . . [Richard Slatta] tells the story of the cowboy's rise and decline throughout the Americas, and he tells it admirably. I've not seen a more handsomely produced book this year than Cowboys of the Americas."—Michael Skube, Raleigh News and Observer
"Filled with colorful illustrations, photographs, and poster reproductions, a comprehensive portrait of the American cowboy retraces two glorious centuries of cattle stampedes, gunfights, wide-open frontiers, and film and literary lore."—Forecast (Bridgewater, NJ)
"[Richard Slatta] blazes a new trail in a gritty comparison of cowboy cultures that challenges the mythology of the Wild West hero."—Charles Salter, Jr., Raleigh News and Observer
"Authoritative, insightful and eminently readable. . . . [An] engrossing book."—Mary M. Fisher, North San Antonio Times
"Slatta looks searchingly and lovingly at the real cowboy. This scholarly, but very readable volume is perhaps the finest book of its kind to be published."—Dick Kleiner, Desert Sun
"One of the very best. . . . A lavishly illustrated and beautifully written work. . . . Slatta takes an interesting approach to this book, treating the story of the cowboy like an old western movie—complete with short, punchy vignettes, flashbacks, close-ups, wide-angle views, heroes and villains, and a peaceful ending at twilight. . . . The book is rich in the detail of cowboy dress, habits, and ranch and trail life, and has a splendid chapter on 'Cowboys and Indians: Frontier Race Relations.'"—Dale L. Walker, True West
"A valuable contribution."—Herb Hyde, Lincoln, Neb. Sunday Journal-Star
"[An] ambitious new volume. . . . [Slatta] has produced a first-rate synthesis and a solid model for other such studies. . . . When fashioning my own assessment of Richard Slatta's in Cowboys of the Americas, the epitaph of an old Texas cowpuncher came to mind: 'He done his damndest, angels can do no more."—B. Byron Price, Persimmon Hill (Publication of the National Cowboy Hall of Fame and Western Heritage Center)
"[Slatta] tells you everything you wanted to know about the cowboy but were afraid to ask. . . . The information is interesting, extensive."—James Crumley, Los Angeles Times
"The story of the cattle frontier of North and South America is one of epic proportions and Richard W. Slatta is to be congratulated for tackling it. . . . Scholarly, comprehensive, beautifully produced and illustrated. . . . It certainly makes a magnificent introduction to its subject. There are ample notes, an exhaustive bibliography, a useful glossary and a plethora of telling details."—Hugh Brogan, Times Literary Supplement
"In this highly readable and handsomely illustrated comparative history of cowboys in the Americas, Slatta uses his earlier studies of the gaucho in Argentina and his recent research into cowboy life in Mexico, Chile, Venezuela, Canada, and the U. S."—Choice
"From saddle tramps to saddle sores, the complete cultural anthropology of the cowpoke."—Entertainment Weekly
"Slatta's attention to detail and the breadth of his research are impeccable, and serious cowboy aficionados should find his book indispensable."—Kirkus Reviews
"Cowboys in the Americas is significant in several ways. It is a cross-cultural study of ranch workers in Canada, the United States, Mexico, Venezuela, Argentina, and Chile, dealing not only with their histories and economic contexts, but also with those aspects of image that have from time to time made them useful cultural and political symbols in their respective countries. The volume is a capstone to Slatta's earlier work on gauchos, banditry, and frontier social life. . . . An important exercise in comparative frontier history and is one of the best to appear in the past two decades. . . . A stimulating, provocative book, and Yale has prepared it handsomely. The publisher's attention to design and reproduction of the splendid illustrations makes the book an aesthetic delight and, in these trying times, a real bargain. Cowboys of the Americas richly deserves the wide audience it will attract."—William Savage, Jr., Montana The Magazine of Western History
"This is an excellent work of scholarship. The pictures are splendid, too."—Michael Thompson-Noel, Financial Times
"In this handsomely illustrated volume, Richard W. Slatta explores cowboy life in the United States, Canada, and Spanish America from the first wild-cattle hunters of the sixteenth century to the decline of traditional ranch life in the early 1900s."—American History
"The joy of this particular book . . . lies . . . in the minutiae of cowboy life."—Glen Baxter, London Review of Books
"Western history buffs as well as Latin American scholars will welcome . . . Cowboys of the Americas. In what is obviously a labor of love, Richard W. Slatta has placed the saga of the North American cowboy within the context of other cowboy cultures of the Western Hemisphere, and he combines colorful quotations from first-hand observers with more than one hundred photographs, illustrations, and posters to covey the world of cattle frontiers in a manner certain to engage the aficionado. . . . [A] challenging comparative history that will enliven the ongoing debate about Western Hemisphere frontiers."—Jane M. Rausch, Inter-American Review of Bibliography
"Its original contribution to the history of the western United States is its comparative approach. . . . From wild-cattle hunters of Spanish America to mythical cowboys of fiction and film, Slatta surveys their history and significance in clear, readable style. His notes and bibliography, like those in the books by Ridington, Nabokov, and Cunningham, are detailed and scholarly. . . . Yale University Press should also be praised for splendid innovation."—Bernard Mergen, American Studies International
"This is a fascinating book which is prolifically illustrated with photographs, art works, and posters. These are exceptionally well reproduced, and, combined with the extensive quotations from many first hand descriptions of what life was really like for the cowboy in North and South America make this book very desirable. It is comprehensive and is probably due to become one if—if not the—definitive work on the subject."—Tom Wanless, English Westerners' Tally Sheet
"Deserves a warm welcome from all of us who are drawn to the history and lore of the cattle frontier."—Ronald McCoy, South Dakota History
"Slatta writes well and provides the reader with an in-depth study of a fascinating subject. The book has lavish illustrations, a valuable glossary, and good bibliographical notes. . . . This is an important work that will interest any student of Latin America."—Julian Pleasants, Hispanic American Historical Review
"A sweeping comparative overview of the rise and fall of the cowboy and the cattle ranges he worked, from the Argentine pampas to the Alberta prairies. . . . Slatta has drawn upon an array of multinational scholarship, as well as his own archival research, to fashion an engaging and beautifully illustrated foray into the world of the cowboy."—John H. Lenihan, Western Historical Quarterly
"A lavishly illustrated and beautifully written work of sustaining value. . . . Rich in detail."—Dale L. Walker, Southwestern Historical Quarterly
"This book makes for enjoyable reading. . . . Will become fundamental reading for all who are interested in continuing research on the New World's most inspiring heroes, the horsemen."—John Donahue, Great Plains Quarterly
 "Cowboys of the Americas is a formidable work. It is really two books in one cover: a broad, comparative essay on cattle pastoralism in the New World and a photographic essay on the same. . . . An impressive exercise in comparative social history which draws largely on firsthand accounts and deftly employs analytical tools to understand the lives of cowboys. . . . Cowboys should become a classic. . . . If you read only one (more) book on cowboys, read this one."—Thomas D. Hall, Journal of the Southwest
Winner of the 1991 Western Heritage Award for nonfiction, given by the National Cowboy Hall of Fame
ISBN:
9780300045291
Publication Date:
September 26, 1990
x