The Rise of American Air Power
WARNING
You are viewing an older version of the Yalebooks website. Please visit out new website with more updated information and a better user experience: https://www.yalebooks.com
The Creation of Armageddon
Michael S. Sherry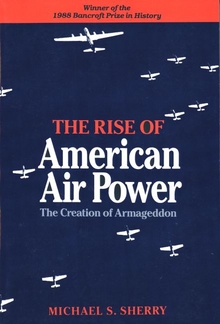 View Inside
Format:

Paper


Price:

$42.00
Also Available in:
Cloth
The Bancroft Prize-winning history of American strategic bombing

"Sherry has given us more than just a major contribution to the literature about air power and World War Two. His real subject is nothing less than the destructiveness of our modern age."—John W. Dower, author of War Without Mercy: Race and Power in the Pacific War
 
This book offers an in-depth history of American strategic bombing. With impressive sweep and vigor, Michael S. Sherry explores the growing appear of air power in America before World War II, the ideas, techniques, personalities, and organizations that guided air attacks during the war, and the devastating effects of American and British "conventional" bombing. He also traces the origins of the dangerous illusion that the bombing of cities would be so horrific that nations would not dare let it occur—an illusion that has sanctioned the growth of nuclear arsenals. His book is a major contribution to American military, intellectual, and political history.
 
"Sherry has given us more than just a major contribution to the literature about air power and World War Two. His real subject is nothing less than the destructiveness of our modern age."—John W. Dower, author of War Without Mercy: Race and Power in the Pacific War
 



 
 

 

 

"This is an outstanding work on the most important of all current problems:  strategic bombing and its uses and justification. My hope is that every decision-maker in the American defense establishment will read it."—Stephen E. Ambrose, author of Rise to Globalism
 
"Sherry presents a carefully crafted history of the U.S. approach to strategic bombing through the dawn of the atomic age. . . . Sherry has presented a well-researched account which will cause historians to reconsider many common assumptions about U.S. military doctrine in this century."—Steven W. Guerrier, Social Science Quarterly

"A ground-breaking work of high value."—Russell Weigley, author of The American Way of War
"Sherry brilliantly lives up to the promise made by his first book, Preparing for the Next War. His is not an attack on strategic air proponents but a thoughtful look at the growth of the idea that wars could be won by sheer destruction of cities."—Forrest C. Pogue, author of General of the Army: George C. Marshall
 
"This is undoubtedly a major contribution to the literature of World War II, especially on the evolution and application of strategic bombing. Moreover, this riveting study has a distinct significance in today's world."—Library Journal

"One of the most provocative books in recent memory is Michael S. Sherry's The Rise of American Air Power. It is an intellectual-cultural-psychological history of the American mind-sets that led to the 'fire storms' in Germany and Japan in 1944 and 1945."—David R. Mets, Naval War College Review
"Sherry's book demands to be read. Most of the material comes from published sources, but here it is focused on moral questions, making history uncomfortably personal."—D.J.R. Bruckner, New York Times Book Review
"A brilliant, biting and yet not ungenerous study of a momentous idea, the idea of war from the air, and Sherry has filled in its eclectic origins and its complex sociology, civil and military."—Phillip Morrison, Scientific American

"Sherry boldly argues that modern air power has been a 'dagger of the mind,' a thing of the imagination out ahead of the technology, determining how that technology would develop, at least as much as technical developments established their own priorities. . . . Sherry describes the course of the war in brilliant detail as a tug of war between what it was felt planes should do and what, at any moment, they could do."—Garry Wills, New York Review of Books

"Provocative, complex, probing."—Choice
"Massive and magisterial history. . . . It assembles an enormous mass of data that marks it as a seminal volume on its subject."—Booklist 
  
"A big, heroic and chilling story, and Michael Sherry tells it with style, controlled passion, and analytical sophistication. This book is the best kind of strategic history. It weaves together all the relevant strands: the policy-makers, the cultural factors, bureaucratic pressures, sociological dimensions, technological influences and much more, in addition to the fighting men and their battles."—Ken Booth, International Affairs
"Sherry successfully juxtaposes the internal policies and operational experiences of the air force with the social and political contexts within which it lived and grew. . . . A welcome one-volume synthesis which is both informative and provocative."—John Gooch, Times Higher Education Supplement

"In this provocative and well-written book, Sherry examines the morality of bombing. He argues that the widespread death and destruction brought about by bombing often bore little relationship to strategic objectives:  air power was used because it was there. . . . His analysis of the evolution of air power commands attention. His treatment of the interwar years adds a great deal to our understanding of this formative period. Also, he brings a fresh and challenging perspective to wartime decisions about bombing."—William M. Leary, Georgia Historical Quarterly

"An important addition to the history of the development of U.S. air power."—David N. Farnsworth, The Historian
 

"He masterfully combines elements of biography, social history, military doctrine, and interesting detail to construct a long interpretative essay tracing and explaining the evolution of United States air power. . . . A major contribution to our continual and frustrating attempts to understand the perplexing problem of using air power as an instrument of war."—Harry R. Borowski, Journal of American History
  
"The portraits of key figures such as Henry Arnold and LeMay are finely rendered, as are his analyses of the cultural aspects of air power. . . . [This book] is rich and brilliantly detailed in its combination of military, political, and social concerns. No account of contemporary strategy in the age of Armageddon can afford to ignore this provocative study of the rise to dominance of air power in America."—Eric J. Sundquist, Virginia Quarterly Review
"Michael Sherry properly won the Bancroft Prize in 1987 for this book. It is an excellent piece of history, with a strong and analytical message for the time in which we live. . . . The strength of this book is in the unsparing descriptions. . . . Sherry has written a powerful book. It should be widely read and should become part of the sophisticated history of World War II bound to come as the fiftieth anniversary dates of World War II events are reached over the next half decade. University students as well as general readers will profit from this book."—David C. Smith, History: Reviews of New Books
"For the prepared reader, [Sherry's] detailed exposition of the costs of nuclear strategic thinking provides a useful vehicle for examining past mistakes to avoid repeating them."—Major Charles M. Westenhoff, Airpower Journal
"Makes a distinguished contribution to the literature, and should serve as a focus for debate for years to come."—Malcolm Cooper, English Historical Review
"Sherry makes a number of provocative assertions. . . . A significant book."—Kenneth P. Werrell, Armed Forces and Society
"The winner of the Bancroft Prize for historical writing when it was published in hardcover two years ago, Northwestern professor Michael Sherry's survey of American strategic bombing policy is popular history at its best."—Newsday

"In this extraordinary book Sherry has marshaled numerous and persuasive historical explanations for the descent of the United States into indiscriminately cruel forms of war."—Walter A. McDougall, Diplomatic History
 
Selected as the co-winner of the 1988 Bancroft Prize, awarded annually by Columbia University to recognize books of exceptional merit and distinction in American history and diplomacy
 
ISBN:
9780300044140
Publication Date:
September 10, 1989
478 pages, 7 x 10
25 b/w illus.