Self-Evident Truths
WARNING
You are viewing an older version of the Yalebooks website. Please visit out new website with more updated information and a better user experience: https://www.yalebooks.com
Contesting Equal Rights from the Revolution to the Civil War
Richard D. Brown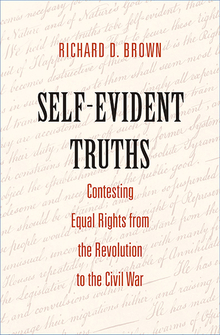 View Inside
Format:

Hardcover


Price:

$40.00
From a distinguished historian, a detailed and compelling examination of how the early Republic struggled with the idea that "all men are created equal"

How did Americans in the generations following the Declaration of Independence translate its lofty ideals into practice? In this broadly synthetic work, distinguished historian Richard Brown shows that despite its founding statement that "all men are created equal," the early Republic struggled with every form of social inequality. While people paid homage to the ideal of equal rights, this ideal came up against entrenched social and political practices and beliefs.
 
Brown illustrates how the ideal was tested in struggles over race and ethnicity, religious freedom, gender and social class, voting rights and citizenship. He shows how high principles fared in criminal trials and divorce cases when minorities, women, and people from different social classes faced judgment. This book offers a much-needed exploration of the ways revolutionary political ideas penetrated popular thinking and everyday practice.
Richard D. Brown is Board of Trustees Distinguished Professor of History, Emeritus, at the University of Connecticut. His previous books include Knowledge Is Power: The Diffusion of Information in Early America, 1700–1865;The Strength of a People: The Idea of an Informed Citizenry in Early America, 1650-1870; and the coauthored microhistory The Hanging of Ephraim Wheeler: A Story of Rape, Incest, and Justice in Early America.
"In Self-Evident Truths, Richard D. Brown offers a lucid, profound, original, probing, and often moving examination of the elusive and conflicting pursuits of equality in the American past and present." - Alan Taylor, author of American Revolutions: A Continental History
"Richard Brown shows in this erudite, well-argued book that the radical rallying cry of 'all men are created equal' helped inspire numerous Americans to fight in politics and the courts to make the ideal of equality a reality."—Eric Foner, Pulitzer Prize-winning author of The Fiery Trial: Abraham Lincoln and American Slavery
"Richard D. Brown likes to take on huge historical problems that span decades and clarify them for us. In this superb book dealing with the conflict over equal rights in antebellum America, he has done it again, and once more we are in his debt."—Gordon S. Wood, author of the Pulitzer Prize-winning Radicalism of the American Revolution
"Self-Evident Truths is a tribute to a revolutionary ideal of equal rights and to America's fitful and uneven attempts to realize it in the decades after independence.  With elegance and insight, Richard Brown guides us past the privilege of the founders to show us how they and generations of Americans after them took the promise of the Declaration of Independence seriously enough to act on it, if often imperfectly, across the range of religion, ethnicity, gender, age, class, and even race."—Bruce Mann, author of Republic of Debtors:  Bankruptcy in the Age of American Independence
"In a broad-ranging , deeply researched, and marvelously lucid study,  master historian Richard Brown explores the extraordinarily contested nature of the debate over equality from the American Revolution to the Civil War. Brown's fascinating book could not be more timely or revealing."—Rosemarie Zagarri, author of Revolutionary Backlash: Women and Politics in the Early American Republic
"The commitment to human equality forged in the Declaration of Independence has inspired and haunted Americans ever since 1776. In this penetrating analysis, Richard Brown carefully explores how Americans began to explain and advance what the commitment could actually mean."—Jack N. Rakove, Pulitzer Prize-winning author of Original Meanings: Politics and Ideas in the Making of the Constitution
"Lucidly presented . . . Brown explores the alternate widening and narrowing of the gap between ideology and reality with regard to the concept of equal rights, and shows Americans of all backgrounds attempting to adjust the balance to their advantage."—Publishers Weekly, starred review
"A valuable contribution to the history of the early republic and to the scholarly literature of civil rights."—Kirkus
"A clear . . . account of the first nine decades of American history after 1776 as a series of struggles over the promise and limits of equality."—Nation
"Important for readers concerned about current policy as well as history."—Choice
"Sure to spark further historical and legal debate, research, writing, and publications as Brown's ideas and arguments are parsed and dissected on this fundamental issue in regional and United States history."—Thomas C. Mackey, New England Quarterly
"Self-Evident Truths is a rewarding volume—carefully written, balanced, and well documented."—Michal Jan Rozbicki, Journal of American History
"Joins the pantheon of scholarly works on the early republic that any truly informed citizen must have in her library. . . . Splendid, careful, well-documented."—Michael Sean Winters, National Catholic Reporter
"For all of us who thought we understood the precept that 'all men are created equal,' Richard Brown's exhaustive study proves us wrong. . . . Self-Evident Truths is a gracefully written book that traces the history of equal rights in America."—Elaine Forman Crane, Civil War History
"Nuanced, deeply informed by recent scholarship. . . . Much of this work is and is intended to be a synthesis, and it is masterfully done. . . . Self-Evident Truths . . . accomplishes the remarkable task of clarifying how a presumption of equal rights in our founding era helped shape both the aspirations for equality and the persistent inequalities that have shaped American history ever since."—Kevin Butterfield, Journal of the Civil War Era
Self- Evident Truths is the winner of the 2018 New England Historical Association (NEHA) book award
Finalist for the Sally and Morris Lasky Prize, established by the Center for Political History at Lebanon Valley College for the best book in American political history published in 2017.
 
ISBN:
9780300197112
Publication Date:
March 14, 2017
400 pages, 6 1/8 x 9 1/4
22 b/w illus.