The Paris Years of Thomas Jefferson
WARNING
You are viewing an older version of the Yalebooks website. Please visit out new website with more updated information and a better user experience: https://www.yalebooks.com
William Howard Adams; Original Photography by Adelaide de Menil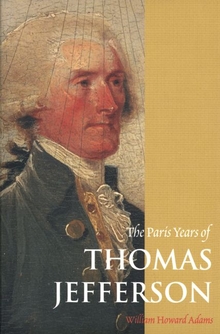 View Inside
Format:

Paper


Price:

$37.00
Also Available in:
Cloth
In 1784 Thomas Jefferson moved to the sophisticated and exhilarating city of Paris, where he spent the next five years as minister from the new United States of America. These were formative years for France, for the United States, and for Jefferson's cultural and intellectual development. This engaging book recreates in word and illustration the atmosphere and personalities of prerevolutionary Paris, and it reveals the profound impact they had on one of America's first transatlantic citizens.

William Howard Adams discusses how the provincial Virginian became a cosmopolitan connoisseur in the rarefied intellectual, political, scientific, and artistic circles of the city. He describes Jefferson's relationships with such luminaries as Lafayette, Condorcet, Lavoisier, Baron Grimm, La Rochefoucauld, John and Abigail Adams, Gouverneur Morris, and J.-L. David, as well as his involvement with the English painter Maria Cosway. His alleged affair with his slave Sally Hemings is critically examined in the context of all available evidence.

Adams's principal focus is on Jefferson's role as the preeminent American envoy in Europe after the departure of Franklin, his participation in the cultural and political life of the city, and his private intrigues to help his friends bring the Bourbon monarchy to heel. Finally, he places the author of the Declaration of Independence in the middle of his second revolution and chronicles the dramatic events leading up to the upheaval of 1788-1789.

The book is richly illustrated with art of the period and with specially commissioned photographs of Parisian sites by Adelaide de Menil.
William Howard Adams is a fellow at the International Center for Jefferson Studies. A historian, writer, lecturer, and film maker, he was the curator of the National Gallery's Bicentennial exhibition The Eye of Thomas Jefferson and the editor of the catalogue of the same name.
A selection of the History Book Club

"This gracefully written book about Jefferson's years in Paris is our most illuminating study of that important period in Jefferson's life. It is a work that all serious students of the third president will want to own."—Herbert Sloan, author of Principle and Interest: Thomas Jefferson and the Problem of Debt
"Elegantly synthesiz[es] the historical wisdom on Jefferson's tenure in Paris. . . Adams deftly illustrates both the scope and importance of [the] Parisian context in all its splendor."—Linzy Brekke, Chicago Tribune
"[Adams] offers a judicious, balanced overview based on thorough grounding in primary sources as well as the latest books on Jefferson. . . . Adams's touch is light. He clearly admires Jefferson while avoiding hagiography, demonstrating that Jefferson's five years in France helped to obliterate the last traces of provincialism in the Virginian and further implanted in him the ideals of the Enlightenment and the French Revolution. Highly recommended for all libraries."—Library Journal
"Adams uses a series of eight interlocking chapters to illuminate, with broad scholarship and graceful writing, these critical years. . . . Provides an informed and incisive overview of Paris on the eve of the French revolution. . . . Richly illustrated."--Noble E. Cunningham, Jr., Washington Times
"Adams has written an interesting and particularly erudite book about Thomas Jefferson's service in Paris as U.S. minister to France from 1784 to 1789. [This book] examines Jefferson's ambassadorial career in exquisite detail."—Lowe Bibby, AP Special Features
"This is a weekend-in-the-country book, a kind of gettin-to-know-you, snugglin-in digest whose sparkling scholarship is disguised by its ambling pace. . . . Adams has presented a superbly colourful portrait."—Raymond Seitz, Times (London)
"Subtle and understated, William Howard Adams's graceful study has a sharper edge than either the reader or, indeed, the author, might have expected."—Eileen Battersby, Irish Times
"The Paris Years of Thomas Jefferson intelligently explores the critical formative experience of that thought-filled, mild-mannered Virginian in the tumult of Paris society from 1784 to 1789. It takes the reader on an authoritative journey through the streets of the city and among the provocative characters in whose company the American diplomat thrived. . . . Adams opens readers to readers a very visual world. That is, perhaps, the greatest strength of the copiously illustrated book."—Andrew Burstein, Virginia Quarterly Review
"An elegantly written survey. . . . A balanced and well-researched look at Jefferson's life and intellect during a crucial period in his development."—Kirkus Reviews
"In this wonderfully engaging book, Adams provides historians with a new and better context in which to reexamine Jefferson's role as a political partisan and ideological propagandist during the 1790s."—C. Bradley Thompson, Ashland University, Journal of American History
"Adams has crafted an exceptionally solid and balanced view of Jefferson in Paris. His work is well researched and documented and is first-rate history. . . . The Paris Years of Thomas Jefferson is a readable and informative book, one that we would expect from an author of Adam's ability. It makes a significant addition to Jefferson scholarship and should be considered essential for Americanists and cultural and diplomatic historians and students. The general reading public will also enjoy it."—History
"Adams' absorbing account . . . conjures the intellectual, political, and cultural atmosphere of the Paris of the late ancient régime."—Brad Hooper, Booklist
"Jefferson's years in France have never been more fully or more gracefully examined than in William Howard Adams's new study. . . . [Adams] has written a compelling examination of Paris, Jefferson, and the environment he encountered, which the Yale University Press fittingly has encased in a handsomely produced volume."—Lawrence S. Kaplan, Journal of the Early Republic
"This is a splendid piece of scholarship. It recreates in lush detail the five years that Thomas Jefferson spent as minister to France. . . . [A] superbly designed book."—Norman K. Risjord, American Historical Review
ISBN:
9780300082616
Publication Date:
January 11, 2000
368 pages, 6 x 9