Cold War Ecology
WARNING
You are viewing an older version of the Yalebooks website. Please visit out new website with more updated information and a better user experience: https://www.yalebooks.com
Forests, Farms, and People in the East German Landscape, 1945-1989
Arvid Nelson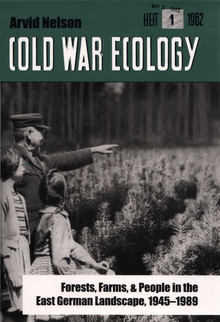 View Inside
Format:

Cloth


Price:

$85.00
Also Available in:
e-book
A new way of measuring the health of a political system: by examining the health of its landscapes and ecosystems

East Germany, its economy, and its society were in decline long before the country's political collapse in the late 1980s. The clues were there in the natural landscape, Arvid Nelson argues in this groundbreaking book, but policy analysts were blind to them. Had they noted the record of the leadership's values and goals manifest in the landscape, they wouldn't have hailed East Germany as a Marxist-Leninist success story. Nelson sets East German history within the context of the landscape history of two centuries to underscore how forest and ecosystem change offered a reliable barometer to the health and stability of the political system that governed them.

Cold War Ecology records how East German leaders' indifference to human rights and their disregard for the landscape affected the rural economy, forests, and population. This lesson from history suggests new ways of thinking about the health of ecosystems and landscapes, Nelson shows, and he proposes assessing the stability of modern political systems based on the environment's system qualities rather than on political leaders' goals and beliefs.
Arvid Nelson is lecturer and assistant professor adjunct, Yale School of Forestry and Environmental Studies, and trustee of the Smith Richardson Foundation, Inc., a leading foundation in global security and foreign policy studies.
"In a fascinating and original study that blends ecology and politics, Arvid Nelson uses East Germany's landscape, its mismanagement of its forests, and the Party's 'war on the land' as a window to help us understand the still-astounding collapse of communism. In so doing, he also makes clear why environmental devastation is one of the truly lasting legacies of communism and its 'scientific socialism.'"—Daniel Yergin, author of the Pulitzer Prize-winning The Prize and of The Commanding Heights: The Battle for the World Economy
"Nelson directly addresses how bankrupt political systems and inept political leaders can destroy the health of forests and the communities that depend on them. A lucid and invigorating book."—Paul V. Ellefson, University of Minnesota
"This is a truly remarkable book, one that provides an insightful view through a forest/forestry lens of one of the fatal flaws within East German communist economic policy—the failure to take either environment or natural resource management into account."—Thomas E. Lovejoy, president, The H. John Heinz III Center for Science, Economics, and the Environment
"Offers an engaging examination of the communist regime's exploitive policies. . . . Provocative and thoughtful, impressively detailed and reliant on rich primary materials, Nelson's study will be of interest to economic and environmental historians, historians of Germany, Central Europe and the Cold War and those concerned with policymaking."—Sandra Chaney, H-German
ISBN:
9780300106602
Publication Date:
December 10, 2005
368 pages, 6 1/8 x 9 1/4
61 b/w illus.