Voices of the Wild
WARNING
You are viewing an older version of the Yalebooks website. Please visit out new website with more updated information and a better user experience: https://www.yalebooks.com
Animal Songs, Human Din, and the Call to Save Natural Soundscapes
Bernie Krause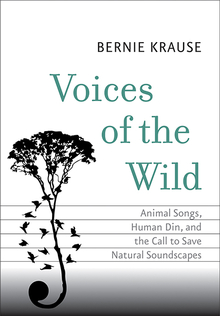 View Inside
Format:

Cloth


Price:

$20.00
A pioneer in the field of soundscape ecology explores the ways in which the voice of the natural world informs many subjects  

Since 1968, Bernie Krause has traveled the world recording the sounds of remote landscapes, endangered habitats, and rare animal species.  Through his organization, Wild Sanctuary, he has collected the soundscapes of more than 2,000 different habitat types, marine and terrestrial. With powerful illustrations and compelling stories, Krause provides a manifesto for the appreciation and protection of natural soundscapes. In his previous book, The Great Animal Orchestra, Krause drew readers' attention to what Jane Goodall described as "the harmonies of nature . . . [that are being] one by one by one, snuffed out by human actions." He now explains that the secrets hidden in the natural world's shrinking sonic environment must be preserved, not only for our scientific understanding, but for our cultural heritage and humanity's physical and spiritual welfare.
 
Krause's narrative—supplemented by exclusive access to field recordings from the wild—draws on a compelling range of personal anecdotes, histories, and examples to document his early exploration of this field and to lay the groundwork for future generations.
Bernie Krause is a soundscape ecologist, musician, and writer. He and the English composer Richard Blackford collaborated on The Great Animal Orchestra: Symphony for Orchestra and Wild Soundscapes, which premiered in the UK in 2014 with the BBC National Orchestra of Wales. He lives in Glen Ellen, CA.
"Bernie Krause hears things the rest of us don't even realize we're missing. But if we listen carefully, starting with him, we just might resurrect some sweet sounds we've lost."—Alan Weisman, author of Countdown and The World Without Us
"If a picture is worth a thousand words, what is a sound recording worth? Perhaps much more. . . . We say we want peace and quiet, but Bernie knows better. What we really want is something worth listening to. There is plenty of it out there. Nobody knows how to find it better than Bernie Krause."—Jean Michel Cousteau, on The Great Animal Orchestra
"Bernie Krause is a hero to many of us. In a deafened world, he hears, records and explains the parallel universes around us. In Voices of the Wild, he delves deeper into soundscape ecology, into philosophy and spirit, and the use of technology as way to open passageways into those universes. Voices of the Wild is fascinating, urgent, filled with sound and fury and beauty."—Richard Louv, author of The Nature Principle and Last Child in the Woods
"Bernie Krause shares his delight in the sounds of the natural world and makes an impassioned case for the importance of such acoustics."—Shelf Awareness
ISBN:
9780300206319
Publication Date:
August 25, 2015
184 pages, 5 x 7
12 b/w illus.

ADDITIONAL MATERIALS
Listen to the sound examples from Voices of the Wild
---
Sound 1: Weddell seals, Antarctic, by Doug Quin
---
Sound 2: Bearded seals, Alaska, by Martyn Stewart
---
Sound 3: Lincoln Meadow, June 1988, biophony before selective logging
---
Sound 4: Lincoln Meadow, June 1989, biophony after selective logging
---
Sound 5: Osa Peninsula, Costa Rica, 1989, before clear cutting
---
Sound 6: Osa Peninsula, Costa Rica, 1996, after clear cutting
---
Sound 7: Integrated Habitats by David Monacchi
---
Sound 8: Corkscrew Swamp, Naples, Florida
---
Sound 9: Crescent Meadow, Sequoia National Park
---
Sound 10: Sugarloaf State Park, Kenwood, California, April 2004, 2009, and 2014
---
Sound 11: Wyoming toad, recording by Martyn Stewart