Imperial Nature
WARNING
You are viewing an older version of the Yalebooks website. Please visit out new website with more updated information and a better user experience: https://www.yalebooks.com
The World Bank and Struggles for Social Justice in the Age of Globalization
Michael Goldman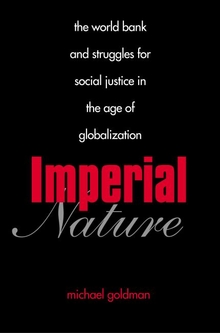 View Inside
Format:

Paper


Price:

$32.00
Also Available in:
Cloth
A piercing, first-hand analysis of the World Bank, one of the most powerful actors in today's global economy.

Why is the World Bank so successful? How has it gained power even at moments in history when it seemed likely to fall? This pathbreaking book is the first close examination of the inner workings of the Bank, the foundations of its achievements, its propensity for intensifying the problems it intends to cure, and its remarkable ability to tame criticism and extend its own reach.

Michael Goldman takes us inside World Bank headquarters in Washington, D.C., and then to Bank project sites around the globe. He explains how projects funded by the Bank really work and why community activists struggle against the World Bank and its brand of development. Goldman looks at recent ventures in areas such as the environment, human rights, and good governance and reveals how—despite its poor track record—the World Bank has acquired greater authority and global power than ever before.

The book sheds new light on the World Bank's role in increasing global inequalities and considers why it has become the central target for anti-globalization movements worldwide. For anyone concerned about globalization and social justice, Imperial Nature isessential reading.
Michael Goldman is associate professor of sociology at the University of Minnesota and is affiliated with its Institute for Global Studies.
"In this compelling book, Michael Goldman offers powerful new insights into how the World Bank has emerged as one of the most important sites of knowledge production in the world today. Yet by chronicling the practices and processes through which such knowledges become authoritative—and how they shift under pressure—the book also contributes to the possibilities for more politically enabling alternatives."—Gillian Hart, University of California at Berkeley and author of Disabling Globalization: Places of Power in Post-Apartheid South Africa  
"Michael Goldman's brilliant book will be widely read, admired, and quoted. Many ships will sail in its wake."—James C. Scott, Yale University
"Simply the best analysis we have of an imperial, hegemonic institution 'at work': in this case, the World Bank at work containing, colonizing, co-oping and reformulating environmentalism. Imperial Nature is well-argued, ethnographically subtle, and historically deep. Goldman's work will be the indispensable point of departure for all subsequent work on 'green' neo-liberalism."—James C. Scott, Yale University 
"We have grown accustomed to indictments of the World Bank for the devastation it has wrought, but Goldman goes several steps further. Opening up the Bank and its projects to the ethnographic eye he shows not only how environmental catastrophes occur but also how the Bank responds to those catastrophes with an ever more insidious regulation, by creating new knowledges, absorbing opposition, and refabricating states—all in the name of protecting the environment. Grassroots opposition may mount but the Bank's overarching hegemony is strengthened. A must-read for anyone interested in the role of global agencies in development."—Michael Burawoy, University of California, Berkeley
"Highly original and insightful, Goldman reveals how countries are pushed backwards instead of forwards in the name of  'development.'"—Naomi Klein, author of No Logo
"Imperial Nature offers novel insights into the Bank's methods of valuing nature and orchestrating technologies of governance to legitimize its development regime. Rich case studies, interwoven with intriguing biographies of developers and resisters, ground this engaging account of the Bank's unrivalled, and yet always fragile, power to produce and monopolize development knowledge."—Philip McMichael, Cornell University 
"Anyone puzzled by why globalization is increasing poverty and destitution in poor countries should read Imperial Nature. Through detailed research Goldman shows how the secretive unaccountable workings of the World Bank aimed only at increasing its own profits and the corporations it serves are killing ecological and economic democracy and dispossessing the poor of their resources and rights."—Vandana Shiva, author of Earth Democracy


"An excellent critique of the Bank's inner workings and external image-making."—Publishers Weekly
"A compelling study."—Steve Lachman, Environment
"It is as powerful and convincing an account of an organisation as could be wished for and its findings are profoundly disturbing. . . . This is an extremely thought-provoking and important book that should be read by anyone with any interest in the world of development or in the reasons why poor countries continue to be poor."—John Walsh, The Asia Review of Books
"Imperial Nature's greatest strength is its analysis of the World Bank as an institution. . . . A valuable resource for activists, students, and scholars, alike."—Joshua Brook, TNR Online


"A compelling study."—Steve Lachman, Environment
"[A] scholarly, incisive and damning study of the Bank."—David Moore, Journal of Agrarian Change
Winner of the 2008 Political Economy of the World System Section Book Award, given by the American Sociological Association.
ISBN:
9780300119749
Publication Date:
September 6, 2006
384 pages, 5 1/2 x 8 1/4
7 b/w illus.