Revolution, Resistance, and Reform in Village China
WARNING
You are viewing an older version of the Yalebooks website. Please visit out new website with more updated information and a better user experience: https://www.yalebooks.com
Edward Friedman, Paul G. Pickowicz, and Mark Selden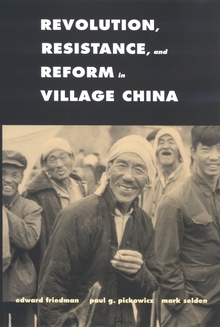 View Inside
Format:

Paper


Price:

$42.00
Also Available in:
Cloth
Drawing on more than a quarter century of field and documentary research in rural North China, this book explores the contested relationship between village and state from the 1960s to the start of the twenty-first century. The authors provide a vivid portrait of how resilient villagers struggle to survive and prosper in the face of state power in two epochs of revolution and reform. Highlighting the importance of intra-rural resistance and rural-urban conflicts to Chinese politics and society in the Great Leap and Cultural Revolution, the authors go on to depict the dynamic changes that have transformed village China in the post-Mao era.  
This book continues the dramatic story in the authors' prizewinning Chinese Village, Socialist State.  Plumbing previously untapped sources, including interviews, archival materials, village records and unpublished memoirs, diaries and letters, the authors capture the struggles, pains and achievements of villagers across three generations of social upheaval.
EDWARD FRIEDMAN is professor of political science at the University of Wisconsin, Madison. PAUL G. PICKOWICZ is professor of history and Chinese studies at the University of California, San Diego. MARK SELDEN is research associate, East Asia Program, at Cornell University and a coordinator of Japan Focus.
"[This book is] the magnificent culmination of a 25-year study of a single village in northern China whose two volumes now stand as the best single narrative of China's violent 20th century. . . . The crowning achievement of Revolution, Resistance, and Reform, building on a predecessor volume Chinese Village, Socialist State is to show how little has changed between prereform-era China. By tracing the village of Wugong since 1943, the authors show convincingly that the twin forces or revolution and reform have been constants since 1949."—Bruce Gilley, Far Eastern Economic Review
"Based on more than two decades of eye-opening interviews with villagers, Revolution, Resistance, and Reform in Village China richly illuminates the recent history of rural China."—Jonathan Unger, Director, Contemporary China Centre, Australian National University


"Friedman, Pickowicz, and Selden have produced another multidisciplinary classic. . . . This new work is a microcosm of the uneven dynamics of revolution, economic development, reform, and resistance across China. . . . A classic suitable for all levels, and a must library acquisition. Essential."—Choice 
"Part of a truly major research project...documents in rich detail the human problems that lie behind the standard story of the developments of Chinese national policy."


"What is unusual about Revolution, Resistance, and Reform is that it demonstrates what dogged investigation and experience can accomplish even in a state as closed as China. . . . By putting 'a human face on conflicts that punctuated rural life,' [the authors] have succeeded, as have few Westerners or even Chinese, in describing the daily experience of villagers in a 'centralized authoritarian China.'"—Jonathan Mirsky, New York Review of Books


"This book is a sober reminder about one of the greatest failed utopian experiments in human history. . . . Comprehensive."—Huang Shu-Min, Pacific Affairs
"Fifty years from now, scholars and historians will still be reading this volume and its predecessor as the indispensable guides to the lived experience of rural China through the tumultuous years of the twentieth century. It is not even a slight exaggeration to call this a monumental achievement: one accomplished by dint of great patience, great cultural and linguistic knowledge, great respect for their subjects, and an unfailing sense of how to convey the micro-history of world-shaking events. I am in awe . . . and also greatly in their debt."—James C. Scott, Yale University


"This book is an absorbing and finely researched sequel to the authors' now classic Chinese Village, Socialist State.  By carrying their story onwards from the Great Leap down to the reform era, the authors have assured Boss Geng and Wugong village a definitive space in the history of modern China."—Jonathan Spence, Yale University
Selected as an Outstanding Academic Title for 2006 by Choice Magazine
ISBN:
9780300125955
Publication Date:
October 16, 2007
368 pages, 6 1/8 x 9 1/4
46 b/w illus.