Peak Pursuits
WARNING
You are viewing an older version of the Yalebooks website. Please visit out new website with more updated information and a better user experience: https://www.yalebooks.com
The Emergence of Mountaineering in the Nineteenth Century
Caroline Schaumann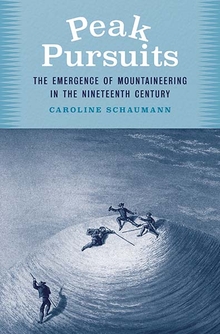 View Inside
Format:

Hardcover


Price:

$40.00
An interdisciplinary cultural history of exploration and mountaineering in the nineteenth century

European forays to mountain summits began in the late eighteenth and early nineteenth centuries with the search for plants and minerals and the study of geology and glaciers. Yet scientists were soon captivated by the enterprise of climbing itself, enthralled with the views and the prospect of "conquering" alpine summits. Inspired by Romantic notions of nature, early mountaineers idealized their endeavors as sublime experiences, all the while deliberately measuring what they saw. As increased leisure time and advances in infrastructure and equipment opened up once formidable mountain regions to those seeking adventure and sport, new models of masculinity emerged that were fraught with tensions. This book examines how written and artistic depictions of nineteenth-century exploration and mountaineering in the Andes, the Alps, and the Sierra Nevada shaped cultural understandings of nature and wilderness in the Anthropocene.
Caroline Schaumann is professor of German studies at Emory University. She is co-editor of Heights of Reflection: Mountains in the German Imagination from the Middle Ages to the Twenty-First Century and author of Memory Matters: Generational Responses to Germany's Nazi Past in Recent Women's Literature.
"Peak Pursuits raises critical questions and is essential reading for anyone interested in the history of mountaineering."—Peter Hansen, Worcester Polytechnic Institute
"Schaumann offers important new insights into well-studied subjects, and intervenes into ongoing, vibrant debates about the mountains and human-environment interactions writ large."—Andrew Denning, University of Kansas
"Lyrical and incisive, haunting and urgent, Caroline Schaumann's Peak Pursuits provides an essential reexamination of the history of mountaineering and the resonance of its legacy in our Anthropocene Age."—Katie Ives, editor-in-chief of Alpinist
"A brilliant and beautifully written contribution to the new cultural history of mountaineering.  A climber herself, Schaumann takes us from the Alps to the Andes with sensitivity and verve and puts her fascinating cast of characters from Humboldt to Muir in the many varied contexts in which they belong. Here finally is a climbing history for the Anthropocene."—Stewart Weaver, co-author of Fallen Giants: A History of Himalayan Mountaineering from the Age of Empire to the Age of Extremes
"Peak Pursuits significantly enhances our understanding of man's scientific, aesthetic, and material interaction with mountains during the long nineteenth century from a transnational perspective. A major achievement in mountain studies."—Harald Höbusch, author of Mountain of Destiny: Nanga Parbat and its Path into the German Imagination  
"Peak Pursuits provides us with a panoramic perspective on motions and emotions, the history and breath-taking histories of mountaineering in Europe and the Americas: a brilliant book."—Ottmar Ette, Universität Potsdam
"Makes an important contribution by placing mountain studies as part of the current discussions around ecocriticism, such as new materialisms and the relations between gender, class, and the environment."—Harri Salovaara, Ecozon@: European Journal of Literature, Culture and Environment
"Yet, the most stimulating contribution to current scholarship in mountain studies lies in this book's exposure of the dimly illuminated spots in the great show that is nineteenth-century mountaineering. Peak Pursuits takes interest in the fallen alpinists, the tragedies, the futile climbs, and their social struggles, weakened bodies, and failed marriages. The author also reads the ambivalent success stories of these historic alpinists within a larger social network that is sustained by women and mountain Others who might not always be documented in the writings of celebrated alpinists but are written back into mountaineering history in Peak Pursuits."—Eva-Maria Müller, Journal of the Austrian Association for American Studies
ISBN:
9780300231946
Publication Date:
July 28, 2020
384 pages, 6 1/8 x 9 1/4
35 b/w illus.