Sustaining Lake Superior
WARNING
You are viewing an older version of the Yalebooks website. Please visit out new website with more updated information and a better user experience: https://www.yalebooks.com
An Extraordinary Lake in a Changing World
Nancy Langston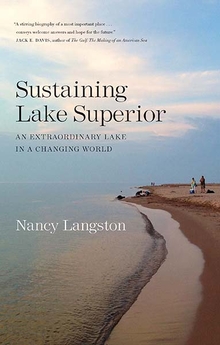 View Inside
Format:

Paper


Price:

$25.00
Also Available in:
Hardcover
A compelling exploration of Lake Superior's conservation recovery and what it can teach us in the face of climate change

Lake Superior, the largest lake in the world, has had a remarkable history, including resource extraction and industrial exploitation that caused nearly irreversible degradation. But in the past fifty years it has experienced a remarkable recovery and rebirth. In this important book, leading environmental historian Nancy Langston offers a rich portrait of the lake's environmental and social history, asking what lessons we should take from the conservation recovery as this extraordinary lake faces new environmental threats.
 
In her insightful exploration, Langston reveals hope in ecosystem resilience and the power of community advocacy, noting ways Lake Superior has rebounded from the effects of deforestation and toxic waste wrought by mining and paper manufacturing. Yet, despite the lake's resilience, threats persist. Langston cautions readers regarding new mining interests and persistent toxic pollutants that are mobilizing with climate change.
Nancy Langston is professor of environmental history at Michigan Technological University and the author of Toxic Bodies: Hormone Disruptors and the Legacy of DES. She lives on the Keweenaw Peninsula of Lake Superior.
"Nancy Langston's Sustaining Lake Superior is a wonderful book and an excellent addition to her existing body of work. Combining detailed historical and scientific evidence with penetrating insights into broader global issues, the book has much to offer not only to those interested in the environmental history of Lake Superior but also to anyone concerned with the fate of the planet."—Tim LeCain, author of Mass Destruction: The Men and Giant Mines That Wired America and Scarred the Planet
"The deep originality of this work consists not just in its oddly specific subject, Lake Superior, but also in its general and iterative argument about there being several very different kinds and scales of causality at work, both in environmental degradation and in restoration."—Colin Duncan, author of The Centrality of Agriculture: Between Humankind and the Rest of Nature
"A Great Lake deserves a great book, and Nancy Langston has written it. Carefully researched, scientifically literate, appropriately transnational, handsomely illustrated, and engagingly written, this book is a shining example of environmental history at its best."—J.R. McNeill, co-author of The Great Acceleration: An Environmental History of the Anthropocene since 1945
"Langston has written nothing less than the definitive biography of the Greatest Lake, from its birth right up to its current encounter with climate change. It is a wonderful, moving story, and as she eloquently describes, a new and challenging chapter must now be written."—James Gustave Speth, former Dean, Yale School of Forestry and Environmental Studies and author of America the Possible: Manifesto for a New Economy
"With passion and grace, Nancy Langston explores why environmental policies have achieved such mixed results. Lake Superior reveals how environmental ideas sufficient for one era too often fail in another."—Richard White, Stanford University and author of Railroaded: The Transcontinentals and the Making of Modern America and The Organic Machine: The Remaking of the Columbia River
 
"In Sustaining Lake Superior,Nancy Langston takes stock of the big lake and the surrounding region. She dives into to the geology, biology, and human dimensions and shows how they are all intertwined. This fascinating book makes it clear why Lake Superior deserves our respect and protection: we are part of the lake, and the lake is part of us."—William Rapai, author of Lake Invaders: Invasive Species and the Battle For the Future of the Great Lakes
 
"Nancy Langston has presented us with a masterful and vividly written study of the impact of industrial pollution, invasive species, and habitat loss on the world's largest freshwater lake. But it is her inquiry into the effects of climate change on Lake Superior that make this book the Silent Spring of freshwater ecology."—Jerry Dennis, author of The Living Great Lakes and The Windward Shore: A Winter on the Great Lakes
 
"A stirring biography of a most important place. Writing with insight and passion at the confluence of geography, ecology, and history, Nancy Langston connects the human story to that of the world's largest lake, an enigma to many of us and an endangered species that affects all of us. Her voice is clear and honest, though never judgmental; it conveys welcome answers and hope for the future."—Jack E. Davis, author of The Gulf: The Making of an American Sea
 
"This insightful environmental history is a cautionary story about the true cost of the unenlightened commodification of Lake Superior. Like the Anishinaabe whose stewardship Nancy Langston chronicles, she invokes Seventh Generation thinking: make wise decisions today based on the best interests of future generations."—Patty Loew, Bad River Anishinaabe
 
"Nancy Langston offers a brilliant new interpretation of the stressors and fragilities, but also the resilience, of the world's largest freshwater lake, along with the struggles of Indigenous and working class communities to safeguard this great inland sea's natural gifts."—Lynne Heasley, co-author of Border Flows: A Century of the Canadian-American Water Relationship
"Recommended reading for all concerned about preserving our natural heritage, wherever we are."—Natural History
"An engrossing cautionary tale for lovers of nature and the Great Lakes in particular."—Robin Chin Roemer, Library Journal
"Handsomely produced: a wealth of photographs and useful diagrams accompany the text . . . a valuable resource."—F. T. Manheim, Choice
"Thoroughly researched and well documented, passionately written and easy to read. . . .  Sustaining Lake Superior reminds us that we have put Lake Superior through a lot in the last three hundred years, and that we must keep working to protect her, and ourselves."—Stephanie Hemphill, Agate magazine
"Langston is the perfect person to tell this story."—Paul S. Stutter, Technology and Culture
 
ISBN:
9780300244519
Publication Date:
March 12, 2019
312 pages, 6 1/8 x 9 1/4
34 b/w illus.