Works in Progress
WARNING
You are viewing an older version of the Yalebooks website. Please visit out new website with more updated information and a better user experience: https://www.yalebooks.com
Plans and Realities on Soviet Farms, 1930-1963
Jenny Leigh Smith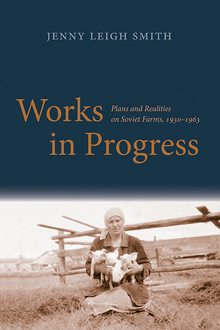 View Inside
Format:

Cloth


Price:

$85.00
What really caused the failure of the Soviet Union's ambitious plans to modernize and industrialize its agricultural system?

This book is the first to investigate the gap between the plans and the reality of the Soviet Union's mid-twentieth-century project to industrialize and modernize its agricultural system. Historians agree that the project failed badly: agriculture was inefficient, unpredictable, and environmentally devastating for the entire Soviet period. Yet assigning the blame exclusively to Soviet planners would be off the mark. The real story is much more complicated and interesting, Jenny Leigh Smith reveals in this deeply researched book. Using case studies from five Soviet regions, she acknowledges hubris and shortsightedness where it occurred but also gives fair consideration to the difficulties encountered and the successes—however modest—that were achieved.
Jenny Leigh Smith is assistant professor of history in the School of History, Technology and Society, Georgia Institute of Technology. She lives in Atlanta, GA.
"By focusing not solely on the big promises of Soviet science, agriculture, and technology, but on the smaller compromises Soviet planners and policymakers made to keep industries going and people fed, Smith captures a story long overlooked in Soviet history."—Kate Brown, author of Plutopia: Nuclear Families in Atomic Cities and the Great Soviet and American Plutonium Disasters
"Works in Progress raises the question of whether it is possible to think of a specifically Soviet/socialist animal that emerged during this historical period and to lay the groundwork for a historically situated political economy of human-animal relations."—Timothy Pachirat, author of Every Twelve Seconds: Industrialized Slaughter and the Politics of Sight
"In this clearly written, concise, and sometimes provocative book, Jenny Smith offers sober judgments on the heady experiments in Soviet agriculture in the days of Stalin and Khrushchev.  She finds Soviet agricultural reforms chalked up a mixed record in delivering food, but excelled as a device for extending state power into the villages.  She sees more glasses half-full rather than half-empty, concluding that Soviet industrial agriculture, despite its eccentricities, had much in common with industrial agriculture everywhere."—J.R. McNeill, author of Something New Under the Sun: An Environmental History of the 20th-century World
"Smith's splendid, original and searching history of Soviet agriculture from collectivization to 1963 is the first to challenge and transcend cold-war stereotypes. Her inspired idea of measuring the wildly varied results of Soviet agricultural policy against both the magnitude of social and geographical obstacles it confronted and the manifold failures of Western industrial agriculture provides the basis for a powerful and novel re-assessment. It is an invitation to an essential and bracing, evidence-based debate."—James C. Scott, Yale University
"This is a strikingly original and insightful history of the failures and successes of Soviet agriculture. Probing practices and processes on the local ground, Smith's account is masterful, convincing, and in several respects—notably her reassessment of Lysenko's impact on plant and animal husbandry—a game changer."—Daniel Kevles, Yale University
" [Smith] has made an important contribution to Soviet agrarian history. In particular, her agro-ecological perspective raises many innovative questions that historians would do well to consider."—David L. Hoffman, Slavic Review
Winner of the Henry Wallace Award from the Agricultural History Society for the best book in international agricultural history for 2014
ISBN:
9780300200690
Publication Date:
October 28, 2014
288 pages, 5-1/2 x 8-1/4
5 b/w illus.