Ancient DNA
WARNING
You are viewing an older version of the Yalebooks website. Please visit out new website with more updated information and a better user experience: https://www.yalebooks.com
The Making of a Celebrity Science
Elizabeth D. Jones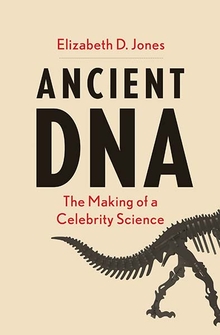 View Inside
Format:

Hardcover


Price:

$40.00
The untold story of the rise of the new scientific field of ancient DNA research, and how Jurassic Park and popular media influenced its development
 
Ancient DNA research—the recovery of genetic material from long-dead organisms—is a discipline that developed from science fiction into a reality between the 1980s and today. Drawing on scientific, historical, and archival material, as well as original interviews with more than fifty researchers worldwide, Elizabeth Jones explores the field's formation and explains its relationship with the media by examining its close connection to de-extinction, the science and technology of resurrecting extinct species. She reveals how the search for DNA from fossils flourished under the influence of intense press and public interest, particularly as this new line of research coincided with the book and movie Jurassic Park. Ancient DNA is the first account to trace the historical and sociological interplay between science and celebrity in the rise of this new research field. In the process, Jones argues that ancient DNA research is more than a public-facing science: it is a celebrity science.
Elizabeth Jones is a historian of science and postdoctoral research scholar at North Carolina State University and the North Carolina Museum of Natural Sciences in Raleigh.
 
"Elizabeth Jones reveals ancient DNA to be a field of scientific research driven by two forms of contamination – DNA from living organisms and public celebration of the idea of old DNA. She demonstrates the often-underappreciated power of celebrity in driving modern science."—Beth Shapiro, author of How to Clone a Mammoth and Life As We Made It
"A fascinating narrative history of ancient DNA ... Elizabeth Jones's insightful arguments and riveting storytelling make this book a pleasure to read."—Caitlin D. Wylie, author of Preparing Dinosaurs: The Work behind the Scenes
"Ancient DNA is a clearly written, fascinating portrait of the development of a high-profile scientific field that was shaped by popular beliefs about DNA and dinosaurs--a wild story of lab results timed to coincide with movie premieres."—Susan Lindee, Janice and Julian Bers Professor, University of Pennsylvania
"Groundbreaking. This book not only explains in careful and clear detail the gradual development of ancient DNA techniques, together with the successes, but also interweaves skillfully the story of how the movie Jurassic Park influenced the science.  If you read but one book this year on the making of science, it should be this one."—Michael Ruse, author of Darwinism as Religion: What Literature Tells Us about Evolution
"Ancient DNA fills a major gap in the history of a relatively new science, and in the intersection of modern culture and science communication and practice. I expect it will become very influential and likely will attract the same kind of media attention that its subject generates."—Dennis O'Rourke, Foundation Distinguished Professor of Anthropology, University of Kansas
"Elizabeth Jones's original contribution to science communication studies richly conceptualizes a novel type of scientific field – a 'celebrity science,' one that evolved within the dynamics of publicity, journalism, and popular culture."—Declan Fahy, author of The New Celebrity Scientists: Out of the Lab and Into the Limelight
"Fun and thought-provoking…Jones builds a wry, often wise, study of science as a very human endeavor. She makes a powerful case that ancient-DNA research feeds off media attention as much as the media feeds off it."—Victoria L. Herridge, Nature
ISBN:
9780300240122
Publication Date:
March 29, 2022
280 pages, 6 1/8 x 9 1/4
3 b/w illus.