Growing Up with the Country
WARNING
You are viewing an older version of the Yalebooks website. Please visit out new website with more updated information and a better user experience: https://www.yalebooks.com
Family, Race, and Nation after the Civil War
Kendra Taira Field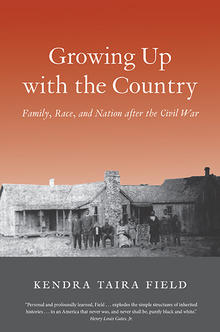 View Inside
Format:

Paper


Price:

$28.00
Also Available in:
Hardcover
The masterful and poignant story of three African-American families who journeyed west after emancipation, by an award-winning scholar and descendant of the migrants

Following the lead of her own ancestors, Kendra Field's epic family history chronicles the westward migration of freedom's first generation in the fifty years after emancipation. Drawing on decades of archival research and family lore within and beyond the United States, Field traces their journey out of the South to Indian Territory, where they participated in the development of black and black Indian towns and settlements.
 
When statehood, oil speculation, and Jim Crow segregation imperiled their lives and livelihoods, these formerly enslaved men and women again chose emigration. Some migrants launched a powerful back-to-Africa movement, while others moved on to Canada and Mexico. Their lives and choices deepen and widen the roots of the Great Migration. Interweaving black, white, and Indian histories, Field's beautifully wrought narrative explores how ideas about race and color powerfully shaped the pursuit of freedom.
Kendra Taira Field is associate professor of history at Tufts University.
"This is a wonderful, capacious narrative about a country that remains always a dodgy work in progress. Field's seamless interweaving of family, race, and nation---of the particular, the subordinate, and the superordinate—recaptures exceptionalist possibilities that will upend and enrich her readers' understanding of the American past."—David Levering Lewis, winner of the Pulitzer Prize for Biography
"Personal and profoundly learned, Field, by unearthing the deeper roots of the Great Migration and back-to-Africa movement, explodes the simple structures of inherited histories while complicating understandings of race and nation in an America that never was, and never shall be, purely black and white."—Henry Louis Gates, Jr., Harvard University
"Growing Up with the Country is a work of startling brilliance and originality, of heart-wrenching beauty and theoretical innovation. In Kendra Field's able hands, her family stories become a window into the struggle for freedom in an era when emancipation and the dismantling of Indian sovereignty gave way to new forms of unfreedom, constriction, and possibility."—Robin D. G. Kelley, author of Thelonious Monk: The Life and Times of an American Original
"The most fascinating and cutting edge study to date on black settlers in Indian Territory and Oklahoma during the eras of Reconstruction and westward expansion."—Tiya Miles, author of Ties That Bind: The Story of an Afro-Cherokee Family in Slavery and Freedom
"Kendra T. Field skillfully draws family stories and community histories into a sweeping and compelling critique of the competing sovereignties, conflicting claims to freedom, and shifting racial regimes that shaped the United States."—Craig Steven Wilder, author of Ebony & Ivy: Race, Slavery, and the Troubled History of America's Universities
"An important work of American history drawn from [Field's] personal family history."—Publishers Weekly
"A masterpiece in the areas of personal narration, family genealogy, and African American historiography."—Library Journal, starred review
"In short, this book is about race, family, memory, community, and the search for a better life, and is a must read."—Choice
"This book will remain at the fingertips of future scholars interested in migration and the early Jim Crow years in America" — Robert Cassanello, Journal of American History
"Field offers a compelling interpretation of a series of migration movements initiated by rural African American people between 1865 and 1915."—Melissa N. Stuckey, Journal of African American History

 
Growing Up with the Country: Family, Race, and Nation after the Civil War by Kendra Field is a finalist for the Museum of African American History (MAAH) Stone Book Award
ISBN:
9780300248395
Publication Date:
November 19, 2019
256 pages, 6 1/8 x 9 1/4
42 b/w illus.