Pilgrims
WARNING
You are viewing an older version of the Yalebooks website. Please visit out new website with more updated information and a better user experience: https://www.yalebooks.com
New World Settlers and the Call of Home
Susan Hardman Moore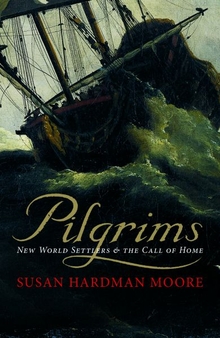 View Inside
Format:

Paper


Price:

$27.00
Also Available in:
Cloth
As many as one in four English settlers who joined the Great Migration to New England in the 1630s went back. Why?

This book uncovers what might seem to be a dark side of the American dream: the New World from the viewpoint of those who decided not to stay. At the core of the volume are the life histories of people who left New England during the British Civil Wars and Interregnum, 1640–1660. More than a third of the ministers who had stirred up emigration from England deserted their flocks to return home. The colonists' stories challenge our perceptions of early settlement and the religious ideal of New England as a "City on a Hill." America was a stage in their journey, not an end in itself.

Susan Hardman Moore first explores the motives for migration to New England in the 1630s and the rhetoric that surrounded it. Then, drawing on extensive original research into the lives of hundreds of migrants, she outlines the complex reasons that spurred many to brave the Atlantic again, homeward bound. Her book ends with the fortunes of colonists back home and looks at the impact of their American experience.

Of exceptional value to studies of the connections between the Old and New Worlds, Pilgrims contributes to debates about the nature of the New England experiment and its significance for the tumults of revolutionary England.
Susan Hardman Moore is director of post-graduate studies at the School of Divinity, University of Edinburgh.
"This is a distinguished and important contribution to British, American and Atlantic history. Prodigiously researched and clearly written, Susan Hardman Moore presents a cloud of witnesses, most of them previously obscure or unknown, in her fascinating examination of the people who moved to New England and later decided to return. It throws a bright light on many significant issues in the history of the period, which are sensitively examined in the context provided by Hardman Moore's deep knowledge of the longer story of the English Reformation and the Puritan movement."--J Sears McGee, University of California Santa Barbara, author of The West Transformed: A History of Western Civilisation
"Susan Hardman Moore's account of the migration from Old to New England avoids the mistake of reading backwards a narrative of American exceptionalism, setting these events firmly in the circumstances - above all religious circumstanes - of England in the 1630s. The best evidence was at first a piece of Old English history is the fact that in the altered conditions of the 1640s and 50s, no less than 1500 of the migrants returned, including one in threee ministers and one in two of the early Harvard graduates. This return migration, and its impact on the old country, is Hardman Moore's main theme, explored in rich personal and prosopographical detail."--Patrick Collinson, Trinity College Cambridge, author of The Reformation
"Hardman Moore has written a thrilling book: thrilling in its sweep, in its detail, in its story of those who for whatever reason were unable to settle in a New World. Why they went, why they came back, what they took, and what they returned with, are all illuminated as never before."--Jon Morrill, University of Cambridge
"Solidly researched and skillfully written, Pilgrims reconnects the New England colonial experiment to the mainstream of English history. It is persuasive in showing the power of providence in drawing migrants to America, and the providential complexities of revolutionary England that brought up to a quarter of them back. A succinct and effective book which I read with delight and admiration."--David Cressy, Ohio State University
"Readers will find this work is 'spot on.' Recounting wonderful stories, its elegant writing and prodigious research make it a worthwhile addition to the literature on mid-seventeenth-century England and New England."—Carla Gardina Pestana, American Historical Review
"…most fascinating historical account with detailed research…no boring record, for the author gives many cameos of actual people involved… This book must become a standard work on the subject and we are indebted to the author." — Revd Dr John Tudor, Methodist Recorder
"[A] thrilling study … superb, highly original, written with great clarity and humanity, concerned with often obscure lives." — Paul Lay, History Today
"The scholarship of this study is dazzling, and the dazzle throws considerable light on to the tangle of the Anglo-American relationship in its very first years." — Literary Review
"A rich and fascinating book of great importance for the history of 17th-century England, as well as for colonial America." — The Daily Telegraph
"Dr Hardman Moore tells a little-known, myth-troubling story, in a very readable and long-awaited book of impressive but accessible scholarship." — Church Times
'This welcome and important contribution to Atlantic history deserves to be widely read, and enjoyed.' — Bernard Capp, English Historical Review
'This is a scholarly work…the tales told here are fresh and authoritative.' — GF, The Sign
"Pilgrims is a highly readable account of the religious motivations propelling both elite and non-elite colonists to and from New England."--M. Michelle Morris, Church History: Studies in Christianity and Culture
"Certainly no other study is as comprehensive, and none has engaged so empathetically with the push and pull factors that shaped the experience. . . . This is a valuable study, which is empathetic and insightful. Its focus on individual narratives privileges, inevitably, literate and ecclesiastic accounts. . . . This study enriches our understanding of the processes of early migration to New England, and the mindset of those who participated in it."—Paul A. Townend,
Joint runner-up for the 2008 Longman/History Today Book of the Year Award.
ISBN:
9780300164053
Publication Date:
April 13, 2010
336 pages, 6 x 9
16 b/w illus.