Dwelling Place
WARNING
You are viewing an older version of the Yalebooks website. Please visit out new website with more updated information and a better user experience: https://www.yalebooks.com
Erskine Clarke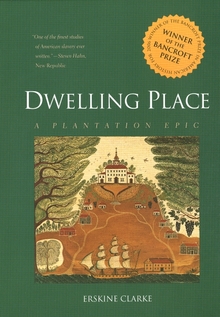 View Inside
Format:

Paper


Price:

$27.00
Also Available in:
Cloth
An intimate view of plantation family life from the "big house" and from the slave cabins

Published some thirty years ago, Robert Manson Myers's Children of Pride: The True Story of Georgia and the Civil War won the National Book Award in history and went on to become a classic reference on America's slaveholding South. That book presented the letters of the prominent Presbyterian minister and plantation patriarch Charles Colcock Jones (1804–1863), whose family owned more than one hundred slaves. While extensive, these letters can provide only one part of the story of the Jones family plantations in coastal Georgia. In this remarkable new book, the religious historian Erskine Clarke completes the story, offering a narrative history of four generations of the plantations' inhabitants, white and black. Encompassing the years 1805 to 1869, Dwelling Place: A Plantation Epic describes the simultaneous but vastly different experiences of slave and slave owner. This "upstairs-downstairs" history reveals in detail how the benevolent impulses of Jones and his family became ideological supports for deep oppression, and how the slave Lizzy Jones and members of her family struggled against that oppression. Through letters, plantation and church records, court documents, slave narratives, archaeological findings, and the memory of the African-American community, Clarke brings to light the long-suppressed history of the slaves of the Jones plantations—a history inseparably bound to that of their white owners.
Erskine Clarke is professor of American religious history, Columbia Theological Seminary.
"Clarke's magisterial, multiperspective study of the antebellum South describes two family groups, that of Charles Colcock and Mary Jones, and those of their slaves. . . . Clarke . . . achieves what Orville Burton's In My Father's House Are Many Mansions attempted for a region: a 'total' history of interconnected people divided by race, legal status, and gender."—Choice
"Erskine Clarke's narrative of more than three generations of interlocking and enslaving familes in Liberty County, Georgia, is epic in its scope and mastery. With extensively detailed research and evocatively restrained writing, Dwelling Place is one of the best books ever on what it meant in day-to-day terms to be slaves and slave masters in the antebellum South."—Mark Noll, University of Notre Dame, author of America's God, from Jonathan Edwards to Abraham Lincoln
"[An] engrossing nineteenth-century account of slaves and their masters. This true story of the residents on plantations in coastal Georgia's Liberty County from 1805 to 1869 reads like a novel. Though you'll meet many fascinating real-life characters in Clarke's antebellum page-turner, you'll be especially drawn to willful Phoebe Anderson Jones. . . . You'll be riveted by Clarke's vivid and provocative account of her life and the lives of other Black folks whose stories unfold between the covers of this must-read."—Nazenet Habtezghi, Essence
"Slaveholders in antebellum Georgia, Charles Colcock Jones and his family have been expertly studied before (in Robert Manson Myers's 1972 National Book Award winner, Children of Pride). But Clarke digs further into the primary sources, meticulously tracing the intertwined stories of enslaved and enslavers, the latter aware of their sins as oppressors yet ultimately unable to renounce their way of life. With building power, a multigenerational chronicle of heartbreak unfolds in white and black."—Library Journal (Best books of 2005)


"Epic in the depth and sweep of its scholarship and the force and beauty of its writing. . . . The book grips the reader much as did Gone with the Wind, except in this real-life telling, the slaves' perspectives get full and honest play. So, too, do the tragic ironies of religious masters oppressing slaves and of slaves seizing on their masters' professions of piety to resist oppression. No one else has so deeply probed the everyday worlds that masters and slaves made together. A work of astonishing power; highly recommended."—Library Journal



"Powerful. . . . [A] beautifully conceived and penetrating book. . . . Clarke has now produced one of the finest studies of American slavery ever written. His achievement is owed to many years of research, to serious reflection about the social dynamics of slave societies, and to a determination that his narrative really be a history of 'two peoples living together.'"—Steven Hahn, New Republic
"A most absorbing, thoughtful, and magisterial account of plantation life through the medium of this gifted family and their holdings."—Betram Wyatt-Brown, Georgia Historical Quarterly
"Epic in its scope and mastery. . . . With extensively detailed research and evocatively restrained writing, Dwelling Place is one of the best books ever on what it meant in day-to-day terms to be slaves and slave masters in the antebellum South."—Mark Noll, University of Notre Dame, author of America's God, from Jonathan Edwards to Abraham Lincoln
"The result is a masterpiece of literary integration, marked by indefatigable research and brilliantly descriptive writing. . . . This brilliantly written work is narrative history at its best and will likely become a classic in southern history."—William S. Scarborough, Journal of American History
"[Clarke] writes with an engaging style that allows him to move easily from daily concerns, such as food, clothing, and education, to the larger significance of less-regular occurrences like epidemics, extramarital sexual activity, and even infanticide. . . . Dwelling Place is an impressive accomplishment. Scholars will find it an essential source on a prominent Southerner and a fascinating account of the contradictions inherent in pro-slavery Christianity. For general readers, this book offers a compelling narrative and a realistic portrait of what it must have been like to live in a slave society."—Jonathan M. Atkins, Florida Historical Quarterly
"One of the best and most important studies of American slavery I have ever read. . . .  Few works on slavery have captured so well the intricacies and complexities of slave-master interactions."—David Brion Davis, American Historical Review 
 
"Marvelous. . . . A richly textured story. . . . Without question Clarke's book contributes immensely to our understanding of slavery, especially the master-slave relationship. He merits all the accolades that I hope come his way."—William J. Cooper, The Journal of Southern History
"Meticulous research, combined with sensitive, informed insight and analysis. . . . Dwelling Place ultimately transcends its immediate region and subject. Indeed, this brilliant work is indispensable to a full understanding of nineteenth-century America."—Jeannine Marie DeLombard, The New England Quarterly
"Clarke successfully combines three ingredients—the obsessive spirit of a genealogist, the interpretive mind of a historian, and the expressive grace of a novelist—to weave a seamless narrative about the families of Charles Colcock Jones and his slaves. . . . Clarke exposes the subtleties of motives, behaviors, and relations between master and enslaved that are absent in more sweeping accounts of planter ideology or slave resistance."—Peggy G. Hargis, Civil War History
"An important, even a landmark, work in southern history. . . . Clarke has performed a service to all who aspire to understand the Slave South."—Chad Morgan, The North Carolina Historical Review
"A richly textured and detailed narrative. . . . Dwelling Place manages to read like a novel, while remaining deftly conversant with the scholarly literature, setting a high standard for future studies of southern slavery."—Jenifer Barclay, Journal of African American History
"This is a work of grand sweep and great power. In a form that reads like a novel, Erskine Clarke tells the stories of four generations of wealthy white planters and their slaves and the extraordinarily complex ways in which these two communities interacted. It is a multigenerational tale of black and white, told in a grand narrative style."—Dan T. Carter, University of South Carolina
"In this masterful composite biography, Erskine Clarke—an uncommonly gifted historian—portrays a broad swath of southern history. It is a work of both consummate scholarship and great literary flair. It is long, but one doesn't want it to end. I absolutely loved reading this book."—John Boles, Rice University
Won Second Honor for the 2006 Mary Lawton Hodges Book Prize in Southern Studies, awarded by the Institute of Southern Studies at the University of South Carolina.
Winner of the 2006 Bancroft Prize sponsored by Columbia University.
Winner of the 2006 Malcolm Bell Jr., and Muriel Barrow Bell Award for the best book in Georgia history published in 2005 given by the Georgia Historical Society.
Selected for the 2006 Books for Public and Secondary School Libraries list by the Association of American University Presses (AAUP)
Winner of 2008 Award for Excellence in Documenting Georgia's History, presented by the Georgia Historical Records Advisory Board.
ISBN:
9780300122565
Publication Date:
April 28, 2007
624 pages, 6 1/4 x 9 1/4
25 b/w illus.