Warner Bros
WARNING
You are viewing an older version of the Yalebooks website. Please visit out new website with more updated information and a better user experience: https://www.yalebooks.com
The Making of an American Movie Studio
David Thomson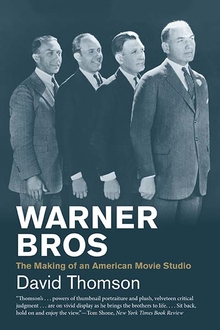 View Inside
Format:

Paper


Price:

$16.00
Also Available in:
Hardcover
Behind the scenes at the legendary Warner Brothers film studio, where four immigrant brothers transformed themselves into the moguls and masters of American fantasy

Warner Bros charts the rise of an unpromising film studio from its shaky beginnings in the early twentieth century through its ascent to the pinnacle of Hollywood influence and popularity. The Warner Brothers—Harry, Albert, Sam, and Jack—arrived in America as unschooled Jewish immigrants, yet they founded a studio that became the smartest, toughest, and most radical in all of Hollywood.
 
David Thomson provides fascinating and original interpretations of Warner Brothers pictures from the pioneering talkie The Jazz Singer through black-and-white musicals, gangster movies, and such dramatic romances as Casablanca, East of Eden, and Bonnie and Clyde. He recounts the storied exploits of the studio's larger-than-life stars, among them Al Jolson, James Cagney, Bette Davis, Errol Flynn, Humphrey Bogart, James Dean, Doris Day, and Bugs Bunny. The Warner brothers' cultural impact was so profound, Thomson writes, that their studio became "one of the enterprises that helped us see there might be an American dream out there."
David Thomson is a film critic and historian, and the author of more than twenty books, including Why Acting Matters and The Biographical Dictionary of Film, now in its sixth edition.
"I can imagine only one thing more pleasurable than reading this book: writing it. . . . You risk misunderstanding America if you don't read [David Thomson] on the movies."—Dennis Drabelle, Washington Post Book World
"David Thomson writes about the cultural and historical significance of cinema with irreverent wit, deep knowledge and devotional lyricism. Warner Bros (the studio, the films, and the immigrant brothers themselves) becomes a fascinating lens through which to examine American identity."—Dana Spiotta, author of Innocents and Others and Eat the Document
 
"A masterful look at one of early Hollywood's preeminent families and the studio they built on their name. . . . Thomson is just as at home writing biography as he is chronicling the institutional history of the Warner Bros. studio. . . . Anything new from Thomson is worth taking notice of, and this book is no exception."—Publishers Weekly, Starred Review
"An entertaining, well-documented history of the legendary studio for film scholars and fans alike."—Kirkus Reviews
"Jack [Warner] is lucky to have a man who has brought a lifetime of sitting in theaters, shellacked by the beams of the projectionist's light, and who has thought so deeply and eccentrically and opinionatedly and ultimately so brilliantly about him. We, his readers, are lucky too."—Leslie Epstein, Wall Street Journal
"Thomson is a British critic whose powers of thumbnail portraiture and plush, velveteen critical judgment . . . are on vivid display as he brings the brothers to life. . . . Thomson's signature note: a mixture of excitement and rue wrapped up in a sweeping paradox that leapfrogs into the gnomic-philosophical realm. Chop it up into lines of dialogue and it's exactly the kind of sardonic wisecrack you might have found in the mouth of Bette Davis in any of the pictures she shot for Warner Brothers. . . . For those new to Thomson's magic-carpet rides: Sit back, hold on and enjoy the view."—Tom Shone, New York Times Book Review
"More than anything, Warner Bros allows the reader to bask in the glory of the hard-nosed movie studio that, in the words of Andrew Sarris, 'walked mostly on the shady side of the street.' It aims to remind us what made Warners great — and, in its touching melancholia, why that greatness will never come back."—Carlos Valladares, San Francisco Chronicle
"Thomson's writing is a killer mix of elegance, erudition and punchiness, a violin case holding a machine gun."—Victoria Segal, Sunday Times
"I believe David Thomson to be one of the very best and most incisive writers on film. He has a poetic and dreamlike understanding of what films mean, but is precise in his observations. He presents a very, very high level of understanding in language that is not only accessible, but often witty and stunningly original."—Jeanine Basinger, author of The Star Machine
"Thomson knows everything about the brothers Warner, and he weaves it all together in a stunningly compact 191 pages of spellbinding reading. . . . The book is a heady mix of intrigue and solid information, and Thomson adopts a style that is almost a kind of shorthand, moving nimbly from one film or actor or director to another with breathtaking ease. His pronouncements are authoritative, and the many external sources he marshals give the book complete scholarly authority. . . . Highly recommended."—Choice
"Fans and scholars of the movies will find this book fact-filled and fascinating."—St. Louis Jewish Light
"Thomson still has the nearly unique ability to write about movies in words that have some of the spontaneous magic of the films themselves"—Jake Wilson, Australian Book Review
ISBN:
9780300244557
Publication Date:
February 26, 2019
232 pages, 5 1/2 x 8 1/4
5 b/w illus