The Parisian Jazz Chronicles
WARNING
You are viewing an older version of the Yalebooks website. Please visit out new website with more updated information and a better user experience: https://www.yalebooks.com
An Improvisational Memoir
Mike Zwerin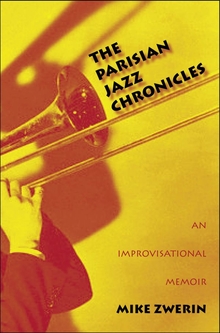 View Inside
Format:

Cloth


Price:

$65.00
Also Available in:
e-book
An engaging personal account of the jazz scene in Paris in the '80s and '90s

In his Beat-like jaunt through the Parisian and European jazz scene, Mike Zwerin is not unlike Jack Kerouac, Mezz Mezzrow, or Hunter S. Thompson—writers to whom, for different reasons, he owes some allegiance. What makes him special is his devotion to the troubled musicians he idolizes, and a passion for music that is blessedly contagious.

Many jazz fans will know Mike Zwerin for his witty, irreverent, and undeniably hip music reviews and articles in the International Herald Tribune that have entertained us for decades. Based in Paris, or, rather, stuck there, as Zwerin likes to say, he has been a music critic for the Trib since 1979. Zwerin also had a distinguished career as a trombonist. When he was just eighteen years old, he was invited by Miles Davis to play alongside Gerry Mulligan, John Lewis, and Max Roach in the band that was immortalized as The Birth of the Cool.

The Parisian Jazz Chronicles offers an engaging personal account of the jazz scene in Paris in the 1980s and 1990s. Zwerin writes lovingly but unsparingly about figures he knew and interviewed— such as Dexter Gordon, Freddy Heineken, Miles Davis, Bob Dylan, Chet Baker, Wayne Shorter, and Melvin Van Peebles. Against this background, Zwerin tells about his own life—split allegiances to journalism and music, and to America and France, his solitary battle for sobriety, a failing marriage, and fatherhood.
Mike Zwerin has been a music columnist for the International Herald Tribune since 1979, and, since 2005, for Bloomberg News. A world-class trombonist, he has played with Miles Davis, Earl Hines, Eric Dolphy, and other jazz legends.
"[Zwerin is] well placed to offer wry comments about the differing cultural politics of his two countries and about the ironies of the jazz life…an easy read and one worth paying attention to." - Brian Priestley, Jazz UK
"Jazz musicians are by nature secret agents, meaning as they travel and perform throughout the world, they observe and take notes . . . all to be digested and used for source material in their art. Zwerin does just that, examining everything from language to the music and all of life in between. His observations on the differences between French and American culture warrant the price of admission, not to mention his insights into Bob Dylan, Miles Davis, and other notables. Zwerin takes you for a ride that is informative, entertaining, and as hip as it gets."—David Liebman, jazz saxophonist
"Mike Zwerin's insider's take on the musician's life follows Miles Davis in knowing what notes not to play: he sees everything, and says just enough. Zwerin has written inimitably for decades, and this book raises his work to new expressive heights. The clear-eyed, bleakly honest closing chapters lead to an earned, effervescent, ultra-Parisian turnaround and climax a stylish ramble through the obliquities of hip intercontinental life. A masterly take on cosmopolitan culture in our time."—Rafi Zabor, author of The Bear Comes Home and I,Wabenzi
 "Mike has lived it and played it with the best. His transatlantic home has a rather beautiful and complicated relationship with jazz. Let this great journalist be your guide."—Robert Wyatt, musician
"A brisk, humorous and bitter tale of the cultural nuttiness of being an ex-pat—and a drug-addicted ex-pat at that. . . . A fun read by a writer with a nifty style."—Elizabeth Hoover, Chicago Tribune
"This is a wry and entertaining book, stuffed with good one-liners..." - William Palmer, Literary Review
"As a longtime columnist for the International Herald Tribune and a trombonist who has played with Miles Davis, Zwerin brings intimate knowledge of both forms to the task. . . . What is initially troublesome reading gels as Zwerin finds his groove and larger arcs unfold, and his storytelling tricks turn into excellent writing, taking the reader on junkets from Parisian cafes to Mogador. . . . Zwerin gives the reader intimate access to [Davis, Chet Baker and Bob Dylan] and produces unexpectedly graceful essays."—Publishers Weekly (starred review)


'...[a] pacey memoir...[with an] authentic tang of beat-poet restlessness.' - Sunday Times Culture Magazine 
"Zwerin...pulls [the memoir] off superbly, riffing in blue and hot moods, and generally clambering around the staves of his pages like someone for whom the only possible description is a 'hep cat'." - Steven Poole, The Guardian
'...a rambunctious prose style not too far removed from Hunter S. Thompson. ... At times amusing, almost always irreverent...it is always entertaining, a perfect antidote to the increasing number of po-faced studies that now dominate the jazz book market...' - Jazzwise
"Mike Zwerin's book is so valuable. He is the best kind of commentator—a successful musician in his own right—and his comments are uttered in an adventurous style which should delight even readers who aren't jazz aficionados."—Nick Catalano, All About Jazz
"[Zwerin] is probably the best living writer on jazz. And less than a year ago he wrote a book summing up his life…which I think is one of the most stunning I have read in years. … Every chapter is like a helter-skelter ride. … What he is doing, of course, is improvising, like a jazz musician. Not making things up, but looking back over a life full of music and drugs and interesting people, and Europe, and the way everything comes back to Miles Davis, and then trying to make sense of it all by weaving it together into an extended solo, which grabs the reader and makes you want to hear more. … It's a weird moment, brilliantly written. The book is full of them. Give it a try." - Miles Kington, The Independent
"Zwerin is not a jazz fan. He is a jazz person. … Sometimes I think he is the best jazz writer who ever lived. The Parisian Jazz Chronicles…[is] a must for anyone who likes great tough writing, or off-beat encounters with everyone from Bob Dylan to Orson Welles, or an American view of France from someone who has lived there… The book is full of stuff…odd, compelling, pointless and yet memorable. He writes like Jack Kerouac would have written if Kerouac had been a good writer. But he always comes back to the theme he started from. It seems random, but it's all wonderfully structured, like a great jazz improvisation. … This book alone would give him a place in jazz history. It's a wonderful book, wonderfully written, with a touch of genius." - Miles Kington, The Oldie
ISBN:
9780300108064
Publication Date:
November 11, 2005
240 pages, 5 1/2 x 8 1/4