Leon Trotsky
WARNING
You are viewing an older version of the Yalebooks website. Please visit out new website with more updated information and a better user experience: https://www.yalebooks.com
Joshua Rubenstein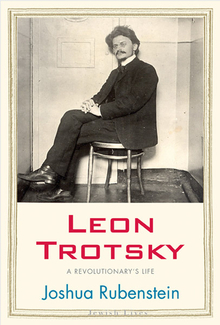 View Inside
Format:

Cloth


Price:

$26.00
Also Available in:
Paper
e-book
Read Joshua Rubenstein's post on Trotsky as a political figure and a Jew on the Yale Press Log.
From the prizewinning Jewish Lives series, a clear-eyed exploration of the career of Leon Trotsky, the tragic hero who "dreamed of justice and then wreaked havoc," by a leading expert on human rights and the former Soviet Union

"An accessible scholarly account of a man whose life spanned continents, whose charisma was legendary and whose ideas sparked a revolution and its backlash."—Kirkus Reviews

Born Lev Davidovich Bronstein in southern Ukraine, Trotsky was both a world-class intellectual and a man capable of the most narrow-minded ideological dogmatism. He was an effective military strategist and an adept diplomat, who staked the fate of the Bolshevik revolution on the meager foundation of a Europe-wide Communist upheaval. He was a master politician who played his cards badly in the momentous struggle for power against Stalin in the 1920s. And he was an assimilated, indifferent Jew who was among the first to foresee that Hitler's triumph would mean disaster for his fellow European Jews, and that Stalin would attempt to forge an alliance with Hitler if Soviet overtures to the Western democracies failed.

Here, Trotsky emerges as a brilliant and brilliantly flawed man. Rubenstein offers us a Trotsky who is mentally acute and impatient with others, one of the finest students of contemporary politics who refused to engage in the nitty-gritty of party organization in the 1920s, when Stalin was maneuvering, inexorably, toward Trotsky's own political oblivion.

As Joshua Rubenstein writes in his preface, "Leon Trotsky haunts our historical memory. A preeminent revolutionary figure and a masterful writer, Trotsky led an upheaval that helped to define the contours of twentieth-century politics." In this lucid and judicious evocation of Trotsky's life, Joshua Rubenstein gives us an interpretation for the twenty-first century.

About Jewish Lives: 

Jewish Lives is a prizewinning series of interpretative biography designed to explore the many facets of Jewish identity. Individual volumes illuminate the imprint of Jewish figures upon literature, religion, philosophy, politics, cultural and economic life, and the arts and sciences. Subjects are paired with authors to elicit lively, deeply informed books that explore the range and depth of the Jewish experience from antiquity to the present.

In 2014, the Jewish Book Council named Jewish Lives the winner of its Jewish Book of the Year Award, the first series ever to receive this award.

More praise for Jewish Lives:

"Excellent" –New York Times

"Exemplary" –Wall Street Journal

"Distinguished" –New Yorker

"Superb" –The Guardian
Joshua Rubenstein was a staff member of Amnesty International USA from 1975 to 2012 and is a longtime associate at Harvard University's Davis Center for Russian and Eurasian Studies.
"An accessible scholarly account of a man whose life spanned continents, whose charisma was legendary and whose ideas sparked a revolution and its backlash."—Kirkus Reviews
"This trim book . . . pulls together all the essentials of the life of Leon Trotsky and the revolution he so significantly shaped into a seamless, intelligent, and wonderfully accessible synopsis."—Robert Legvold, Foreign Affairs
"As much a myth and a legend as a man, Leon Trotsky is an individual of deep contradictions. . . . Fast-paced and engaging, Rubenstein's brief biography provides a solid introduction to the period and a detailed examination of a man much studied but little understood."—Publishers Weekly
"Joshua Rubenstein has produced a steadily intelligent, insightful biography of one the last century's most alluring intellectual-politicians, a man of astonishing brilliance and no less astonishing rigidities."—Steven J. Zipperstein, author of Imagining Russian Jewry: Memory, History, Identity
"An exemplary biography. . . . Rubenstein depicts Trotsky as a tragic hero, a complex man whose brilliance and fallibility were inseparable."—Judith Maas, Jewish Advocate
"Joshua Rubenstein's succinct account of Leon Trotsky's life rescues the Russian radical from a remoteness, positioning him at a useful distance for contemporary readers."—Harvey Blume, ArtsFuse
"Joshua Rubenstein has told a fascinating story in this book. It is very well documented, with close attention to the sources in several languages, and yet it reads like a novel."—Rabbi Jack Riemer, South Florida Jewish Journal
"It is both a good read and a balanced, plausible interpretation of the man in his times. . . . He sees things to admire in Trotsky and things to deplore. Seeking to understand how Trotsky saw the world, while not sharing that vision, he achieves the mixture of empathy and critical distance that a good biographer needs."—Sheila Fitzpatrick, The Guardian
"Rubenstein handles complex issues sensitively in this accessible introduction to a flawed but fascinating twentieth-century giant."—John McIlroy, Times Higher Education
"In this new, concise biography, Rubenstein offers a more balanced view of Trotsky. . . . There are many reasons to commend this work — among them, Rubenstein's depoliticization of its subject and the book's succinctness and readability."—Peter Ephross, The Forward
ISBN:
9780300137248
Publication Date:
October 15, 2011
240 pages, 5 1/2 x 8 1/4
1 b/w illus.