Edward III
WARNING
You are viewing an older version of the Yalebooks website. Please visit out new website with more updated information and a better user experience: https://www.yalebooks.com
W. Mark Ormrod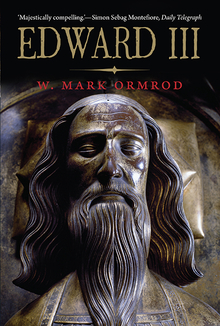 View Inside
Format:

Paper


Price:

$35.00
Also Available in:
Cloth
e-book
A landmark biography of the charismatic king beloved of fourteenth-century England

Edward III (1312–1377) was the most successful European ruler of his age. Reigning for over fifty years, he achieved spectacular military triumphs and overcame grave threats to his authority, from parliamentary revolt to the Black Death. Revered by his subjects as a chivalric dynamo, he initiated the Hundred Years' War and gloriously led his men into battle against the Scots and the French.
In this illuminating biography, W. Mark Ormrod takes a deeper look at Edward to reveal the man beneath the military muscle. What emerges is Edward's clear sense of his duty to rebuild the prestige of the Crown, and through military gains and shifting diplomacy, to secure a legacy for posterity. New details of the splendor of Edward's court, lavish national celebrations, and innovative use of imagery establish the king's instinctive understanding of the bond between ruler and people. With fresh emphasis on how Edward's rule was affected by his family relationships—including his roles as traumatized son, loving husband, and dutiful father—Ormrod gives a valuable new dimension to our understanding of this remarkable warrior king.
Mark Ormrod is a professor in the Department of History, University of York.
"Mark Ormrod's Edward III is majestically compelling."—Simon Sebag Montefiore, The Daily Telegraph (Books of the Year)
"Ormrod has mastered the complex interplay of circumstance, motive, and personality to provide an original and important account not only of a King but of a nation at a critical stage of its history. Edward III is a remarkable achievement and deserves a wide readership, both among professional historians and the general public."—Scott L. Waugh, Times Literary Supplement
"Ormrod's sheer mastery of his sources informs every page of his text. Here we have the long-awaited authoritative biography of the king for our generation."—Nigel Saul, Reviews in History
'Ormrod presents a picture of Edward III that is complex and convincing. Above all, what emerges is the supreme quality of statesmanship and political skill displayed in the king's best years. This is a masterly study of a complex reign, with its triumphs in the French wars, and with the eventual tragedy of the final years marred by corruption and failing finances.' - Michael Prestwich, author of The Three Edwards: War and State in England, 1272-1377
'Mark Ormrod's Edward III is a distinguished contribution to the scholarship of medieval England. At the centre is the development, and eventual decline, of the royal personality; chivalric society and its influence is given its due place, as is the king's leadership of his country in peace and war. At long last we have a book which does full justice to its subject, and which be read with profit by both scholar and general reader alike.' - Christopher Allmand, author of The Hundred Years War: England and France at War, c.1300-c.1450
'This is a magnificent study of Edward III and his reign, a broadly conceived, richly textured and deeply humane evocation of the king and his age. It is as colourful and captivating — one imagines — as the tapestries with which Edward adorned his apartments; but it is as solidly built as Windsor Castle.' - Michael Bennett, author of Richard II and the Revolution of 1399
'W. Mark Ormrod sets a new and dazzling standard in the writing of biographies of medieval rulers. He brings Edward III vividly to life and a gripping and taut series of analyses focus on the multiple problems facing the English monarchy, Edward's attempts to impose a new agenda, and the lasting effects this had on the character of English kingship.' - Anthony Goodman, author of John of Gaunt: The Exercise of Princely Power in Fourteenth-Century Europe
"Part of the problem is that Edward III's respect for the conventional images of kingship has obscured his personality, making him seem like a cardboard cut out. Perhaps the greatest merit of Mark Ormrod's magnificent new biography, is that it penetrates behind this image…..Ormrod is at his best in describing the personality of the King, and his impact on English political society."—Jonathan Sumpton, Literary Review
"Ormrod (Univ. of York, UK) has proven himself to be the ideal historian to produce a superlative biography of King Edward. . . . Ormrod gets as close to understanding Edward and his reign as anyone is likely to get."—A.C. Reeves, Choice
"A long-awaited addition to the English Monarchs series" Northern History Journal
"A dauntingly large but majestically compelling study of one of England's most successful war leaders. Ormrod's vivid prose captures wonderfully the personal quality of medieval politics." Sunday Telegraph.
       "Ormrod aims to revolutionise our understanding of the king, and does so not without a supreme effort of scholarship. This work is the culmination of 25 years' worth of research: Ormrod was commissioned to write it back in the 1980s after its completion had confounded two other historians. A weighty tome, it recalls a dying age of scholarship in which publishers would give historians free reign to explore subjects in absolute depth, unrestrained by a word limit. This volume will remain the history of an important medieval king for generations, and is indispensable for anyone with an interest in the late Middle Ages."
—Chris Skidmore, BBC History Magazine, 1st August 2013
ISBN:
9780300194081
Publication Date:
May 28, 2013
752 pages, 6 1/8 x 9 1/4