Tales from the Long Twelfth Century
WARNING
You are viewing an older version of the Yalebooks website. Please visit out new website with more updated information and a better user experience: https://www.yalebooks.com
The Rise and Fall of the Angevin Empire
Richard Huscroft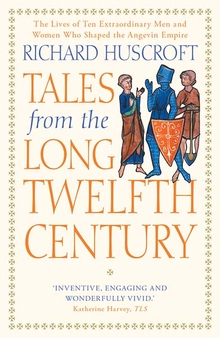 View Inside
Format:

Paper


Price:

$25.00
Also Available in:
Cloth
This intriguing book tells the story of England's great medieval Angevin dynasty in an entirely new way. Departing from the usual king-centric narrative, Richard Huscroft instead centers each of his chapters on the experiences of a particular man or woman who contributed to the broad sweep of events. Whether noble and brave or flawed and fallible, each participant was struggling to survive in the face of uncontrollable forces. Princes, princesses, priests, heroes, relatives, friends, and others—some well known and others obscure—all were embroiled in the drama of historic events.
 
Under Henry II and his sons Richard I (the Lionheart) and John, the empire rose to encompass much of the British Isles and the greater part of modern France, yet it survived a mere fifty years. Huscroft deftly weaves together the stories of individual lives to illuminate the key themes of this exciting and formative era.
Richard Huscroft teaches history at Westminster School, London, and is the author of three previous books. He lives in London.
"Inventive, engaging and wonderfully vivid."—Katherine Harvey, Times Literary Supplement
"This enthralling series of biographical studies, all skilfully linked to wider themes, opens many windows onto the politics and society of twelfth-century Europe."—David Carpenter, author of The Struggle for Mastery: The Penguin History of Britain 1066–1284 
"Richard Huscroft tells the story of the Angevin or early Plantagenet kings through sketches of the careers of key characters before their arrival in England and during their reigns, some of whom are members of the family of Henry II and Eleanor of Aquitaine. Most are non-royals who were key players in crucial episodes of the Angevin era. His approach is a novel and successful way of retelling the history of the period through the impact of individuals. Huscroft is an entertaining writer with an eye for the telling anecdote, and his book affords lively and informative reading for non-specialist readers. If I were assigning supplementary readings for students of English history, I would certainly choose Tales from the Long Twelfth Century, confident that students would enjoy reading it, and would benefit from its contents."—Ralph V. Turner, author of Eleanor of Aquitaine 
"…an inventive journey through the first Plantagenet century, that leaves us with much the same impression of the family that contemporaries formed: mad, bad and dangerous to know."—Dan Jones, Sunday Times
"These stories that Huscroft deploys are wonderful soil-turners that show these matters afresh… this is the first time that many of these accounts have escaped from academia into a more accessible and enjoyable collection."—Alex Burghart, Spectator
"An innovative approach that… works very well indeed… a good, original book"—Marc Morris, BBC History 
"This is a wonderfully vivid retelling of a familiar story. The personalities brought to light here – angry kings, grumbling barons, brave women and clever clerks – remind us of the depth of personal detail that can be recovered from the Plantagenet court. The result is an almost Chaucerian portrait of the proud, the infamous, and the holy."—Nicholas Vincent, author of A Brief History of Britain 1066–1485 
"An innovative overview of the family that ruled vast territories in England and France during a tempestuous century. . . . Huscroft has crafted a strong and compelling narrative."—Susan Brooks, Comitatus
ISBN:
9780300228700
Publication Date:
October 24, 2017
336 pages, 5 x 7 3/4
15 b/w illus.