Medieval Christianity
WARNING
You are viewing an older version of the Yalebooks website. Please visit out new website with more updated information and a better user experience: https://www.yalebooks.com
Kevin Madigan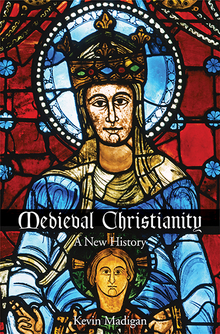 View Inside
Format:

Paper


Price:

$27.50
Also Available in:
Cloth
An expansive guide to the medieval world, with new attention to women, ordinary parishioners, attitudes toward Jews and Muslims, and more


For many, the medieval world seems dark and foreign—an often brutal and seemingly irrational time of superstition, miracles, and strange relics. The aggressive pursuit of heretics and attempts to control the "Holy Land" might come to mind. Yet the medieval world produced much that is part of our world today, including universities, the passion for Roman architecture and the development of the gothic style, pilgrimage, the emergence of capitalism, and female saints.
 
This new narrative history of medieval Christianity, spanning the period 500 to 1500 CE, attempts to integrate what is familiar to readers with new themes and narratives. Elements of novelty in the book include a steady focus on the role of women in Christianity; the relationships among Christians, Jews, and Muslims; the experience of ordinary parishioners; the adventure of asceticism, devotion, and worship; and instruction through drama, architecture, and art. Madigan expertly integrates these areas of focus with more traditional themes, such as the evolution and decline of papal power; the nature and repression of heresy; sanctity and pilgrimage; the conciliar movement; and the break between the old Western church and its reformers.
 
Illustrated with more than forty photographs of physical remains, this book promises to become an essential guide to a historical era of profound influence.
Kevin Madigan is Winn Professor of Ecclesiastical History at Harvard Divinity School. He specializes in the study of medieval Christian religious practice and thought. His books include Olivi and the Interpretation of Matthew in the High Middle Ages and The Passions of Christ in High-Medieval Thought: An Essay on Christological Development, and he is co-author of Ordained Women in the Early Church: A Documentary History and Resurrection: The Power of God for Christians and Jews. He lives in Cambridge, MA.
"This will undoubtedly be the fundamental narrative account of medieval Christianity for the next generation, smartly and engagingly written."—John Van Engen, University of Notre Dame
"This impressive summary of the medieval church is comprehensive in coverage, rich in detail, and clear in presentation. It seamlessly combines the best of the received story of medieval Christianity with challenging insights from the newest historiography."—Bernard McGinn, University of Chicago
"A masterful yet accessible introduction to the principal institutional, intellectual, and social developments of medieval Christianity, including the papacy and religious orders, particularly valuable for its attention to the place of Jews, Muslims, heretics, and women in these developments, as well as the problem of educating the laity."—Rachel Fulton Brown, author of From Judgment to Passion: Devotion to Christ and the Virgin Mary, 800-1200
"This much-needed book deftly combines the institutional, theological and intellectual history of medieval Christianity. Madigan admirably includes important topics missing from earlier surveys, such as Christian attitudes towards Jews and Muslims, the roles of women, liturgy, popular devotion and the arts."—E. Ann Matter, University of Pennsylvania
"Offering a new approach to the history of medieval Christianity, this ambitious book fully lives up to the expectations it sets. Throughout its subtle and supple narrative, it deepens readers' knowledge of this important period."—Willemien Otten, University of Chicago
"This is a masterful survey spanning a thousand years of the history of Christianity in Europe.  Madigan shows an impressive command of recent scholarship as he brings to life the spiritual, institutional and intellectual struggles of individuals, be they popes or beguines, hermits or heresiarchs."—John Tolan, Université de Nantes
"Accessible and clear . . . an engaging narrative history that should please experts while whetting the appetites of beginners."—Publishers Weekly (starred review)
"[A] crowning scholarly achievement . . . a landmark of popular history . . . probingly researched and well-written . . . Madigan captures the power of it all and also the multifaceted humanity of it all . . . page-turningly fascinating. If you want one rock-solid book on Church history, this is it."—Steve Donoghue, Open Letters
"[A] compelling exposition of the evolution of the church."—Thomas Filbin, Arts Fuse
"Admirable . . .compelling . . . Madigan's book can be said to convey a picture of medieval Christianity that is no less lively for being well-informed and carefully balanced. It can be recommended without reservation to any interested reader."—Francis Oakley, Commonweal
"Kevin Madigan has produced a richly informative book. . . . He is a scholar of the first class himself, and reading his lucid text gives a powerful idea of what a splendid teacher he must be."—Philip Jenkins, Christian Century
"Given the explosion of scholarly interest in medieval religion . . . Medieval Christianity: A New History fulfills an evident need for a new synthesis. . . . Well written and broadly accessible, this book would indeed serve as a useful textbook in courses on the history of Christianity."—Tanya Stabler Miller, Catholic Historical Review
"A substantial and important contribution . . . a solid, nuanced, and enlightening narrative."—John W. Coakley, Church History
"Madigan's narrative is extremely compelling. This book recommends itself because of its thoroughness and balance throughout a wide variety of topics. . . . Although containing a wealth of scholarship, it is highly accessible."—Jack Kilcrease, Anglican and Episcopal History
ISBN:
9780300216776
Publication Date:
November 24, 2015
512 pages, 6-1/8 x 9-1/4
47 b/w illus.