The Crusader Strategy
WARNING
You are viewing an older version of the Yalebooks website. Please visit out new website with more updated information and a better user experience: https://www.yalebooks.com
Steve Tibble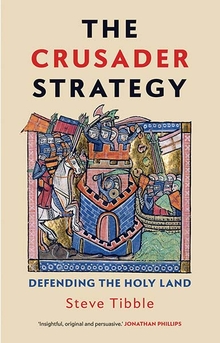 View Inside
Format:

Hardcover


Price:

$35.00
A new look at the crusaders, which shows how they pursued long-term plans and clear strategic goals

Medieval states, and particularly crusader societies, often have been considered brutish and culturally isolated. It seems unlikely that they could develop "strategy" in any meaningful sense. However, the crusaders were actually highly organized in their thinking and their decision making was rarely random.
 
In this lively account, Steve Tibble draws on a rich array of primary sources to reassess events on the ground and patterns of behavior over time. He shows how, from aggressive castle building to implementing a series of invasions of Egypt, crusader leaders tenaciously pursued long-term plans and devoted single-minded attention to clear strategic goals. Crusader states were permanently on the brink of destruction; resources were scarce and the penalties for failure severe. Intuitive strategic thinking, Tibble argues, was a necessity, not a luxury.
Steve Tibble graduated from Cambridge and London Universities and is honorary research associate at Royal Holloway, University of London. He is the author of Monarchy and Lordships in the Latin Kingdom of Jerusalem, 1099–1291 and The Crusader Armies, 1099–1187.
"The Crusader Strategy tackles the fundamental problem faced by 'the defenders of the East' in the twelfth century. How did practical men implement God's will in almost impossible circumstances? Tibble's penetrative analysis shows that they responded by developing intelligent long-term strategies, skilfully adapted to the numerous challenges which confronted them."—Malcolm Barber, author of The Crusader States
"Viewing the crusader states' first century through the lens of strategic theory, Steve Tibble finds broad designs amid a whirlwind of battles, sieges, and negotiations. It is a compelling story vigorously-told of medieval men and the plans that they made."—Thomas F. Madden, author of The New Concise History of the Crusades
"Confident, brisk and engaging, Tibble offers a sharp new understanding of the Crusader States. He deftly reveals the strategic imperatives that shaped the early eras of conquest and consolidation, convincingly showing how and why the crusaders made their strategic choices. Pithy anecdote and clever analysis illuminate the crucial competition for Egypt, a race won by Saladin, who forced the crusaders out of their mighty castles and onto the fateful battlefield at Hattin. Insightful, original and persuasive - the perfect sibling to Tibble's Crusader Armies."—Jonathan Phillips, author of The Life and Legend of the Sultan Saladin
"Yes indeed! The kings of Jerusalem did have a strategy. The case is argued with great panache. Tibble brings a freshness and a breadth of knowledge to his subject and has clearly thought long and hard as to why things went wrong. A welcome addition to a lively debate."—Peter W. Edbury, author of The Conquest of Jerusalem and the Third Crusade
"Tibble is the most interesting military historian of the Crusades writing today. . . . While he does not break new ground, he helps readers see the old ground more profitably. He is an entertaining writer and his tone is often casual, but that does not come at the expense of scholarship or insightful use of historical sources."—Timothy D. Lusch, Chronicles Magazine
Shortlisted for the 2020 Duke of Wellington Medal for Military History
ISBN:
9780300253115
Publication Date:
September 29, 2020
376 pages, 6 1/8 x 9 1/4
18 color illus. + 8 maps