Holy Bones, Holy Dust
WARNING
You are viewing an older version of the Yalebooks website. Please visit out new website with more updated information and a better user experience: https://www.yalebooks.com
How Relics Shaped the History of Medieval Europe
Charles Freeman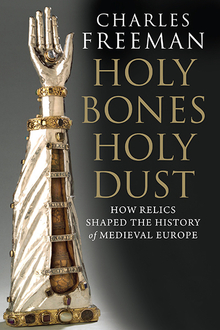 View Inside
Format:

Paper


Price:

$25.00
Also Available in:
Cloth
e-book
A richly textured history spanning a thousand years of holy relics across Europe

Relics were everywhere in medieval society. Saintly morsels such as bones, hair, teeth, blood, milk, and clothes, and items like the Crown of Thorns, coveted by Louis IX of France, were thought to bring the believer closer to the saint, who might intercede with God on his or her behalf. In the first comprehensive history in English of the rise of relic cults, Charles Freeman takes readers on a vivid, fast-paced journey from Constantinople to the northern Isles of Scotland over the course of a millennium.
In Holy Bones, Holy Dust, Freeman illustrates that the pervasiveness and variety of relics answered very specific needs of ordinary people across a darkened Europe under threat of political upheavals, disease, and hellfire. But relics were not only venerated—they were traded, collected, lost, stolen, duplicated, and destroyed. They were bargaining chips, good business and good propaganda, politically appropriated across Europe, and even used to wield military power. Freeman examines an expansive array of relics, showing how the mania for these objects deepens our understanding of the medieval world and why these relics continue to capture our imagination.
Charles Freeman is a specialist on the ancient world and its legacy. He is the author of numerous books, including the bestseller The Closing of the Western Mind.
"Freeman is an excellent narrator. . . . He loves to tell a good tale, and the history of relics overflows with countless bizarre and fascinating deeds."—Andrew Butterfield, The New Republic
"As Freeman delves into practices across Europe, he demonstrates great ease in synthesizing — and keeping accessible — many various strains of religious thought. . . . The same is true of his treatment of the histories of the Crusades, the rise of the Byzantine Empire, the Italian city-states, the challenge of Protestantism. . . . It's no easy feat to encapsulate these subjects, and yet Freeman . . . pulls it off with great authority and insight."—Nick Owchar, Los Angeles Times
"Despite their prominence in the Middle Ages and even up to today, there is no other comprehensive history of relics available. As always, Freeman writes well and will stir up controversy. Recommended to scholars who will appreciate this comprehensive history, as well as to buffs of medieval history."—David Keymer, Library Journal
"[A] fascinating book. . . ."—Noel Malcolm, Sunday Telegraph (Seven)
'In Holy Bones, Holy Dust, Charles Freeman presents the massive history of relic veneration in a way that is at the same time comprehensive, compulsive and accessible. This is no mean achievement.'—Paul Fouracre, Frankland: The Franks and the World of Medieval Europe
'Charles Freeman's new book is absorbing, wide-ranging and rigorous, while remaining constantly accessible. There is much original material here and many fresh insights; Freeman's eye for intriguing stories never wavers.'—John Cornwell, author of Newman's Unquiet Grave: the Reluctant Saint
"This superbly put together and elegantly written book is the first proper history of the cult of relics from the early days to Counter-Reformation. Ranging from the sublime to the ridiculous, this is a marvellous study."—Catholic Herald
". . . a nuanced, scholarly and richly entertaining introduction to the subject of medieval Christian relics. It is a treat. The geographical and chronological range of the book is impressive (from ancient Constantinople to the post-Reformation West) and the author focuses on all the important issues. . . . Freeman's achievement is all the more impressive because too few serious historians have bothered to study this topic in the round. . . . As a result, this is easily the best book that Freeman has written and also the best short introduction to the story of relics that I have read."—Jonathan Wright, The Tablet
"In this work he examines the medieval enthusiasm for miracles. Few serious historians have tackled this subject yet it is of crucial importance in trying to understand the medieval mind."—Church of England Newspaper
". . . . this remarkable, in many ways shocking, study places them at the very heart of medieval life."—Michael Kerrigan, The Scotsman
"Wonderfully written and inviting. . . . Freeman, right down to the notes for his illustrations, fascinates....[Holy Bones, Holy Dust is] a model for how history is to be written."—Thomas McGonigle, ABC of Reading
"Charles Freeman covers a huge sweep of history con brio in this book on the significance of Catholic relics."—Simon Scott Plummer, Standpoint
"Freeman's book is a timely reminder of the extent to which relics were once central to mankind's sense of identity."—Nick Vincent, BBC History Magazine
"As Charles Freeman point out in his new book Holy Bones, Holy Dust: How Relics shaped the History of Medieval Europe, relics were a crucial part of the medieval economy."—Bess Twiston Davies, The Times
"Holy Bones, Holy Dust offers a readable and ambitious panoramic history of medieval society, politics and religion, defined by the impetus of relics, saints cults and miraculous interventions occurring between the fall of the Roman Empire and the Reformation."—E.L Devlin, History Today
"It is rare that a book about medieval history can keep the attention of any apart from scholars or, perhaps, live-role-play gamers. But this is just such a book. Holy Bones, Holy Dust, the latest offering from award-winning author Charles Freeman, benefits from being both exceptionally well written and having a strangely attractive subject matter."—Tim Perry, ChristianWeek.org
"Charles Freeman's Holy Bones, Holy Dust is a shrewd and readable account of one of the more significant aspects of the spiritual life of the Middle Ages."—Jonathan Sumpton, Literary Review
"This book provides an engagingly written historical narrative supported by many detailed stories of how relics were relevant to theological, cultural, political and economic changes across medieval Europe."—Harold Mytum, British Archaeology
"Excellent. . . . Meticulously expert, engagingly readable both as history and as writing."—Craig Smith, Santa Fe New Mexican
"When it comes to the ancient and medieval worlds, Freeman is one of the most accessible academic writers around, and he does not disappoint in this book."—Nigel Nelson, The Tribune
"Scholars and students who wish to understand the popular religiosity of common people in medieval Western Europe will greatly benefit from reading this book."—Daniel Jeyaraj, Theological Book Review
"[A] fascinating book. . . . It is obvious that the cult of relics was the motive force of the great medieval passion for pilgrimages. Less obvious, perhaps, is the fact that the economic development of the many towns depended on the revenues from those pilgrims; the marble edifices of Renaissance Rome were constructed, so to speak, out of the passion for holy relics."—Noel Malcolm, Sunday Telegraph (Seven)
"…The book is a splendid read."—Blue Guides
"This is a history not just of relics and holy objects but of the place they had, not just in the religious but in the whole life of medieval Europe; in war, in peace, in trade, in politics and in the small details of daily living. Fascinating in itself, this book offers a perspective not only on questions about the past but also on questions about the sacred and the profane, both explicit and the implicit." —Christine E. King, Implicit Religion
Freeman's Holy Bones, Holy Dust is a thoughtful, engaging introduction into the uses and abuses of medieval relics. As a book intended to introduce modern audiences to the varieties and oddities of relic devotion, it does its job very well. The short chapters with their often-fascinating stories of miracles and political intrigue make the book a quick and absorbing read. That Freeman's work will  introduce recent academic work on relics to a non-specialist audience is surely to be commended. Holy Bones, Holy Dust deserves to attract a large readership. Combing its fascinating topic with its sure prose, it is certain to do so. — Donna Trembinski, St. Francis Xavier University
"The strength of this book is its compelling sense of storytelling. . . . In chapters where the scholarship is particularly rich and focused, . . . Freeman's ability to write exciting narrative sweeps one along. Generally there are big themes—politics, religion, conflict, and resolution—but there also are many telling anecdotes and a sense of the personal and the touchingly human."—Cynthia Hahn, Catholic Historical Review
"Impressively informed and enlightening, it's a scholarly work that makes allowances for the general reader and helps us to understand the intricacies of the medieval mind, restoring a more balanced and complete picture of the Middle Ages."—Alastair Mabbott, The Herald
"This fascinating book provides the necessary background for an understanding of what is today seen as something a little bizarre" — Good Book Guide
"In Holy Bones, Holy Dust: How Relics Shaped the History of Medieval Europe, Charles Freeman, an expert on the ancient world and the history of Christianity, takes the reader on a journey through a time overcast by the shadow of sin and punishment, where relics provided a spiritual relief, and where the Church's power grew to the point of making the Reformation all but inevitable."—Aida Dias, Saber and Scroll Journal
ISBN:
9780300184303
Publication Date:
November 20, 2012
324 pages, 6 1/4 x 9 1/4
16 pp. b/w illus.