Conversions
WARNING
You are viewing an older version of the Yalebooks website. Please visit out new website with more updated information and a better user experience: https://www.yalebooks.com
Two Family Stories from the Reformation and Modern America
Craig Harline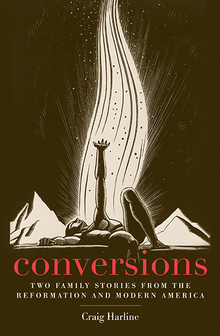 View Inside
Format:

Paper


Price:

$37.00
Also Available in:
Cloth
e-book
The experiences of two families—one in seventeenth-century Holland, the other in America today—and how they coped when a family member changed religions

This powerful and innovative work by a gifted cultural historian explores the effects of religious conversion on family relationships, showing how the challenges of the Reformation can offer insight to families facing similarly divisive situations today.
Craig Harline begins with the story of young Jacob Rolandus, the son of a Dutch Reformed preacher, who converted to Catholicism in 1654 and ran away from home, causing his family to disown him. In the companion story, Michael Sunbloom, a young American, leaves his family's religion in 1973 to convert to Mormonism, similarly upsetting his distraught parents. The modern twist to Michael's story is his realization that he is gay, causing him to leave his new church, and upsetting his parents again—but this time the family reconciles.
Recounting these stories in short, alternating chapters, Harline underscores the parallel aspects of the two far-flung families. Despite different outcomes and forms, their situations involve nearly identical dynamics and heart-wrenching choices. Through the author's deeply informed imagination, the experiences of a seventeenth-century European family are transformed into immediately recognizable terms.
Craig Harline is professor of history at Brigham Young University.
"Compelling . . . A beautiful book, illuminating in a time when almost half of Americans report switching religions."—Publishers Weekly (starred review)
"An absorbing, creative book… it will definitely become a go-to book for readers interested in the history and psychology of conversion."—Lauren Winner, author of Girl Meets God: A Memoir
"An unexpected joy. . . . A compelling, insightful examination. . . . Conversions is a journey well worth taking."—Gerald S. Argetsinger, Affirmation.org
"Will appeal to lovers of history, Christians, and religious enthusiasts alike."—Rhett Wilkinson, Deseret News
"Once I started, I could not put it down. It is hugely compelling. All the narrative skills which are so apparent in Harline's earlier work are now bent towards a purpose which shows what history is for: illuminating present concerns through wise, informed, and serious reflection upon the past. A superb, important book."—Diarmaid MacCulloch, author of Christianity: The First Three Thousand Years
"We are pleased to add Craig Harline's remarkable book Conversions to Yale University Press's series New Directions in Narrative History. This bold work builds on Harline's deep knowledge of early modern Europe to forge powerful connections with events and people close to the present—all in the service of exploring themes of trans-historical significance. The focus moves, in alternating sequence, between two compelling personal stories. The first is that of a young 17th-century Dutchman, in the process of converting from Protestantism to Catholicism. The second follows a 20th-century American, moving in and out of Mormonism while passing at the same time from straight to gay life-ways. Though manifestly different in surface particulars, they are profoundly linked by underlying concerns with family and community tensions and with the puzzle of personal identity. Harline's gifts as a writer enable him to describe, to evoke, to analyze, in seamless combination. Readers will be moved not only by his portrayal of the main characters; they will feel as well the tremors of connection to their own lives."—John Demos (Yale University) and Aaron Sachs (Cornell University), Series Editors
"I have never seen put more clearly or potently the divisions that occur in families because of religious differences. Conversions is great storytelling, combining history and heart in a splendid, remarkable way."—Carol Lynn Pearson, author of Goodbye, I Love You 
"Though every inch a professional historian, Harline writes accessibly, personally when appropriate, and so vitally overall that those he writes about become near-tangibly human."—Ray Olson, Booklist
"A beautiful and moving book. Harline is a master at narrative and at making the most painstaking research look effortless. These two unconnected stories required very different approaches, yet Harline's writing binds them together with an odd, yet arresting symmetry, overflowing with integrity and insight."—Carlos Eire, Yale University
"Eloquent . . . fascinating and relevant . . . The narrative is fluid and readable, and I had trouble putting the text down."—Ben Park, Juvenile Instructor
"Highly readable and in many ways fascinating."—Catholic Sentinel
"This creative, engaging work shows why history matters and invites readers to learn from the past. It deserves a wide readership."—A.W. Klink, Choice
"In its most gripping passages Conversions is as captivating as a well-written novel. . . insightful and eloquent."—Christopher D. Cantwell, Journal of Religion
Finalist for the 2012 Mark Lynton History Prize sponsored by the Lukas Prize Project at Columbia's Graduate School of Journalism and the Nieman Foundation for Journalism at Harvard. The Lynton History Prize is awarded to a book length work of history on any topic that best combines intellectual distinction with felicity of expression.
ISBN:
9780300192445
Publication Date:
March 29, 2013
320 pages, 5 3/4 x 8 15/16
3 b/w illus.