Miracles at the Jesus Oak
WARNING
You are viewing an older version of the Yalebooks website. Please visit out new website with more updated information and a better user experience: https://www.yalebooks.com
Histories of the Supernatural in Reformation Europe
Craig Harline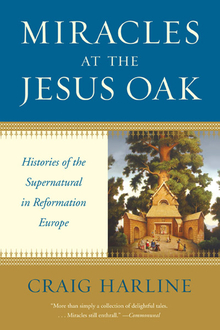 View Inside
Format:

Paper


Price:

$28.00
Also Available in:
e-book
In the tradition of The Return of Martin Guerre and The Great Cat Massacre, Miracles at the Jesus Oak is a rich, evocative journey into the past and the extraordinary events that transformed the lives of ordinary people.
In the musty archive of a Belgian abbey, historian Craig Harline happened upon a vast collection of documents written in the seventeenth century by people who claimed to have experienced miracles and wonders. In Miracles at the Jesus Oak, Harline recasts these testimonies into engaging vignettes that open a window onto the believers, unbelievers, and religious movements of Catholic Europe in the Age of Reformation.
Written with grace and charm, Miracles at the Jesus Oak is popular history at its most informative and enlightening.
Craig Harline, a professor of history at Brigham Young University, is the author of A Bishop's Tale, The Burdens of Sister Margaret, and Sunday. His research has been supported by the National Endowment for the Humanities, the American Philosophical Society, the American Council of Learned Societies, and other granting agencies. He lives in Provo, UT.
"Using his engaging storytelling powers, Harline imaginatively re-creates the scenes surrounding miracles, . . . bringing to life the fervent faith of the miracles' recipients. . . . A lively collection of stories."—Publishers Weekly
"Harline's narratives realize the protagonists and their miracles as personal tragedies, replete with the Machiavellian melees of their time. As such, they read almost like fiction, though [the] exhaustive research makes them factually precise. Harline may be an academic, but his writing isn't."—Booklist, starred review
"He should be grouped with others devoted to revealing secrets hidden in early-modern shadows: Steven Ozment, Natalie Zemon Davis, and Emmanuel Le Roy Ladurie. Harline's style is lively, his sources reputable and his interpretations trustworthy. . . . This work shows the grace and insight obtained only by years of painstaking research."—Christian Century, Ken Sawyer
"In themselves they are delightful stories, [but] the volume is more than simply a collection of delightful tales. . . . Miracles still enthrall."—Commonweal, Robert Bruce Mullin
"This is good reading; the stories are like little windows letting the reader see into the religious life of the 17th century. . . . It is rare to find a historian who successfully writes for a wider audience; Craig Harline has managed to do this very well indeed."—National Catholic Reporter
"This book impels to serious thought even while entertaining. . . . Many of us will take this book into the classroom to good purpose and with great pleasure."— American Historical Review
"Alive with vibrant characters and evocative details, Miracles at the Jesus Oak will not disappoint his admirers and is sure to bring more into their fold. . . . He opens a window onto the thoughts, emotions, and experiences of people, often in their own words, who otherwise would have forever been lost from our view."— Renaissance Quarterly
"In his usual manner, lively and fresh, he not only brings ordinary people front and center but also offers startling insight into the political and religious dynamic of the time. His approach and writing style, although historically responsible, are enjoyable for non-specialists as well. . . . His work makes clear what professional historians alas sometimes forget an enjoyable story need not be taboo."—Tertio Belgium
ISBN:
9780300167023
Publication Date:
September 13, 2011
336 pages, 5 1/2 x 8 1/4