Christ's Churches Purely Reformed
WARNING
You are viewing an older version of the Yalebooks website. Please visit out new website with more updated information and a better user experience: https://www.yalebooks.com
A Social History of Calvinism
Philip Benedict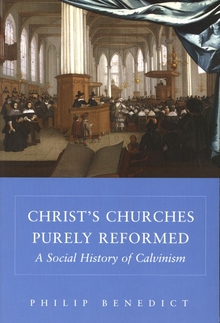 View Inside
Format:

Paper


Price:

$63.00
Also Available in:
Cloth
This sweeping book tells the story of Calvinism's origins, expansion, and impact across Europe from the upheavals of the early Reformation to the end of the seventeenth century. The faith's fundamental doctrines, diverse ecclesiastical institutions, and significant consequences for lived experience are all explored, revealing the ongoing interplay between a dynamic religious tradition and the worlds in which it took root.

"This is a rare and great achievement: a broad survey . . . that is at once a gripping narrative and a fresh interpretation of the subject, as masterful with the small details as with the big picture." —Carlos Eire, Yale University
Philip Benedict is William Prescott and Annie McClelland Smith Professor of History and Religion at Brown University.

An alternate selection of the History Book Club

"This comprehensive social history of Calvinism is a major contribution to the field. Written with admirable clarity, this book will appeal to the many varieties of scholars interested in Calvinism, and to a wider audience of readers interested in religion."—Robert M. Kingdom, Emeritus Professor of History at the University of Wisconsin-Madison

"This is a rare and great achievement: a broad survey text that is at once a gripping narrative and a fresh interpretation of the subject, as masterful with the small details as with the big picture. Thorough, precise, and incisive, this book gets to the marrow of Reformed life and thought, tracing its development over a vast expanse, never sacrificing one approach at the expense of another. It is a model of historiographical acumen: deeply steeped in primary sources, and also fully engaged with past and current scholarship. Philip Benedict's history of the emergence of the Reformed Protestant tradition is without parallel, and supersedes all of its precursors. It should become required reading for anyone interested in the Reformation, Calvinism, early modern Europe, and colonial North America. Moreover, from now on, anyone wishing to discuss Max Weber's thesis on the relationship between Calvinism and Capitalism will have to read this book before uttering or writing a word."—Carlos Eire

"This is a rare and great achievement: a broad survey text that is at once a gripping narrative and a fresh interpretation of the subject, as masterful with the small details as with the big picture. It supersedes all of its precursors."—Carlos Eire, Yale University

"[This book] is a thoughtful, learned, and lucid synthesis of Calvinism's beginnings, development, successes, and limits. . . . To say that Benedict succeeds in these goals is an understatement; this is an important book of lasting value. Some of the bibliographic material in the endnotes indicates the depth and brilliance of his work. Highly recommended. All levels."—Choice

"A significant book . . . whose value to scholars cannot be overemphasized. The present study assembles the best recent scholarship on Calvinism throughout Europe and integrates the findings into a coherent overarching account."—Raymond Mentzer, H-France


"Benedict . . . has done a remarkable job of synthesis, presenting a coherent and very readable portrait of a movement that profoundly influenced political and cultural developments through the sixteenth and seventeenth centuries. Even more remarkably, he has succeeded in writing a book that can be read by several different audiences. For historians of the Reformed tradition and of early modern Europe in general, the book is a masterful summary of recent scholarship that contributes to the ongoing discussion of the impact of the Protestant Reformation. Graduate students and upper-level undergraduates will find it an in-depth but comprehensible introduction to an influential movement of the early modern period. Last but not least, the book should appeal to amateur historians with a serious interest in the origin and evolution of the religious tradition from which most of the Protestant denominations in North America developed."—Amy Nelson Burnett, H-Net Reviews

"This elegantly written book is a masterpiece that brilliantly combines a compelling narrative, a superb overview of existing scholarship, and fresh interpretations. A must read for Reformation specialists, this synthetic history of the Reformed movement--the first such work in a half century—is also most accessible to the general reader."—Jeffrey R. Watt, Canadian Journal of History

"Benedict lucidly and comprehensively captures the overall trajectory of the Reformed movement."—Christine Kooi, Sixteenth Century Journal

"This book is a must for college and university libraries, Reformation scholars and graduate students, and all those with an interest in the ideas and developments of early modern Reformed Protestantism."—Religious Studies Review

"A unique & unusually convincing synthesis of a mountain of diverse material—an essential introduction of value not only to scholars but informed readers as well. A permanent contribution to the field."—Susan Boettcher, Department of History, University of Texas at Austin

"An important book. Philip Benedict has put us in his debt. If you are a Calvinist of one sort or another, and you wish to understand something of the diversity and complexity of your lineage, buy this book, read it, and keep it in your library. For students of Calvinism, this volume will be indispensable."—Keith Sewell, Pro Rege

"This book fills an enormous gap in the literature. The breadth and depth of Benedict's research are admirable, but more admirable still is his success in synthesizing this enormous amount of material into a closely argued and highly readable narrative."—Barbara B. Diefendorf, Professor of History, Boston University


Selected as an Outstanding Academic Title for 2003 by Choice Magazine
Winner of the Philip Schaff Prize sponsored by the American Society of Church History
Winner of the 2004 Phyllis Goodhart Gordan Best Book Prize given by the Renaissance Society of America

ISBN:
9780300105070
Publication Date:
September 10, 2004
704 pages, 6 1/8 x 9 1/4
4 b/w illus.