Grand Strategies in War and Peace
WARNING
You are viewing an older version of the Yalebooks website. Please visit out new website with more updated information and a better user experience: https://www.yalebooks.com
Edited by Paul Kennedy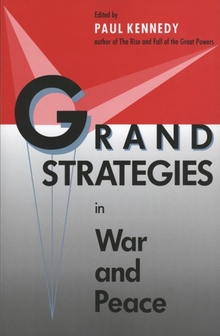 View Inside
Format:

Paper


Price:

$29.00
Also Available in:
Cloth
In this important book, eminent authorities discuss how various nations have sought to integrate their political, economic, and military goals in order to preserve their long-term interests in time of war and peace. Edited and with two chapters written by Paul M. Kennedy, the author of The Rise and Fall of the Great Powers, the book analyzes classic examples of European garand strategies and offers incisive advice on the proper balance of priorities that should be carried out by the United States today.
The book begins with a chapter by Kennedy that shows how the concept of grand strategy has broadened from a preoccupation with battlefield operations to a consideration of such factors as the management of national resources, the vital role of diplomacy, and the willingness of the general populace to support the burdens of war or the cost of large defense forces in peacetime. In succeeding chapters John Hattendorf, Michael Howard, and Eliot Cohen analyze British grand strategies in the War of Spanish Succession and the two world wars. Arther Ferrill, J. H. Elliott, Dennis E. Showalter, Douglas Porch, and Condoleeza Rice then discuss grand strategy in the Roman Empire, imperial Spain, Germany, France, and the Soviet Union.
The book concludes with reflections by Kennedy on American grand strategy today and in the future. He argues that America must avoid nuclear war, create armed forces flexible enough to deal with a variety of possible fighting contingencies, preserve its alliance system, and institute serious measures to reverse the economic and social trends that have weakened its preeminent position in the world. In other words, says Kennedy, America must maintain a reservoir of productive, financial, technological, and educational strength to be in a good position to meet the unpredictable and turbulent world of the early twenty-first century.
"Professor Kennedy has edited an excellent collection of essays by some outstanding scholars. . . . To the serious student of either history or strategy, I highly recommend it as an outstanding collection."—SFC John T. Broom, Armor
"Paul Kennedy begins this excellent collection of essays by demonstrating that the concept of grand strategy is broader than mere battlefield operations. He includes such factors as the proper management of economic resources, the effective use of diplomacy, and the maintenance of public enthusiasm for foreign adventures. . . . Between Kennedy's chapters, one finds eight well-integrated essays on the strategies of the Roman Empire; Imperial Spain; Great Britain in three wars; and German, French and Soviet strategy. The approach is essentially historical . . . but there is much here for the political and military analyst. . . . This book is highly recommended for undergraduate and graduate collections in modern history, foreign affairs, and national security studies. Excellent endnotes and index."—Choice
"Kennedy has great courage and intellectual élan and the book he has inspired is a dashing reconnaissance into highly topical territory. It is beautifully edited and very easy to read. . . . None can be better qualified than Kennedy to read the runes of history, in order to learn form the past how to design today's Grand Strategies with which to confront our present unforeseeable future. . . . This is a seminal and catalytic book bearing on a vital, immediate issue."—Anthony de Reuck, Conflict Bulletin

"A volume that will give more food for thought to . . . policy-makers and general readers."—William A. Comely, Contemporary Southeast Asia

"This volume's authors are distinguished and their subjects range from the Roman empire to the Soviet Union."—Foreign Affairs
"In a short, strong, wise book, Paul Kennedy has gathered a collection of opinions about why wars are fought and how peace can best be kept."—The Economist
"Paul Kennedy . . . has assembled a team of genuine experts, including Douglas Porch, Condoleeza Rice, Michael Howard, and Eliot A. Cohen. These scholars and others analyze the strategic thinking of the British, the European powers, and the United States in this thoroughly stimulating, provocative collection."—Virginia Quarterly Review
ISBN:
9780300056662
Publication Date:
September 10, 1992
238 pages, 6 1/8 x 9 1/4