Alexander to Constantine
WARNING
You are viewing an older version of the Yalebooks website. Please visit out new website with more updated information and a better user experience: https://www.yalebooks.com
Archaeology of the Land of the Bible, Volume III
Eric M. Meyers and Mark A. Chancey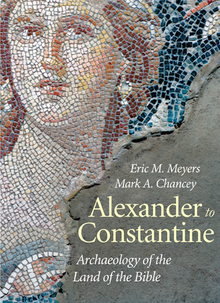 View Inside
Format:

Cloth


Price:

$40.00
Also Available in:
Paper
e-book
The definitive book on the archaeology of Palestine from Alexander the Great's conquest to Constantine's reign

Drawing on the most recent, groundbreaking archaeological research, Eric M. Meyers and Mark A. Chancey re-narrate the history of ancient Palestine in this richly illustrated and expertly integrated book.  Spanning from the conquest of Alexander the Great in the fourth century BCE until the reign of the Roman emperor Constantine in the fourth century CE, they synthesize archaeological evidence with ancient literary sources (including the Bible) to offer a sustained overview of the tumultuous intellectual and religious changes that impacted world history during the Greco-Roman period.
The authors demonstrate how the transformation of the ancient Near East under the influence of the Greeks and then the Romans led to foundational changes in both the material and intellectual worlds of the Levant. Palestine's subjection to Hellenistic kingdoms, its rule by the Hasmonean and Herodian dynasties, the two disastrous Jewish revolts against Rome, and its full incorporation into the Roman Empire provide a background for the emergence of Christianity.  The authors observe in the archaeological record how Judaism and Christianity were virtually undistinguishable for centuries, until the rise of imperial Christianity with Emperor Constantine.
The only book-length overview available that focuses on the archaeology of Palestine in this period, this comprehensive and powerfully illuminating work sheds new light on the lands of the Bible.
Eric M. Meyers, three-time president of the American Schools of Oriental Research, is Bernice and Morton Lerner Professor of Jewish Studies and Archaeology, Duke University. Mark A. Chancey is professor of religious studies, Southern Methodist University.
"In this succinct but highly informative and authoritative account Meyers and Chancey have produced an overview that is refreshing in its concern to integrate archaeological finds with historical narrative.  Richly illustrated, Alexander to Constantine will be a vade mecum for anyone interested in the material worlds of the Bible and the histories of Judaism and Christianity."—Bart Ehrman, The University of North Carolina at Chapel Hill
"Alexander to Constantine is an eminently fair and holistic vision of a formative period of Western Civilization. Beautifully written and illustrated, it offers a snap shot of contemporary scholarship, an entree into a world inhabited by the likes of not only Alexander and Constantine, but by Herod, Jesus, Hillel and Bar Kokhba."—Steven Fine, Yeshiva University
"This is a masterful, synthetic work, both erudite and readable. Archaeological material culture, epigraphic texts, numismatic evidence, and historical and literary texts are all elegantly handled and judiciously assessed.  Professors Meyers and Chancey have produced a veritable sine qua non."—Christopher Rollston, Emmanuel School of Religion
"Magnificent—a major achievement for academics and non-academics alike! Meyers and Chancey unfold the entire material culture of ancient Palestine, the world of pagans, Jews and early Christians. Lavishly illustrated and a pleasure to read, this book sets standards for years to come."—Jürgen Zangenberg, Leiden University

"Organized both chronologically and thematically, written with both the scholar and the student in mind, enhanced by superb maps, photos, and drawings—this work is a most welcome addition to the study of early Judaism through the lens of archaeological discovery in the land of Israel."—Gary A. Rendsburg, Rutgers University
"Comprehensive and richly illustrated . . . an excellent overview of a tumultuous period in world history . . . A treasury of information coupled with brilliant insights, this book has much to offer scholar, student, and general reader alike."—Michael F. Bird, Patheos
"An impressive piece of work . . . a readable and informative overview of a field that has generated an enormous amount of new material just in the past 30 years."—Morten Hørning Jensen, Biblical Archaeology Review 
"Based on the most recent research, this book is authoritative, well written and beautifully presented, with many illustrations in addition to the 17 colour plates; and it challenges a fair number of opinions that have become standard fare in biblical scholarship. It is a most impressive piece of work." Canon J.W. Rogerson, Church Times
"Comprehensive and reliable . . . a great achievement, just the kind of work we have needed for many years."—Daniel J. Harrington, S.J., America
"A very notable contribution . . . a welcome addition to the field of biblical archaeology."—Lee M. Jefferson, Review of Biblical Literature
"A beautifully produced, eminently balanced, and hugely informative volume."—James Carleton Paget, Journal of Ecclesiastical History
ISBN:
9780300141795
Publication Date:
September 25, 2012
400 pages, 7 x 9 1/4
17 color + 170 b/w illus.; 10 maps