Strange Bird
WARNING
You are viewing an older version of the Yalebooks website. Please visit out new website with more updated information and a better user experience: https://www.yalebooks.com
The Albatross Press and the Third Reich
Michele K. Troy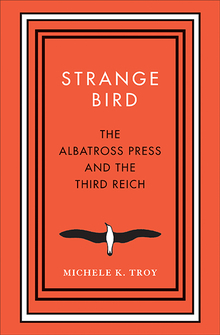 View Inside
Format:

Hardcover


Price:

$40.00
The first book about the Albatross Press, a Penguin precursor that entered into an uneasy relationship with the Nazi regime to keep Anglo-American literature alive under fascism

The Albatross Press was, from its beginnings in 1932, a "strange bird": a cultural outsider to the Third Reich but an economic insider. It was funded by British-Jewish interests. Its director was rumored to work for British intelligence. A precursor to Penguin, it distributed both middlebrow fiction and works by edgier modernist authors such as D. H. Lawrence, Virginia Woolf, James Joyce, and Ernest Hemingway to eager continental readers. Yet Albatross printed and sold its paperbacks in English from the heart of Hitler's Reich.

In her original and skillfully researched history, Michele K. Troy reveals how the Nazi regime tolerated Albatross—for both economic and propaganda gains—and how Albatross exploited its insider position to keep Anglo-American books alive under fascism. In so doing, Troy exposes the contradictions in Nazi censorship while offering an engaging detective story, a history, a nuanced analysis of men and motives, and a cautionary tale.
Michele K. Troy is professor of English at Hillyer College at the University of Hartford. She studies Anglo-American literary modernism in continental Europe in the decades between the two world wars.
"Strange Bird reads like a highbrow thriller, where editors are double agents and all the great modern authors put in cameo appearances. That, along with Michele Troy's engaging and personal style of writing, makes this book a page-turner."—Jonathan Rose, author of The Literary Churchill
"Strange Bird, a scholarly book that reads like an engrossing spy novel, vividly re-creates the strangeness of the book trade during the Third Reich and is one of the most original books on the publishing industry that's appeared in years."—Greg Barnhisel, Duquesne University
"Thoroughly researched and compellingly written, this fascinating microhistory of a German-based English-language publisher adds depth and subtlety to our understanding of the cultural policy of the Third Reich."—Alan E. Steinweis, University of Vermont

"A wonderfully fine-grained narrative history of publishers, books, and readers across and within borders amid the constraint and chaos of Nazi-occupied Europe. Troy has dug deeply into the archives and the historical literature to document the cynical policy of Goebbels not only to censor but to demonstrate 'civilized' German 'tolerance' to the world."—Geoffrey Cocks, Albion College
"This beautifully crafted book is a detective novel and psychological portrait rolled into one. Troy's in-depth archival research reveals her protagonists' aspirations, and the web of political intrigues and economic imperatives in which they became entangled."—Adriaan van der Weel, Universiteit Leiden
"A fascinating story that grips the reader like a novel, and an equally fascinating history that projects us into the complex cultural climate of the 1930s, Strange Bird is written in an elegant literary style that is backed up by hard scholarship and an eye for the significant historical detail."—Christopher Rundle, University of Bologna and University of Manchester
"An eerie journey into a bold cosmopolitan publishing venture in defiance of the censorship rampant in Nazi Germany. . . . Wonderfully engaging history."—Kirkus Reviews
"An absorbing tale of economics, censorship, and literature. [Michele] Troy's riveting exploration of Albatross is a rewarding mix of publishing history, literary criticism, and biography."—Publishers Weekly
"Intensely researched and eminently readable—there's even a harrowing escape story at its center. . . . Troy's book is heartily recommended for anyone with an interest in publishing history, World War II, or modern Anglo-American literature."—Fine Books and Collections
"For one who has, since boyhood, regarded the second-hand bookshop as a paradise of total immersion, it is quite shocking to discover Albatross…Troy's account is a painstaking act of exhumation… she sticks tenaciously to her unique dig, presenting us with a remarkable reconstruction."—Duncan Fallowell, Spectator
"A valuable document of historical preservation."—Signature Reads
"Michele K. Troy's excellent work of scholarly investigation is a great literary yarn, and a paean to those who find a way to fight tyranny no matter the cost."—Literary Hub
"Part business story, part literary criticism, part cultural record and part political history — but all good."—Winnipeg Free Pres
"Thorough, meticulously researched."—Choice
"Strange Bird is intensely researched and eminently readable--there's even a harrowing escape story at its center. The lingering mystery of our principal, German-born Englishman John Holroyd-Reece, who may have been a spy, adds an element of intrigue as well. Troy's book is highly recommended for anyone with an interest in publishing history, World War II, or modern Anglo-American literature."
—Stephen Darori, Israel Book Review   
 
"Through thorough research and thoughtful analysis, Troy explores this bizarre contradiction: How could such a publishing company exist, and even thrive, during the Nazi era?"—Jewish Book Council
"Meticulously researched . . . beautifully written."—Paperback Revolution blog
"Troy, a professor of English, is a gifted storyteller, and Strange Bird is a fascinating history of Albatross, the continental book market, and how individuals navigated Nazism and World War II."—Kara Ritzheimer, Journal of Modern History
ISBN:
9780300215687
Publication Date:
April 4, 2017
440 pages, 6-1/8 x 9-1/4
30 b/w illus.