Arcadian America
WARNING
You are viewing an older version of the Yalebooks website. Please visit out new website with more updated information and a better user experience: https://www.yalebooks.com
The Death and Life of an Environmental Tradition
Aaron Sachs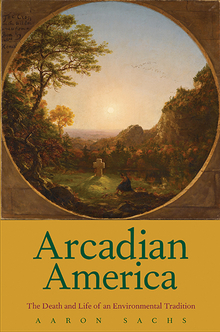 View Inside
Format:

Paper


Price:

$53.00
Also Available in:
Cloth
e-book
How a forgotten environmental tradition of the pre-Civil War era may prove powerfully useful to us now

Perhaps America's best environmental idea was not the national park but the garden cemetery, a use of space that quickly gained popularity in the mid-nineteenth century. Such spaces of repose brought key elements of the countryside into rapidly expanding cities, making nature accessible to all and serving to remind visitors of the natural cycles of life. In this unique interdisciplinary blend of historical narrative, cultural criticism, and poignant memoir, Aaron Sachs argues that American cemeteries embody a forgotten landscape tradition that has much to teach us in our current moment of environmental crisis.
Until the trauma of the Civil War, many Americans sought to shape society into what they thought of as an Arcadia—not an Eden where fruit simply fell off the tree, but a public garden that depended on an ethic of communal care, and whose sense of beauty and repose related directly to an acknowledgement of mortality and limitation. Sachs explores the notion of Arcadia in the works of nineteenth-century nature writers, novelists, painters, horticulturists, landscape architects, and city planners, and holds up for comparison the twenty-first century's—and his own—tendency toward denial of both death and environmental limits. His far-reaching insights suggest new possibilities for the environmental movement today and new ways of understanding American history.
Aaron Sachs is associate professor of history and American studies, Cornell University.
"A book of great ambition that is charting a changing consciousness on the American scene as articulated through classic literature, the built environment, war, art, and invention. . . . Powerful and evocative."—Jonathan Holloway, Yale University
 "If you crossed Leo Marx's The Machine in the Garden with Rebecca Solnit's Savage Dreams you would have a book as original and insightful as Arcadian America. This lyrical, eye-opening work will reshape how readers think about American culture and their place within it."—Louis P. Masur, author of Lincoln's Hundred Days: The Emancipation Proclamation and the War for the Union
 "In Arcadian America, Sachs weaves personal memoir throughout an extraordinary review of 19th-century urban planners, horticulturalists and writers who also sought the Arcadian experience. Rich in scholarship, yet very readable, it is stylistically reminiscent of Thoreau's, A Week on the Concord and Merrimack Rivers, as both draw on personal experience and historic materials."—Thomas Potter, Immediate Past-President, Thoreau Society
"One of the most profound moral reflections ever penned by a historian, this immensely moving work is at times a loving paean to an unknown brother and an aging father, at times a pained reflection on the American way of death. Sachs transcends the intellectual to teach us how us how we might rediscover true hope in life—by grounding ourselves in our country's most meaningful traditions of death."—Robert D. Johnston, author of The Radical Middle Class
"A deep-running meditation on life, death, and our place in and responsibility to our world. . . . An artful blend of reflection and call to action that steers around environmental fatalism toward 'the exhilaration and melancholy that mark every life.'"—Kirkus Reviews 
"Ambitious. . . Sachs's ruminative, associative style makes for interesting takes on dozens of writers, artists, and landscape architects."—Nicholas Lemann, New Yorker 
"Sachs . . . pays attention to his peripheral vision to see beyond the obvious and catch the unexpected . . . . He achieves a rich and compelling emotional context by weaving the Arcadians' stories together with his own . . . . Sachs's accessible and engaging style . . . . retains scholarly credibility while drawing people into the discussion through emotional traction. More scholarly work should be written this way."—Science
"An impressive and ambitious experiment . . . . Sachs's . . . intensely personal anecdotes testify directly to the Arcadian tradition's value as a remedy for contemporary American ecosocial disorders . . . . An idiosyncratic and absorbing book that deserves to be read both for its innovative historiographical methods and its encyclopedic documentation of an original and compelling thesis."—New England Quarterly
"Any serious scholar of nineteenth-century American ideas will want to consider how Sachs has reconfigured and repositioned key elements in America's narrative."—Journal of Interdisciplinary History
"From Yosemite to Yellowstone, the US national parks remain a historical touchstone for national environmentalism — but not the only one, argues Aaron Sachs. In a rich mix of history, cultural critique and memoir, Sachs reveals the cemetery as a half-forgotten nineteenth-century landscape tradition. These micro-Arcadias inspired close observation of nature in increasingly urbanized spaces, as well as contemplation of mortality and the sublime."—Nature
"The book is an appeal for environmental awareness, an appreciation of landscapes, an analysis of American writings about nature and design, a review of 19th century American history and, most strikingly, a personal memoir as its author deals with very basic matters of life and death."—WSKG, "Off the Page"
"Sachs's experience with death is at the center of his vision of repose. It is what makes his book not only honest, but profound, important."—Common Vision
"A creative and unique contribution to the literature on nineteenth-century American environmental thought. [A] model for geographers who strive to incorporate everyday spaces into an understanding of nature-society relations."—Andrew Milson, Historical Geography
"Imaginative and beautifully written . . . [Arcadian America] challenges the meanings of community, place, citizenship, and the natural."—Kevin C. Armitage, American Quarterly
Won an Honorable Mention for the 2013 New England Book Festival given by the JM Northern Media Family of Festivals, in the General Non-Fiction Category.
ISBN:
9780300205886
Publication Date:
March 25, 2014
496 pages, 7 x 9
54 b/w illus.