What I Don't Know About Animals
WARNING
You are viewing an older version of the Yalebooks website. Please visit out new website with more updated information and a better user experience: https://www.yalebooks.com
Jenny Diski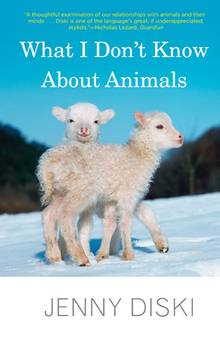 View Inside
Format:

Paper


Price:

$17.00
Also Available in:
Cloth
e-book
A book for those who are entranced by animals, those who cherish elegant writing, and those who delight in the meditations of an original thinker

What does novelist, essayist, and memoirist Jenny Diski know about animals? She wasn't really sure as she began to write this book, and she may not be sure now. But of this she is certain: our relationships with, and attitudes toward, animals are really worth thinking about. In What I Don't Know About Animals, she shows why.
Diski sets out on her wide-ranging investigation by remembering the stuffed cuddly creatures from her childhood, the animal books she read, the cartoons she watched, the strays she found. She considers the animals who have lived and still live with her (most especially Bunty the cat), animals she has encountered close up, and those she has feared. She examines human beings, too, and how they have looked at, studied, treated, and written about the non-human creatures of our shared planet. Ranging still further, the author interviews scientists, discusses Derrida and his cat, and observes elephants in Kenya, always seeking the key to the complex relationship we in the modern West have with animals.
Subtle, intelligent, and always engaging, this book is a brilliant exploration of what it means to be human and what it means to be animal, and the uncertainty of what we can know about either.
Jenny Diski contributes regularly to the London Review of Books and many other papers and journals in the United Kingdom, the United States, and elsewhere. She lives in Cambridge, UK.
"What I Don't Know About Animals will make any pet owner, zoogoer or meat-eater wonder whether we really know anything about the other species we interact with on a daily basis. A mix of memoir, social commentary and exploration of anthropomorphism, Jenny Diski's book raises all the right questions."—Becky Krystal, Washington Post
"[A] love story and homage to the integrity and the otherness of our fellow animals . . . tender [and] engaging."—Frederic Tuten, Bomb Magazine
"Diski writes with clarity and insight, weaving together an impressive range of philosophic, scientific and literary material."—The Financial Times
"This book will really make you think about the complexity of issues regarding the use of animals."—Temple Grandin, author of Animals Make us Human
"a terrific and thought-provoking read in an area of life that traditionally doesn't provoke any thought at all."—The Times (London)
"Subtle, intelligent and engaging."—Over the Counter
"Reading [WHAT I DON'T KNOW], you may find yourself, like Alice, muttering: 'Curiouser and curiouser!" —Irish Times
"Diski takes a writer's finesse and reporter's curiosity on her journey of discovery through the animal kingdom." —Independent mini
"A tremendous book... constantly fascinating and scrupulously honest.  As a species, [Diski] is genuinely a national treasure." —The Lady
"What I Don't Know About Animals is most arresting when Diski brings her own life into the fold. There's her relationship with said cat, a 'drama queen' named Bunty. It gets even more personal in the passage devoted to the author's struggle with delusional parasitosis, which had her convinced she was infested with bugs. It's one of Diski's more dramatic examples of how animals can get inside our heads."—Becky Krystal, Washington Post
"Diski's dry humor (which inspired me to write 'ha!' in my margins more than a few times) and her thorough research on a seldom-explored topic will certainly capture readers' attention."—PopMatters
'This curious, deep book about our profoundly ambiguous engagement with the other animals on this planet provides much food for thought'—Christopher Hirst, The Independent
ISBN:
9780300188035
Publication Date:
January 8, 2013
320 pages, 5 1/2 x 8 1/2

---
Sales Restrictions: For sale in the U.S. and its dependencies, the Philippines, and Canada