House of Lost Worlds
WARNING
You are viewing an older version of the Yalebooks website. Please visit out new website with more updated information and a better user experience: https://www.yalebooks.com
Dinosaurs, Dynasties, and the Story of Life on Earth
Richard Conniff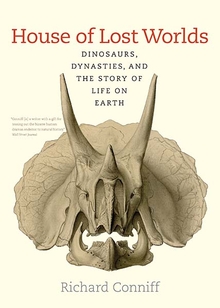 View Inside
Format:

Paper


Price:

$25.00
Also Available in:
Hardcover
A gripping tale of 150 years of scientific adventure, research, and discovery at the Yale Peabody Museum

This fascinating book tells the story of how one museum changed ideas about dinosaurs, dynasties, and even the story of life on earth. The Yale Peabody Museum of Natural History, now celebrating its 150th anniversary, has remade the way we see the world. Delving into the museum's storied and colorful past, award-winning author Richard Conniff introduces a cast of bold explorers, roughneck bone hunters, and visionary scientists. Some became famous for wresting Brontosaurus, Triceratops, and other dinosaurs from the earth, others pioneered the introduction of science education in North America, and still others rediscovered the long-buried glory of Machu Picchu.
 
In this lively tale of events, achievements, and scandals from throughout the museum's history. Readers will encounter renowned paleontologist O. C. Marsh who engaged in ferocious combat with his "Bone Wars" rival Edward Drinker Cope, as well as dozens of other intriguing characters. Nearly 100 color images portray important figures in the Peabody's history and special objects from the museum's 13-million-item collections. For anyone with an interest in exploring, understanding, and protecting the natural world, this book will deliver abundant delights.


Published with the cooperation of the Yale Peabody Museum of Natural History
Richard Conniff is a prize-winning science writer and journalist and the author of nine books including The Species Seekers: Heroes, Fools, and the Mad Pursuit of Life on Earth. He lives in Old Lyme, CT.
"A rich and enthusiastic history. . . . This book sparkles with delightful stories and anecdotes."—Kirkus Reviews, starred review
"A fascinating and magisterial review of the history of the Peabody Museum, and the major figures who made it. It plunges deeply into science, objects, and the lives of the people who collected those objects and made them 'speak,' and it does so in an accessible and, indeed, page-turning way."—Alison Richard, Yale University
"An important and riveting story of how real-life scientists built a great museum and what it means for biology and natural history. Exciting from beginning to end, House of Lost Worlds is for anyone who loves adventurous reading."—Bernd Heinrich, author of One Wild Bird at a Time: Portraits of Individual Lives
"Museums are not just full of fossils and minerals. They're also packed with wonderfully human stories. House of Lost Worlds tells the stories of one of the world's great natural history museums, and in the process, it becomes a fascinating chronicle of the rise of American science."—Carl Zimmer, author of Parasite Rex
"Yale's Peabody Museum is a national treasure. Richard Conniff brings the rich history of the Museum alive with stories of the great characters whose discoveries and ideas transformed science over the past century and a half." —Neil H. Shubin, The University of Chicago, author of Your Inner Fish
"Remarkable . . . superbly written and makes the history and individuals come alive. . . . this book should have a much larger appeal than just Peabody-philes because it is so much about the role of museums in the development of American science."—Thomas E. Lovejoy, George Mason University
"Natural History Museums are enjoying a renaissance of appreciation as invaluable libraries of the earth's biological and cultural diversity. Less well known is the high quality of science pursued in these institutions. Richard Conniff's riveting account of the history of Yale's Peabody Museum shows how scientific research is a museum's heart and soul every bit as much as the scientific treasures stored and displayed in them."—Niles Eldredge, author of Eternal Ephemera
"What a rich history this book tells, and with such enthusiasm, humor, and attention to the oddest details! Richard Conniff makes you want to dive into the collections that have been accumulating for 150 years at the Yale Peabody Museum of Natural History, gathered with loving scholarly attention, transforming our knowledge of the natural world and the human race."—Frans de Waal, author of Are We Smart Enough to Know How Smart Animals Are?
"From the great Bone Rush of the 19th century to biology's genetic revolution, the Peabody Museum of Natural History has been a scientific powerhouse for a century and a half. There's no better guide to the way this singular institution has changed the way we see nature than Richard Conniff. In warm, enthusiastic prose, he takes us to sun baked badlands strewn with dinosaur skeletons, the sterile quiet of the modern biology lab, and beyond, drawing us back to meet the people who built the Peabody as they strove to understand life and time."—Brian Switek, author of Written in Stone and My Beloved Brontosaurus
"This book is about one of the great stories of science's ongoing coming of age. But the best reason to read it is that author Richard Conniff can't seem to help but do what science writing should always do: he tells a story so well that you don't realize how much you're learning in the sweep of every paragraph."—Carl Safina, author of Beyond Words: What Animals Think and Feel
"In House of Lost Worlds, Richard Conniff tells the story of the Peabody through the curious characters connected to it. . . . Throughout the book, [He] emphasizes the discoveries yet to be made and the pleasure of finding out something new."—Science News
"Conniff [is] a writer with a gift for teasing out the bizarre human dramas endemic to natural history. . . . While House of Lost Worlds chronicles the Peabody's achievements and luminaries quite thoroughly, it also takes a hard-nosed look at its debacles."—Jennie Erin Smith, Wall Street Journal
"In House of Lost Worlds, Richard Conniff fills an instructive gap in the story of how and why American museums were invented. The creation of Yale's Peabody Museum of Natural History is a tale encompassing all three subjects of the subtitle, with the most delicious being the drag-down drama of how dynastic maneuvering helped spark the museum to life."—Amy Henderson, Weekly Standard
"Overall this book is about one of the great stories of science's coming of age. But by far one of the best reasons to read it is that the author just cannot seems to help but do what science writing should always do: he tells a great story so well that you really do not realize how much you are learning in every paragraph."—Lorin R. King, Quarterly Review of Biology
ISBN:
9780300226928
Publication Date:
April 25, 2017
Publishing Partner:
Published with the cooperation of the Yale Peabody Museum of Natural History
352 pages, 7 x 9 13/6
97 color illus.

ADDITIONAL MATERIALS
Listen to Richard Conniff on the Yale Press Podcast