The World Before Us
WARNING
You are viewing an older version of the Yalebooks website. Please visit out new website with more updated information and a better user experience: https://www.yalebooks.com
The New Science Behind Our Human Origins
Tom Higham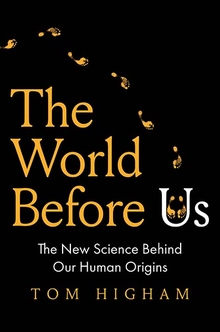 View Inside
Format:

Hardcover


Price:

$28.00
Also Available in:
Paper
A fascinating investigation of the origin of humans, based on incredible new discoveries and advanced scientific technology

"Conveys the thrill of archaeological discovery."—Alexander Larman, The Observer

"Packs in startling discoveries, impressive insights and the occasional debunking of a foolish idea."—Michael Marshall, New Scientist

Fifty thousand years ago, Homo sapiens was not the only species of humans in the world. There were also Neanderthals in what is now Europe, the Near East, and parts of Eurasia; Hobbits (H. floresiensis) on the island of Flores in Indonesia; Denisovans in Siberia and eastern Eurasia; and H. luzonensis in the Philippines. Tom Higham investigates what we know about these other human species and explores what can be learned from the genetic links between them and us. He also looks at whether H. erectus may have survived into the period when our ancestors first moved into Southeast Asia.
 
Filled with thrilling tales of recent scientific discoveries, this book offers an engaging synopsis of our current understanding of human origins and raises new and interesting possibilities—particularly concerning what contact, if any, these other species might have had with us prior to their extinction.
Tom Higham is professor of archaeological science at the Research Laboratory for Archaeology and the History of Art at the University of Oxford and director of the Oxford Radiocarbon Accelerator Unit.
"Fascinating and deeply researched. Higham conveys the thrill of archaeological discovery eruditely and accessibly."—Alexander Larman, The Guardian
"[A] fascinating and deeply researched book. . . . Higham conveys the thrill of archaeological discovery eruditely and accessibly."—Alexander Larman, The Observer
 
"A fascinating insight into groups belonging to the same Homo genus as us that lived alongside us for much of their existence. . . . Higham devotes whole chapters, sometimes multiple chapters, to each extinct hominin group. He packs in startling discoveries, impressive insights and the occasional debunking of a foolish idea."—Michael Marshall, New Scientist
 
"A clear and lucid account of how to study archaic DNA. [Higham] tells an engaging story"—Felipe Fernández-Armesto, Literary Review
 
"A brilliant exposition of the way in which archaeology and science are completely changing our understanding of early humans. This is essential reading for all interested in our early ancestors and the sheer excitement of their discovery."—Barry Cunliffe, author of The Scythians and Europe Between the Oceans: 9000 BC - AD 1000
"The World Before Us ventures far beyond fossils and archaeology into the realm of today's multidisciplinary science. This is a magnificent tour de force making cutting-edge science easily understandable and profoundly entertaining at the same time."—Brian Fagan, author of A Little History of Archaeology and World Prehistory
 
"From lab bench to trench, The World Before Us offers a personal tour of the newest science in palaeoanthropology. Higham's work on some of the most important and remarkable fossils ever found imbues his account with fascinating detail."—Rebecca Wragg Sykes, author of Kindred: Neanderthal Life, Love, Death, and Art
 
"A brilliant distillation of the ideas and discoveries revolutionizing our understanding of human evolution. Tom Higham introduces us to a complex world of many human species, whose genes and deeds live on in us today."—Chris Gosden, author of Prehistory: A Very Short Introduction
 
"A bang-up-to-date insider's review of a critical period in the emergence of modern humans. It also provides fascinating, intelligible and authoritative glimpses into a wide variety of new technologies."—Ian Tattersall, co-author of The Accidental Homo sapiens: Genetics, Behavior, and Free Will 
"Opening up entirely new perspectives on the early history of humanity, this exciting book shows that we now have a revolutionary new tool for reconstructing the human past: DNA from minute pieces of tooth and bone, and even from the dirt on the floor of caves."—David Abulafia, author of The Boundless Sea
 
"Tom Higham, one of the world's leading scientists in the field, brings us to the frontier of recent discoveries with a book that is both gripping and fun. It matters: understanding our evolutionary origins reveals our innate strengths as a species."—Paul Collier, author of The Bottom Billion
 
"The who, what, where, when and how of human evolution, from one of the world's experts on the dating of prehistoric fossils. Tom Higham blends evidence from archaeology, palaeontology and genetics to reveal a rich family album of our closest relatives, a cast of characters including cave-dwelling Neanderthals, mountain-adapted wanderers and island-living Hobbits."—Steve Brusatte, author of The Rise and Fall of the Dinosaurs
 
ISBN:
9780300259223
Publication Date:
August 24, 2021
320 pages, 6 1/8 x 9 1/4
25 color + 37 b/w illus.

---
Sales Restrictions: For sale in the United States only
ADDITIONAL MATERIALS
Also available as an audiobook: