Hawthorn
WARNING
You are viewing an older version of the Yalebooks website. Please visit out new website with more updated information and a better user experience: https://www.yalebooks.com
The Tree That Has Nourished, Healed, and Inspired Through the Ages
Bill Vaughn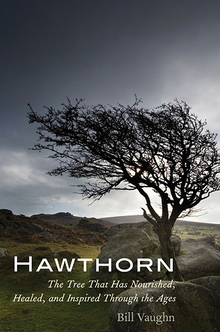 View Inside
Format:

Paper


Price:

$34.00
Also Available in:
Cloth
An engaging introduction to the ancient hawthorn tree and its varied roles in human history

One of humankind's oldest companions, the hawthorn tree is bound up in the memories of every recorded age and the plot lines of cultures across the Northern Hemisphere. In Hawthorn, Bill Vaughn examines the little-recognized political, cultural, and natural history of this ancient spiky plant. Used for thousands of years in the impenetrable living fences that defined the landscapes of Europe, the hawthorn eventually helped feed the class antagonism that led to widespread social upheaval. In the American Midwest, hawthorn-inspired hedges on the prairies made nineteenth-century farming economically rewarding for the first time. Later, in Normandy, mazelike hedgerows bristling with these thorns nearly cost the Allies World War II. Vaughn shines light on the full scope of the tree's influence over human events. He also explores medicinal value of the hawthorn, the use of its fruit in the world's first wine, and the symbolic role its spikes and flowers played in pagan beliefs and Christian iconography. As entertaining as it is illuminating, this book is the first full appreciation of the hawthorn's abundant connections with humanity.
 
Bill Vaughn writes for many publications about topics ranging from sports to the paper industry, fashion to the cattle business. He lives outside Missoula, MT.
"This jack-of-all-trees story makes for a compelling read, spiced with arcane history and Vaughn's own anecdotes."—Science News
"Wow! This is quite extraordinary.... I was absolutely riveted from the first paragraph. Vaughn's writing is often deeply literary, but at the same time, one can see the wheels of an innate environmentalist turning in intricate circles, sketching out a narrative that is by turns thoughtful, funny, informative, and even astonishing."—Daniel Lewis, Huntington Library
"Bill Vaughn romps through the thickets and hedgerows of biology and culture, emerging with fascinating tales about an unjustly neglected species."—David George Haskell, author of The Forest Unseen
"Hawthorn is a delightful book about a tree that has deeply influenced European and American landscapes and cultures. Vaughn is a gifted storyteller who writes with flair and nuance."—Ruth Kassinger, author of A Garden of Marvels

"A fascinating exploration into how a tough, thorny tree could have so much human and personal history carved into it, from war and famine to fairy tales and founding fathers. Hawthorn tells a story as charmingly and intricately branching as its subject."—Paul Collins, author of Murder of the Century: The Gilded Age Crime That Scandalized a City & Sparked the Tabloid Wars
"Bill Vaughn fully succeeds in making the reader feel as if he has followed along on a journey of revelation inspired by a chance encounter with a hawthorn. The book is exceedingly original and the author does an excellent job weaving together a wide range of material."—Todd A. Forrest, The New York Botanical Garden
"The hawthorn story is as multi-layered as its appearance and Vaughn's narrative is tight, but never impenetrable."—Jack Watkins, Optima
"An obsessive and entertaining ramble"—Charles Elliott, Hortus
"Vaughn is clearly captivated by the hawthorn, both as a natural phenomenon, and as a mythic force . . . Call it a gentle madness if you will, but I recommend sharing it."—Laurence Marschall, Natural History
"In other hands, this book could be a mess as tangled as its subject. Vaughn holds it all together, blending anecdotes, myth, folklore and scientific fact into as fun and interesting an offering of natural history as I've read."—Chris La Tray, Missoula Independent
"A fascinating book full of well researched facts." – Julia Scott, Herbs
ISBN:
9780300219876
Publication Date:
April 26, 2016
272 pages, 5 3/4 x 9
9 b/w illus.