Bears
WARNING
You are viewing an older version of the Yalebooks website. Please visit out new website with more updated information and a better user experience: https://www.yalebooks.com
Bernd Brunner; Translated by Lori Lantz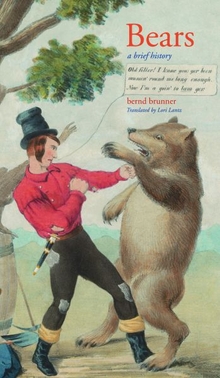 View Inside
Format:

Paper


Price:

$15.00
Also Available in:
Cloth
A delightfully illustrated history of the complex relations between people and bears around the world

This engaging book examines the shared history of people and bears. Hopscotching through history, literature, and science, Bernd Brunner presents a rich compendium of the interactions between the two species and explores how bears have become central figures in our inventory of myths and dreams. He reveals the remarkable extent to which human feelings about bears have been—and still are—mixed. People have venerated, killed, caressed, tortured, nurtured, eaten, worshipped, and despised bears. Interestingly, the varied dealings of humans with bears raise the same question over and again: do our images of bears have much in common with the animal as it really is?
The book uncovers new and little-known stories and facts about bears in European, North American, Japanese, Russian, and South and Southeast Asian cultures. Taken together, these perspectives show us new things about the animals we thought we knew so well. Quirky and bizarre anecdotes, scientific information on bears threatened with extinction in some areas, a discussion of the phenomenon of "bearanoia," and more than one hundred historical illustrations contribute to this unique account of the shared history between bears and humans and the continuing presence of bears in our personal and collective dreams.
Bernd Brunner, a graduate of the Free University of Berlin and Berlin School of Economics, is an independent scholar, freelance writer, and editor of nonfiction books. He is the author of The Ocean at Home: An Illustrated History of the Aquarium. Lori Lantz received a Ph.D. in comparative literature from UCLA and attended the Free University of Berlin as a Fulbright Scholar.
"There should be at least one animal book under every tree. Bears: A Brief History fills the requirement nicely. . . . Bears, Mr. Brunner points out, occupy a special place in the animal kingdom. Before Westerners knew of apes, they looked upon bears as their closest cousins. They are, after all, one of the few animals that stand upright. The Yakuts of Siberia, convinced that bears understand human speech, took care not to speak badly of the bear within earshot. A generous sprinkling of period engravings add appeal to this little gem."—William Grimes, New York Times
"A fascinating exploration of how many cultures see bears as almost human."—Philadelphia Inquirer
"Brunner seeks to understand the rich web of contact between people and bears. He shows us the great diversity of ways people have viewed bears, exploited bears, and affected the evolution of bears."—John Marzluff, author of In the Company of Crows and Ravens
"Bears is a much-welcomed book about the shared and surprising connections between two amazing animals. Bernd Brunner covers numerous matters—ursine-human—in an easy to read and compact work. Packed with facts, stories, and light humor, this book will have global appeal because bears appear universally in history, science, literature, religion, ritual, culture, and myth."—Marc Bekoff, author of The Emotional Lives of Animals and Animals Matter
"No other book on bears achieves the broad historical perspective of this one."—Mark Boyce, University of Alberta
"Covering tales, mythology, and legends from around the world, Brunner recounts stories of humans turning into bears, of feral children raised by bears, and of various peoples who trace their lineage back to bears. . . . The author spices his narrative with numerous anecdotes, and the period illustrations throughout exemplify the bear's dual role in human history."—Booklist
"Brighter than the average book about a species, a fascinating exploration of how many cultures see bears as almost human."—Syracuse Post-Standard
"A little gem."—William Grimes, New York Times
"This droll, heavily illustrated history of the relationship between humans and bears brims with curious facts and anecdotes. . . . Brunner adroitly details the ways bears have been demonized, revered, and anthropomorphized by cultures that see them in contradictory terms—both lazy and fierce, wily and dim-witted—and tells the sad stories of humanity's attempts to domesticate and showcase these majestic, primarily reclusive beings."—New Yorker
"Brunner . . . provides a fresh-air access to German, Scandinavian, Swedish, Russian, and Far Northern folk tales, legendary hunters, zoo pioneers and modern scientists that American literature too often ignores. Brunner has sluiced centuries of bear lore and research to bring forth just the nuggets we'd want to know. . . . The book becomes a quiet celebration of ursine spirit, but doesn't look away from the painful fact that our love for these mysterious, intelligent, seemingly cuddly beasts, spanning millenniums, remains unrequited."—Neal Matthews, San Diego Union-Tribune
"A small, beautifully designed book, Bears examines the shared history of people and bears—a sad, often brutal story punctuated here and there with humor and charm."—New York Observer
"Beautifully illustrated. . . . Richly researched. . . . A fascinating and comprehensive biography, Brunner's book is also an urgent plea for clemency. . . . Brunner succeeds in pushing readers worldwide to look anew at creatures that have been in our orbit, at least peripherally, forever. All species should have such an eloquent advocate."—Kim Hughes, Toronto Star
"This is an interesting and thoughtful account of bears from varying perspectives. The stories are though provoking and sometimes nostalgic."—Wildlife Activist
"Bears is a veritable fount of arcane ursulania and a delight on every page, not least in the plethora of engravings and illustrations; the perfect Christmas book."---Philip Hoare, Sunday Telegraph
"... as this beguiling book makes clear, the bear is among the most fundamentally unknowable of all the wild creatures of the earth."---Sinclair Mckay, Daily Telegraph
"For most of us today, the chance of encountering a bear outside of a zoo or reserve is unlikely. Reading the fascinating study, Bears: A Brief History, by Bernd Brunner made me rethink this attraction to one of the most powerful animals on earth."---Rosemary Goring, The Herald (Glasgow)
"... Brunner has put together a wonderful book, a vivid cultural history of interaction between human beings and bears. It is full of glorious period illustrations; a brief but never trivial book that must captivate anyone who has cuddled a teddy or longed for the wild."---Simon Barnes, The Times
"Brunner's... richly informative book... shows that our special relationship with bears... has been, since prehistoric times, the site of some of our deepest fears and wishes."---John Carey, The Sunday Times 
"... it is salutary to be reminded... that, until relatively recently, any self-respecting naturalist's first impulse on seeing an interesting animal, was to kill it... the book ends with hope that... bears are looking more secure..."---The Guardian
"[a] fascinating study of all things ursine and the special role that these often woefully mistreated creatures have played in our lives."---The Sunday Times
"This well-written, profusely illustrated book by Brunner . . . provides a compact, readable, fast-paced survey of the world's bears; it is deftly translated by Lentz. . . . This book deserves a place in both public and academic libraries. . . . Highly recommended."—Choice
"A small book with a big bite, Bears is a delightful new introduction to the natural history of a creature that has had a big impact in many areas of the world. . . . A well-founded and informative text."—Bob Ilfner, The Bloomsbury Review
"Will enthrall readers of any age."—Science Communication Online First
"Brunner's book is full of information about the relationship between bears and humans, and is delightfully illustrated with period engravings."—New York Times Book Review (Paperback Row)
"From the era of cavemen and cave bears, the author takes us on a well-informed romp through history and around the world, with some lovely illustrations of the discovery of the panda and hibernating polar bears. Bearly putdownable!"
—Good Book Guide
"[A] delightful but discomfiting book … Moving with a brisk tread between actual bear behaviour and the myths and tales that partner it, Brunner reminds us – with dry wit and great illustrations – that we get bears wrong." - Boyd Tonkin, Independent
' Bernd Brunner's book  is a perfectly polished gem that studies our shared history from the early attempts at classification, through the various hideous cruelties we have inflicted on them to the wonderful discovery that despite our feelings for them, bears are not interested in us at all.' - Toby Clements, Daily Telegraph
"Brunner's comprehensive book on the history of humans and their encounters with bears is one of the most complete that has been written. . . . The book is understandable and quite informative." —Joyce Tallman, Library Journal
"Superb non-fiction books. ... They are archives unto themselves. A repository for dreams, visions, and fears."—Die Zeit
A 2007 Top Seller in Zoology as compiled by YBP Library Services
Selected as a 2008 AAUP University Press Book for Public and Secondary School Libraries.
Selected by Choice magazine as an Outstanding Academic Title from 2008.
ISBN:
9780300143126
Publication Date:
December 2, 2008
272 pages, 4 9/16 x 7 13/16
105 b/w illus.