Thoreau's Animals
WARNING
You are viewing an older version of the Yalebooks website. Please visit out new website with more updated information and a better user experience: https://www.yalebooks.com
Henry David Thoreau; Edited by Geoff Wisner; Illustrated by Debby Cotter Kaspari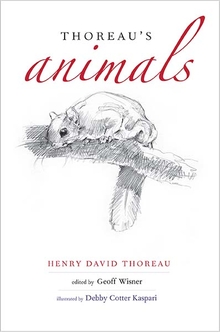 View Inside
Format:

Hardcover


Price:

$30.00
From Thoreau's renowned Journal, a treasury of memorable, funny, and sharply observed accounts of his encounters with the wild and domestic animals of Concord

Many of the most vivid writings in the renowned Journal of Henry David Thoreau concern creatures he came upon when rambling the fields, forests, and wetlands of Concord and nearby communities. A keen and thoughtful observer, he wrote frequently about these animals, always sensitive to their mysteries and deeply appreciative of their beauty and individuality. Whether serenading the perch of Walden Pond with his flute, chasing a loon across the water's surface, observing a battle between black and red ants, or engaging in a battle of wits with his family's runaway pig, Thoreau penned his journal entries with the accuracy of a scientist and the deep spirituality of a transcendentalist and mystic.
 
This volume, like its companion Thoreau's Wildflowers, is arranged by the days of the year, following the progress of the turning seasons. A selection of his original sketchbook drawings is included, along with thirty-five exquisite illustrations by naturalist and artist Debby Cotter Kaspari.
Geoff Wisner is an author, editor, book reviewer, and contributor to publications including the Christian Science Monitor and the Quarterly Conversation. He is the author of A Basket of Leaves and editor of African Lives and Thoreau's Wildflowers. Debby Cotter Kaspari is an award-winning artist, illustrator, and designer.
"Everyone knows that Thoreau is at or near the top of the list of American thinkers and writers. But as this lovely volume reminds us, he was also a world-class noticer, a remarkable and original observer of all things natural."—Bill McKibben, author of Deep Economy

"Geoff Wisner's Thoreau's Animals gives the reader the opportunity to approach the animals of Thoreau's Concord as Thoreau would: from unexpected angles, from a different view, unhurriedly, with deliberation and sympathy."—Jeffrey S. Cramer, editor of Walden: A Fully Annotated Edition
"This rich collection makes Thoreau's encounters in the natural world come alive. It's a welcome companion for a walk in the woods, or at home on a winter evening."—James Barilla, author of My Backyard Jungle: The Adventures of an Urban Wildlife Lover Who Turned His Yard into Habitat and Learned to Live with It
"This collection of quiet delight illustrates the naturalist's alertness to Concord wildlife . . . and the poetry of his prose. . . . Sketches by Debby Cotter Kaspari, as well as small drawings by Thoreau, augment the book and lend it a snug and welcoming feel. Thoreau's Animals is organized by the days of the year, so one can track the gradual unfolding of the seasons, awake to the sounds, shifts, and mystery of the creatures close by."—Nina MacLaughlin, Boston Globe
"Following a format similar to last year's Thoreau's Wildflowers, which he also produced, editor Geoff Wisner has combed through Thoreau's two-million-word journal for material. As distilled by Wisner, some of the selections have the opaque sparseness of haiku. . . . Others are prose equivalents of stroboscopic photographs. . . . But the improvisational quality of Thoreau's Animals is also its biggest charm. Thoreau was a self-styled reporter on the natural world, and his prose hums with the urgency of a scribe on deadline. Pencil illustrations by nature artist Debby Cotter Kaspari give a similar sense of immediacy. In her picture of the deer mouse, . . . the strokes register as boldly as a seismograph's."—Danny Heitman, Wall Street Journal
"Thoreau's Animals, edited and introduced by Geoff Wisner, offers an engaging and often entertaining selection of Thoreau's writings about the wild and domestic animal species he came upon in the forests, farms, and wetlands in and around Concord. It is a companion volume to Thoreau's Wildflowers, and together the two volumes throw into relief the degree to which Thoreau was almost superhumanly awake to the flora and fauna of his surrounding environment. There is more here than testimony of Thoreau's much-vaunted 'powers of observation.' The volumes offer clear evidence that in his later adult life Thoreau had thoroughly cleansed the doors of perception, and that the world appeared to him as infinite in its local manifestations."—Robert Pogue Harrison, New York Review of Books
"Thoreau the observer was also a passionate participant, and his cyclical attunement comes across vividly in two beautifully illustrated books, Thoreau's Animals and Thoreau's Wildflowers, containing journal extracts selected by the writer Geoff Wisner."—Andrea Wulf, The Atlantic
"An enjoyable and illuminating book."—Richard Higgins, The New England Quarterly
 
"The pencil drawings by Debby Cotter Kaspari in Thoreau's Animals are like ?nely elaborated ?eld sketches, capturing the spontaneity of an encounter with living animals. They well suit Thoreau's prose."—Ed Gilllin, Quarterly Review of Biology
ISBN:
9780300223767
Publication Date:
March 28, 2017
280 pages, 5-1/2 x 8-1/4
54 b/w illus.