Walden
WARNING
You are viewing an older version of the Yalebooks website. Please visit out new website with more updated information and a better user experience: https://www.yalebooks.com
A Fully Annotated Edition
Henry D. Thoreau; Edited by Jeffrey S. Cramer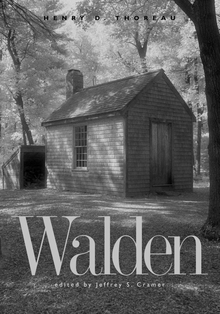 View Inside
Format:

Cloth


Price:

$30.00
Also Available in:
Paper
e-book
Visit the editor's website
The ultimate gift edition of Walden for bibliophiles, aficionados, and scholars

"Replaces all other available editions of Walden as the most attractive and reliable way to approach this great American book."—Joel Porte, author of Consciousness and Culture: Emerson and Thoreau Reviewed

This is the authoritative edition of an American literaru classic: Henry David Thoreau's Walden, an elegantly written record of his experiment in simple living. With this edition, Thoreau scholar Jeffrey S. Cramer has meticulously corrected errors and omissions from previous editions of Walden andhere provides illuminating notes on the biographical, historical, and geographical contexts of the great nineteenth-century writer and thinker's life.

Cramer's newly edited text is based on the original 1854 edition of Walden, with emendations taken from Thoreau's draft manuscripts, his own markings on the page proofs, and notes in his personal copy of the book. In the editor's notes to the volume, Cramer quotes from sources Thoreau actually read, showing how he used, interpreted, and altered these sources. Cramer also glosses Walden with references to Thoreau's essays, journals, and correspondence. With the wealth of material in this edition, readers will find an unprecedented opportunity to immerse themselves in the unique and fascinating world of Thoreau.

Anyone who has read and loved Walden willwant to own and treasure this gift edition. Those wishing to read Walden forthe first time will not find a better guide than Jeffrey S. Cramer.
Jeffrey S. Cramer is curator of collections, The Thoreau Institute at Walden Woods. He is the editor of Thoreau on Freedom: Attending to Man: Selected Writings of Henry David Thoreau.
Visit the editor's website.
"Thoreau's masterpiece—here freshly refurbished by Jeffrey S. Cramer—speaks to our material and spiritual condition as powerfully as on the day it first appeared. Now, more than ever, Walden is our indispensable American book."—Alan D. Hodder, professor of comparative religion, Hampshire College
"Cramer's notes are immensely useful. His edition of Walden will be a boon to ordinary readers and scholars alike."—Denis Donoghue, author of Speaking of Beauty
"Jeffrey Cramer's Walden is the most accurate and readable text of Thoreau's masterpiece. Cramer's version now replaces all other available editions of Walden as the most attractive and reliable way to approach this great American book."—Joel Porte, author of Consciousness and Culture: Emerson and Thoreau Reviewed
"A definitive text. . . . With Cramer's notes, readers and rereaders will find the text both deeper and more accessible."—Julie Dunlap, Audubon Naturalist News
"A handsome 'all-things-Walden' edition, copiously annotated by Jeffrey S. Cramer, curator of collections at the Thoreau Institute at Walden Woods."—Michael Kenney, Boston Sunday Globe
"The most authoritative edition of Walden yet to appear, an edition supported by the most extensive and useful annotations ever offered. Presenting the text and annotations in a side-by-side format, this is the best edition of the book for scholars because it not only includes annotations of just about everything in the text but also presents the most perfect text of Walden. Essential. All collections; all levels."—Choice
"[An] authoritative text with generous annotations."—Forecast
"Cramer's [book] not only cleans up errors that have crept into previous texts but also adds biographical and historical context to Thoreau's life."—Julia Keller, Greensboro News & Record
"Meticulous and often fascinating annotations. . . . It is the paradox of Walden, and of all great literature that seeks to represent the real world, that by rooting his narrative so firmly in actualities of his own time and place, Thoreau created a work that remains vitally relevant to our own."—Robert Finch, Los Angeles Times
"For those who aspire to a deeper understanding of the man and his milieu, the annotated Walden, edited by Jeffrey S. Cramer, is the edition to choose."—Allan D. Smith, Trenton Times
"Cramer's side notes are like short, illuminating conversations."—Jacqueline Blais, USA Today

"Readers will be intrigued by Cramer's wide-ranging commentary and new bibliographical and historical background including stunning passages from Thoreau's Journal and letters."—Richard Higgins, UU World
"Anyone who reads Thoreau in editions annotated by the great Jeffrey S. Cramer . . . will know everything there is to know about Thoreau and (amazingly) have a fun time learning it."—Sarah Payne Stuart, author of Perfectly Miserable: Guilt, God, and Real Estate in a Small Town
Winner of the 2004 National Outdoor Book Award in the Outdoor Classic category
These titles, among 25 others, will be presented to librarians at the annual American Library Association meeting
Co-winner of the 2005 Julia Ware Howe Special Award sponsored by the Boston Authors Club
Received rating of "Outstanding" from 2005 University Press Books Committee, Association of American University Presses (AAUP)
Short listed  for "The Best of the Best of the University Presses: Books You Should Know About" by the Association of American University Presses
ISBN:
9780300104660
Publication Date:
July 11, 2004
400 pages, 7 1/2 x 9 1/4
6 b/w illus.