Dragonflies
WARNING
You are viewing an older version of the Yalebooks website. Please visit out new website with more updated information and a better user experience: https://www.yalebooks.com
Magnificent Creatures of Water, Air, and Land
Pieter van Dokkum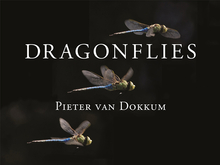 View Inside
Format:

Cloth


Price:

$37.50
A gorgeous tribute to the magic and mystique of dragonflies, with intimate photographs of their entire life cycle

Almost without our noticing, dragonflies dart through our world, flying, seeing, hunting, mating. Their lives are as mysterious as their gossamer wings are beautiful. In this book Pieter van Dokkum reveals many of the dragonfly's secrets, capturing the stages of this striking insect's life cycle in unprecedented close-up photographs. He documents scenes of dragonfly activity seldom witnessed and rarely photographed.
  
The book begins on a moonlit summer night, when an alien-looking larva crawls out of the water and transforms into a fully formed dragonfly. In the following chapters we witness dew-covered dragonflies sparkling in the morning sun, then a pair of mating dragonflies moving through the air in a twelve-legged, eight-winged dance. In the final chapter, one generation dies as the next prepares to leave the water and begin its own winged journey. Each stage is documented through van Dokkum's inquisitive lens and accompanied by information on various species of dragonflies and damselflies, their metamorphosis, and their ecological importance as insect predators.
Pieter van Dokkum is Sol Goldman Family Professor of Astronomy and chair of the Astronomy Department at Yale University. He is a regular user of the world's most powerful telescopes, and his astronomical images have been widely published. He is also an expert in insect photography, with a focus on dragonflies. He lives in New Haven, CT.
"As a coffee table book, Dragonflies is the first of its kind. It successfully brings dragonfly biology to the large numbers of people currently interested in these insects primarily for artistic or spiritual reasons."—Pamela Hunt, Audubon Society of New Hampshire
"After experiencing dragonflies' lives—from benignly smiling, ravenous nymphs to stunt-flying adults to raggedy corpses—through Pieter van Dokkum's eyes, you'll never see them the same way again."—Leslie Brunetta, co-author of Spider Silk: Evolution and 400 Million Years of Spinning, Waiting, Snagging, and Mating
"These exquisite photographs literally fly off the page and reinforce the maxim that a picture really is worth a thousand words."—Aaron M. Ellison, author of A Field Guide to the Ants of New England
"Pieter van Dokkum has created a lovely book about dragon- and damselflies suitable for any newcomer to dragonfly watching who is interested in learning all the basics of odonate biology and ecology."—Maria Aliberti Lubertazzi, science faculty at Rhode Island School of Design
"Van Dokkum's vivid compilation of photographs is a treat for nature lovers. The accompanying text is poetically written and a fascinating introduction to the distinct characteristics of these creatures."—Library Journal, starred review
"This book reveals the beautiful variety of meadowhawks, pondhawks, skimmers,  darners, and other types of dragonflies."—Booklist
"[Van Dokkum's] photography has the feel of watercolor sketches; the photos show what we might see perched along the side of a pond, if we were to pause for a while . . . A great introduction into the world of dragonflies."—Gwen Pearson, Wired.com
"Van Dokkum's splendid photography volume . . . [is] an indispensable addition to the literature of ordonates."—Sam Sacks, Open Letters Monthly
"With such engaging morsels at each turn of the page, Dragonflies is a feast for the mind as well as the eyes."—American Scientist
ISBN:
9780300197082
Publication Date:
March 31, 2015
176 pages, 10 x 7.5
172 color illus.