Dog Days, Raven Nights
WARNING
You are viewing an older version of the Yalebooks website. Please visit out new website with more updated information and a better user experience: https://www.yalebooks.com
John M. Marzluff and Colleen Marzluff; Original linocut illustrations by Evon Zerbetz; Foreword by Bernd Heinrich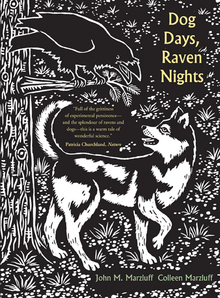 View Inside
Format:

Paper


Price:

$17.00
Also Available in:
Cloth
e-book
Read an interview with the Marzluffs on the Yale Press Log
The coauthor of the award-winning In the Company of Crows and Ravens and his wife, an animal-behavior expert, offer an engaging account of their days as young field biologists in Maine

Twenty years ago, fresh out of graduate school and recently married, John and Colleen Marzluff left Arizona for a small cabin in the mountains of western Maine. Their mission: to conduct the first-ever extensive study of the winter ecology of the Common Raven under the tutelage of biologist Bernd Heinrich.
Drawing on field notes and personal diaries, they vividly and eloquently chronicle their three-year endeavor to research a mysterious and often misunderstood bird—assembling a gigantic aviary, climbing sentry trees, building bird blinds in the forest, capturing and sustaining 300 ravens as study subjects, and enduring harsh Maine winters in pursuit of their goal. They also shared the unique challenges and joys of raising, training, and racing the sled dogs that assisted them in their work.
Accompanied by Evon Zerbetz's lovely linocut illustrations, Dog Days, Raven Nights is a fascinating, behind-the-scenes look at the adventures of field science and an insightful exploration of the nature of relationships, both animal and human.
John M. Marzluff is professor of wildlife science, College of the Environment, University of Washington. Colleen Marzluff is an expert in the raising and training of sled dogs and herding dogs. They live in Snohomish, WA. Evon Zerbetz is an artist in Ketchikan, AK.
"Full of the grittiness of experimental persistence—and the splendour of ravens and dogs—this is a warm tale of wonderful science."—Patricia Churchland, Nature
"This remarkable husband-and-wife account of pathbreaking wildlife research in the snows of Maine whisks the reader along on a rare and spirited adventure into three interlocking worlds—avian, canine, and deeply human."—Ivan Doig, author of This House of Sky
"This is also a book of great fascination and even of beauty……Dog Days, Raven Nights is a work of science but it is also a book about research as adventure and as a strange, deeply enriching kind of human fulfilment."—Mark Cocker, Times Literary Supplement
"Fascinating and beautifully written book. . . . They give a good account of their studies, and while theydon't claim to have found definitive answers to all questions, they have 'opened the door' to future research. And they've opened another door, as hoped, welcoming a wide reading audience too."—Irene Wanner, The Seattle Times
From the foreword by Bernd Heinrich:
"One of the great adventures of life...brought back here in often-vivid detail."—Bernd Heinrich, author of Mind of the Raven, Summer World, and The Nesting Season
"If you want to know exactly what it's like to begin post-graduate field research on birds and to train a team of sled dogs at the same time, this entertaining book is for you."—Raymond and Lorna Coppinger, authors of Dogs, A New Understanding of Canine Origin, Behavior and Evolution
"In Dog Days Raven Nights, Colleen and John Marzluff weave an eloquent tale…. Their science comes alive as they take the reader on the journey of their lives. This trip is well worth the read."—Kathleen M. Dudzinski, Ph.D., Director, Dolphin Communication Project; author of Dolphin Mysteries Unlocking the Secrets of Communication
"A realistic look at life in the field for two young biologists, with entertaining insight into their relationships with sled dogs, interesting North Woods neighbors, the ravens they studied, and themselves."—John Faaborg, University of Missouri, and author of Saving Migrant Birds
"'Nature did not fully reveal her secrets,' [John and Colleen Marzluff] write. But by the time they departed Maine...they were privy to quite a few, and had learned more about themselves than most couples would dare to."—Jennie Erin Smith, Wall Street Journal
"In this book the Marzluffs look back on the extraordinary life they lived….They describe the passion of research, the birds they came to know so intimately and the dogs and local people who helped them."—Stephen Mills, BBC Wildlife Magazine
"Wonderful insight into the lives of a field-biology couple and a great read!"—Margaret Lowman, author of Life in the Treetops and co-author of It's a Jungle Up There
"The passion for the natural world and the joy that the Marzluffs get from the process of scientific discovery are cleverly portrayed by the charismatic linocuts of Evon Zerbetz presented at the start of each chapter. Overall, this book provides an interesting glimpse into the world of field research and is candid about the many rewards and challenges that such a life brings."—Caroline Dingle, IBIS
ISBN:
9780300192476
Publication Date:
March 26, 2013
352 pages, 7 x 9 1/4
56 b/w illus.