Welcome to Subirdia
WARNING
You are viewing an older version of the Yalebooks website. Please visit out new website with more updated information and a better user experience: https://www.yalebooks.com
Sharing Our Neighborhoods with Wrens, Robins, Woodpeckers, and Other Wildlife
John M. Marzluff; With Illustrations by Jack DeLap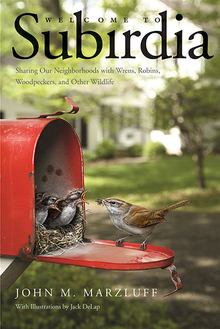 View Inside
Format:

Paper


Price:

$18.00
Also Available in:
Cloth
Even as growing cities and towns pave acres of landscape, some bird species have adapted and thrived. How has this come about?

Welcome to Subirdia presents a surprising discovery: the suburbs of many large cities support incredible biological diversity. Populations and communities of a great variety of birds, as well as other creatures, are adapting to the conditions of our increasingly developed world. In this fascinating and optimistic book, John Marzluff reveals how our own actions affect the birds and animals that live in our cities and towns, and he provides ten specific strategies everyone can use to make human environments friendlier for our natural neighbors.
 
Over many years of research and fieldwork, Marzluff and student assistants have closely followed the lives of thousands of tagged birds seeking food, mates, and shelter in cities and surrounding areas. From tiny Pacific wrens to grand pileated woodpeckers, diverse species now compatibly share human surroundings. By practicing careful stewardship with the biological riches in our cities and towns, Marzluff explains, we can foster a new relationship between humans and other living creatures—one that honors and enhances our mutual destiny.
John M. Marzluff is James W. Ridgeway Professor of Wildlife Science at the University of Washington and lives in Snohonish, WA. The author or coauthor of more than 130 scientific papers and five books, he is a renowned ornithologist and urban ecologist. Jack DeLap is a Ph.D. candidate in wildlife science at the University of Washington. His natural science illustrations have appeared in a variety of books and journals. He lives in Seattle, WA.
"Enjoy and bond with nature where you live and work. Marzluff has done this, and it has given him contagious joy that shows in the pages of this enjoyable and informative book."—New York Review of Books
"A triumph! Everything you wanted to know about suburban birds—and more."—Tim Birkhead, author of Bird Sense and Ten Thousand Birds: Ornithology since Darwin
"With enthusiasm, wit, and compelling scholarship, John Marzluff challenges us to reconsider a forgotten landscape. Welcome to Suburdia is more than entertaining—it will change the way you think about cities, nature, and your own backyard."—Thor Hanson, author of Feathers: The Evolution of a Natural Miracle
"What is a scientist to do when he discovers that he's seen more bird species in New York's Central Park than he did in Yellowstone? Study the phenomenon, of course. Marzluff's exploration of this seeming paradox leads him to 'subirdia'—that edgy place between suburbs and wilderness. If you love nature, but feel guilty about owning a plot in the 'burbs,' or being a city denizen, take heart. Birds—and other wild creatures—are doing better there than most of us think, Marzluff reveals in this engaging and beautifully written book.
 
"You'll come away, too, with a bird's appreciation of your own backyard. That (unmowed) lawn is a savannah! Those parkway trees, a forest. The birdbath, a pond. We haven't lost the birds and animals; we've brought them to us. Marzluff's book shines with insights and revelations into a natural world many of us live in but fail to see: our own backyards."—Virginia Morell, author of Animal Wise: How We Know Animals Think and Feel
"John Marzluff has combined his experiences as an ornithologist, urban ecologist, and observer of nature into a very readable book about birds, humans, and our linked fates in a rapidly changing world."—Stephen DeStefano, author of Coyote at the Kitchen Door: Living with Wildlife in Suburbia
"Marzluff's academic work and his lifelong passion for birds have merged in his beautiful and informative new book . . . His conclusions offer hope in an era of despair at what humans' destructive habits are doing to wildlife."—Seattle Times
"John Marzluff writes with authority and insight about the lives and habits of birds around us and suggests steps we can take to protect them in an increasingly hostile world."—Peter Doherty, Nobel Laureate and author of Their Fate is Our Fate: How Birds Foretell Threats to Our Health and Our World
"Suburbs are increasingly an important factor affecting wildlife, especially birds--both negatively and positively. There is much that we can do for animals as 'good neighbors' that enriches their lives and ours. Nobody is more well-suited and qualified than John Marzluff to address this issue."—Bernd Heinrich, author of The Homing Instinct: Meaning and Mystery in Animal Migration, Life Everlasting: The Animal Way of Death, and Mind of the Raven
"This excellent book documents engagingly how wildlife has adapted to urban and suburban areas, often in surprising ways. . . . Most highly recommended for all interested in wildlife, city planning, and urban ecology."—Library Journal (starred review)
"I know of no other book that covers this topic. The synthesis is novel and powerful. . . . This is a unique, interesting, and important work."—Steward Pickett, Cary Institute of Ecosystem Studies
"Marzluff has hit a winner . . . This easily read but engrossing account offers something for everyone . . . Writing with the sure hand of an inveterate observer—a crack scientist with the soul of a nice guy next door—Marzluff takes readers into his life in Seattle, working with teams of his graduate students and some admirable neighbors. Readers visit ten cities around the world and marvel at the simplicity of the author's ten rules . . . Beautifully illustrated in black-and-white by Jack Delap, with accuracy and touches of humor. For scientists, bird lovers, philosophers—and everyone else. Highly recommended."—Choice
". . . Marzluff writes well, and with passion appropriate for motivating his target audience, the layman. He cites many convincing statistics . . . and he has timed his writing to take advantage of a growing awareness among suburbanites that the nature they knew as children has been replaced . . ."— Douglas W. Tallamy, University of Delaware
ISBN:
9780300216875
Publication Date:
September 29, 2015
320 pages, 7 x 9-1/4
41 b/w illus.